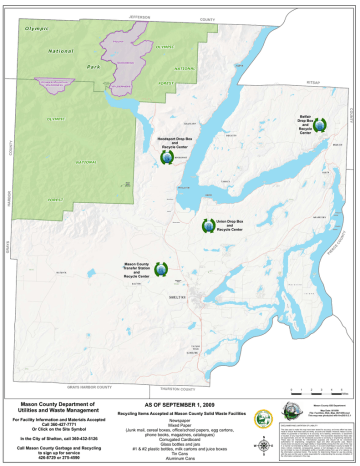 Belfair
Drop Box
and
Recycle
Center
Hoodsport Drop Box
and
Recycle Center
Union Drop Box
and
Recycle Center
Mason County
Transfer Station
and
Recycle Center
Mason
Cou nty
0
1
2
3
4
5
Miles
Mason County Department of
Utilities and Waste Management
For Facility Information and Materials Accepted
Call 360-427-7771
Or Click on the Site Symbol
In the City of Shelton, call 360-432-5126
Call Mason County Garbage and Recycling
to sign up for service
426-8729 or 275-4590
AS OF SEPTEMBER 1, 2009
Mason County GIS Department
Map Date: 8/10/09
File: Facilities_Web_Map_08/10/09.mxd
This map was produced with ArcGIS 9.3.1
Recycling Items Accepted at Mason County Solid Waste Facilities
Newspaper
Mixed Paper
(Junk mail, cereal boxes, office/school papers, egg cartons,
phone books, magazines, catalogues)
Corrugated Cardboard
Glass bottles and jars
#1 & #2 plastic bottles, milk cartons and juice boxes
Tin Cans
Aluminum Cans
DISCLAIMER AND LIMITATION OF LIABILITY
:
The data used to make this map have been tested for accuracy, and every effort has been
made to ensure that these data are timely, accurate and reliable. However, Mason County
makes no guarantee or warranty to its accuracy as to labeling, dimensions, or placement
or location of any map features contained herein. The boundaries depicted by these data
are approximate, and are not necessarily accurate to surveying or engineering standards.
These data are intended for informational purposes and should not be considered
authoritative for engineering, navigational, legal and other site-specific uses. Mason
County does not assume any legal liability or responsibility arising from the use of this map
in a manner not intended by Mason County. In no event shall Mason County be liable for
direct, indirect, incidental, consequential, special, or tort damages of any kind, including,
but not limited to, loss of anticipated profits or benefits arising from use of or reliance on
the information contained herein. The burden for determining fitness for use lies entirely
with the user and the user is solely responsible for understanding the accuracy limitation of
the information contained in this map.

* Your assessment is very important for improving the work of artificial intelligence, which forms the content of this project