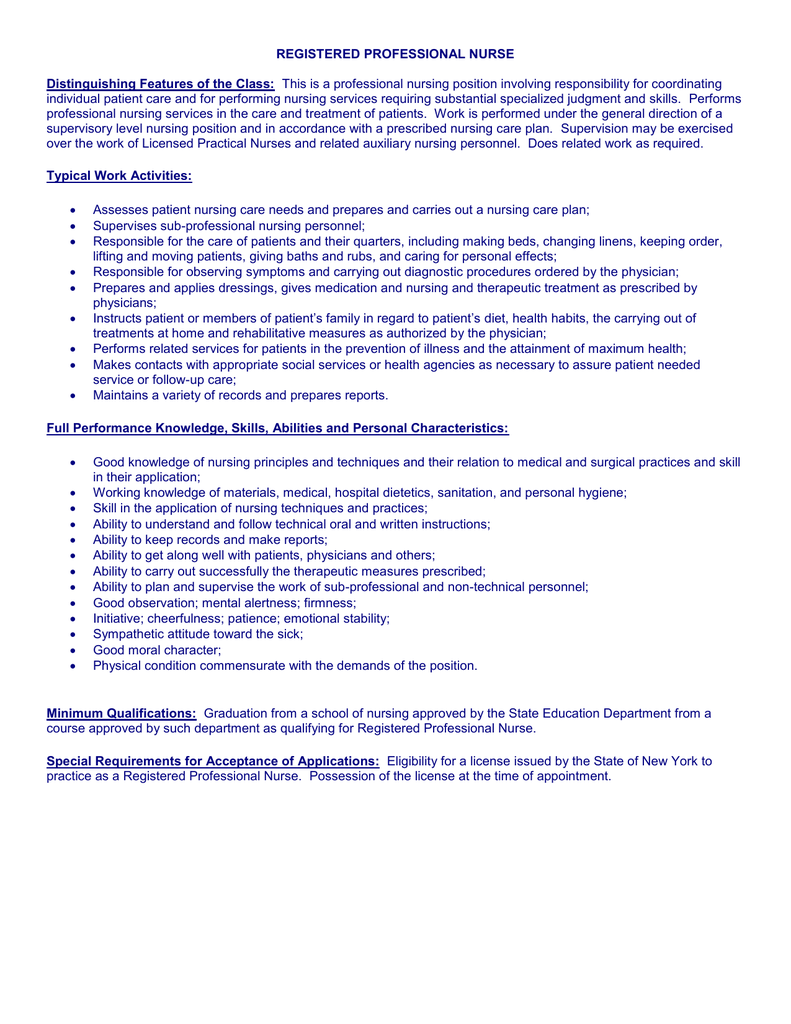 REGISTERED PROFESSIONAL NURSE
Distinguishing Features of the Class: This is a professional nursing position involving responsibility for coordinating
individual patient care and for performing nursing services requiring substantial specialized judgment and skills. Performs
professional nursing services in the care and treatment of patients. Work is performed under the general direction of a
supervisory level nursing position and in accordance with a prescribed nursing care plan. Supervision may be exercised
over the work of Licensed Practical Nurses and related auxiliary nursing personnel. Does related work as required.
Typical Work Activities:









Assesses patient nursing care needs and prepares and carries out a nursing care plan;
Supervises sub-professional nursing personnel;
Responsible for the care of patients and their quarters, including making beds, changing linens, keeping order,
lifting and moving patients, giving baths and rubs, and caring for personal effects;
Responsible for observing symptoms and carrying out diagnostic procedures ordered by the physician;
Prepares and applies dressings, gives medication and nursing and therapeutic treatment as prescribed by
physicians;
Instructs patient or members of patient's family in regard to patient's diet, health habits, the carrying out of
treatments at home and rehabilitative measures as authorized by the physician;
Performs related services for patients in the prevention of illness and the attainment of maximum health;
Makes contacts with appropriate social services or health agencies as necessary to assure patient needed
service or follow-up care;
Maintains a variety of records and prepares reports.
Full Performance Knowledge, Skills, Abilities and Personal Characteristics:













Good knowledge of nursing principles and techniques and their relation to medical and surgical practices and skill
in their application;
Working knowledge of materials, medical, hospital dietetics, sanitation, and personal hygiene;
Skill in the application of nursing techniques and practices;
Ability to understand and follow technical oral and written instructions;
Ability to keep records and make reports;
Ability to get along well with patients, physicians and others;
Ability to carry out successfully the therapeutic measures prescribed;
Ability to plan and supervise the work of sub-professional and non-technical personnel;
Good observation; mental alertness; firmness;
Initiative; cheerfulness; patience; emotional stability;
Sympathetic attitude toward the sick;
Good moral character;
Physical condition commensurate with the demands of the position.
Minimum Qualifications: Graduation from a school of nursing approved by the State Education Department from a
course approved by such department as qualifying for Registered Professional Nurse.
Special Requirements for Acceptance of Applications: Eligibility for a license issued by the State of New York to
practice as a Registered Professional Nurse. Possession of the license at the time of appointment.

* Your assessment is very important for improving the work of artificial intelligence, which forms the content of this project