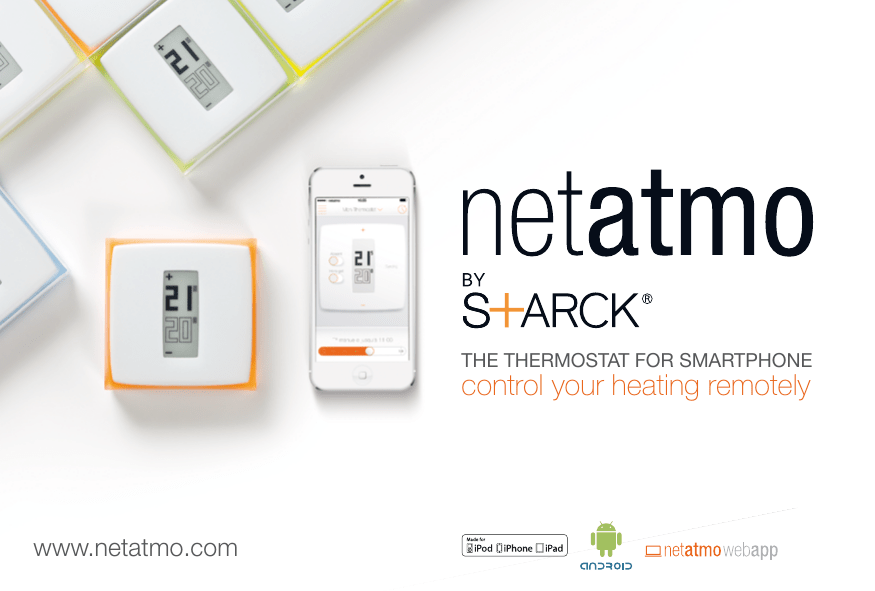 THE THERMOSTAT FOR SMARTPHONE
control your heating remotely
www.netatmo.com
THE THERMOSTAT FOR SMARTPHONE
control your heating remotely
Change
the temperature in
your home from your
bed or the other side
of the world.
COMPATIBLE
WITH MOST HEATING SYSTEMS
Remplaces wireless or wallmounted thermostats.
Can be installed as a new thermostat.
Your customer may
instantly find out whether
his heating system is eligible
thanks to our online compatibility tool:
Suitable for oil-, gas- and woodfired boilers:
FIOUL
GAZ
Easy to install.
BOIS
http://check.netatmo.com
YOUR CUSTOMIZED
PROGRAM
The Thermostat sets a program to reflect your habits. Upon set up, a
short questionnaire helps work out when you are present in your home.
The Thermostat will automatically suggest a program accordingly.
Vendredi
Vendredi
18.5°
18.5°
19°
19°
17°
17°
19°
19° 18.5°
18.5°
Samedi
Samedi
18.5°
18.5°
19°
19° 18.5°
18.5°
In this program, the user heats to
18,5°C at night, 17°C during the day
when away from home and
19°C when at home.
Based on the ADEME
heating recommendations.
SMART HEATING
IN YOUR HOME
To maximize your comfort, the Thermostat predicts the heating start times
to match your home's insulation and outdoor temperature. You benefit
from the right temperature, at the right moment.
You can adjust the temperature manually
at any time, from your Smartphone or directly
on theThermostat.
A SIMPLE STEP
FOR YOU
The Thermostat saves up to 25 %* of your
energy consumption. Its uses a refined, remote
controlled program to avoid heating your home
when you are not there.
* source ADEME 2012
Absent
Hors-gel
A BIG STEP
FOR THE PLANET
The energy saved by the Thermostat allows you to reduce your carbon
footprint.
YOUR DATA IN
GRAPH FORM
Display your past energy consumption.
Your indoor temperature and boiler
activity are recorded continously in
the App.
A STREAMLINED, ELEGANT
DESIGN
A minimalist design by STARCK.
Select the color of your Thermostat
from 5 interchangeables colors
supplied.
The Thermostat can be fitted to the wall
or used in wireless mode, easy to move
around your home.
FAQ
Compatibility :
Maximum distance between
the Thermostat and the Relay?
Up to 100 metres.
Is Wi-Fi necessary ?
Yes, the Netatmo Thermostat requires a Wi-Fi
connection to be set up and to be controlled
remotely.
Does the Thermostat continue
to work if the Wi-Fi connection
gets interrupted?
Yes, the Thermostat keep following its heating
program, as a traditionl thermostat. You can also
manually control your heating on the Thermostat
itself.
FAQ
What batteries are needed?
The Thermostat works with 3 AAA batteries
supplied in the pack.
Autonomy on batteries: 1 year.
The Relay is either plugged to the boiler or
the a wall plug.
Can I dowload my data?
Yes! All the data generated by your Thermostat can be downloaded from your personal online account (XLS or CSV formats).
I have a home automation system.
Can I connect myThermostat to it?
Yes! The Netatmo API enables users to
connect their Thermostat to their home
automation system.
More info on: dev.netatmo.com
YOUR BEST
SALES TOOL
89%
25%
of traditional programmable thermostat users rarely or never
set a program based on their activities.*
energy savings are immediately possible with a heating program matching your actual needs.**
* Source : ACEEE 2010
** Source : ADEME 2012
© Netatmo 2014. All rights reserved. Visuals and technical specifications are subject to change without prior notice.
MacBook, iPhone, iPad and iPod touch are registered trademarks of Apple Inc. Galaxy S4 is a registered trademark of SAMSUNG. Registered in the USA and other countries.

* Your assessment is very important for improving the work of artificial intelligence, which forms the content of this project