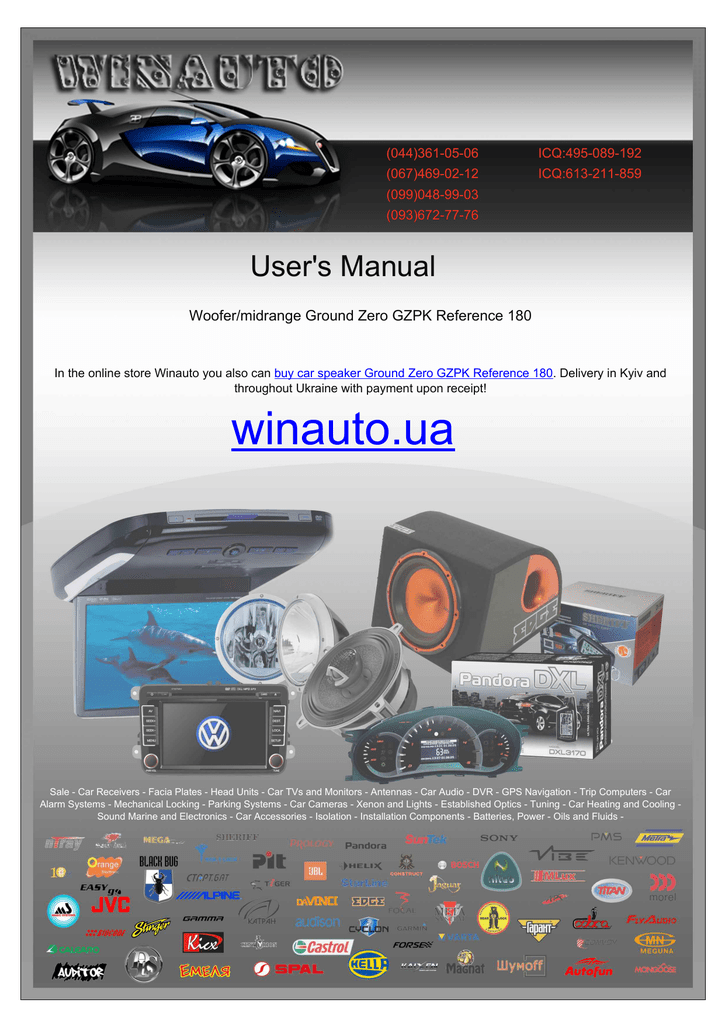 (044)361-05-06
ICQ:495-089-192
(067)469-02-12
ICQ:613-211-859
(099)048-99-03
(093)672-77-76
User's Manual
Woofer/midrange Ground Zero GZPK Reference 180
In the online store Winauto you also can buy car speaker Ground Zero GZPK Reference 180. Delivery in Kyiv and
throughout Ukraine with payment upon receipt!
winauto.ua
Sale - Car Receivers - Facia Plates - Head Units - Car TVs and Monitors - Antennas - Car Audio - DVR - GPS Navigation - Trip Computers - Car
Alarm Systems - Mechanical Locking - Parking Systems - Car Cameras - Xenon and Lights - Established Optics - Tuning - Car Heating and Cooling Sound Marine and Electronics - Car Accessories - Isolation - Installation Components - Batteries, Power - Oils and Fluids -
Интернет-магазин автозвука и автотоваров Винавто
GROUND ZERO
MOBILE ENTERTAINMENT
PLUTONIUM
w
in
au
to
.u
a
GZPK REFERENCE 180
"Handmade in Europe"
Handgefertigt in Europa und paarweise selektiert
Handmade in Europe and selected in pairs
Fait à la main en Europe et choisi par paires
Интернет-магазин автозвука и автотоваров Винавто
Vorwort / Preface / Préface
Vielen Dank, dass Sie sich für dieses Ground Zero Produkt entschieden haben.
In der Plutonium Reference Line finden Sie ausschließlich handselektierte High-End Produkte für allerhöchste Klang- und Qualitätsansprüche. Der GZPK
REFERENCE 180 ist für den Vollaktivbetrieb, sowie für den Passivbetrieb an der separat erhältlichen Frequenzweiche GZPX REFERENCE 2-Way
vorgesehen. In diesem Datenblatt finden Sie alle erforderlichen technischen Daten zu diesem Produkt. Falls doch irgendwelche Unklarheiten bestehen
sollten, können Sie uns selbstverständlich kontaktieren. Die Kontaktdaten finden Sie unten.
Thank you for choosing this Ground Zero Product.
The Reference Line stands for selected high-end products with outstanding sound-quality.
The GZPK REFERENCE 180 is designed for full-activ mode and for passiv-mode in combination with the separate available crossover GZPX REFERENCE 2Way. In this data-sheet you will find detailed informations for this product. In case of open questions, feel free to contact us. You can find the contact
details below.
Merci d'avoir choisi ce Produit GROUND ZERO.
La Ligne Référence son des produits hauts de gamme choisis pour leur qualité de son remarquable.
LA RÉFÉRENCE DE GZPK 180 est conçue pour le mode actif et pour le passif-mode avec le Woofer disponible séparément GZPX RÉFÉRENCE 2-Way. Dans
cette notice technique vous trouverez des informations détaillées pour ce produit. En cas des questions n'hésitez pas à entrer en contact avec nous. Vous
pouvez trouver le contact a la fin du Manuel
Technische Daten / Technical Data / Données Technique
Handgefertigte 25mm Kupfer-Schwingspule / Handmade 1" copper voice coil / bobine de 25mm cuivre fait à la main
Handgefertigter Alu-Stabilit Korb / Handmade Alu-stabilit basket / Chassis Alu fait à la Main
Aluminium Schwingspulenträger / Aluminium voicecoil former / Support de bobine Aluminium
Beschichtete Composit Papiermembrane / Coated composite papercone / Membrane Papier Composite
Hybrid Magnet (Ceramic + Neodym) / Aimant Hybride (Céramique + Neodyne)
Empfohlener Übertragungsbereich / Freq. Response / Réponse en fréquence : 70 Hz - 5 kHz
a
-
w
in
au
to
.u
Model
GZPK Reference 180
Impedance Ohm
4
Re Ohm
3,7
FS Hz
45,8
Qms
1.84
Qes
0.39
Qts
0.32
Vas Liter / cu.ft.
24.7 / 0.87
Mms
13.2 Gr.
SPL dB/m
89.7
BL TESLA – M
6
Power W/ RMS
100
Lochausschnitt / mounting hole / Diamètre de découpe mm / inch
157 / 6.18"
Einbautiefe / mounting depth / Profondeur de montage mm / inch
70 / 2.76"
Empfohlenes Gehäuse / Recommended enclosure / Volume de caisson recommande'
geschlossen / sealed / close Liter / cu.ft.
6 / 0.21
Bassreflex / vented Liter / cu.ft.
10 / 0.35
Port cm / inch
1 x Ø 5 / 2"
Portlänge / Length
10 cm / 4"
cm / inch
Free-Air
------
Die Gewährleistung entspricht der gesetzlichen Regelung. Eine Rücksendung kann nur nach vorheriger Absprache und in der Originalverpackung erfolgen.
Bitte unbedingt einen maschinell erstellten Kaufbeleg und eine Fehlerbeschreibung beilegen. Von der Gewährleistung ausgeschlossen sind Defekte, die
durch Überlastung, unsachgemäße Behandlung oder bei Teilnahme an Wettbewerben entstanden sind.
Defekte Plutonium Reference Lautsprecher bitte nur paarweise einschicken, da diese paarweise selektiert sind.
Limited warranty - defective products must be returned in original packaging - please add a copy of the original purchasing invoice showing the purchasing
date and a detailed description of the failure. Failure caused by overload, misuse or by using the product for competition
purpose are not covered by the warranty. Please send always a complete speaker-pair, because they are selected in pairs.
De garantie bepalingen van alle door ground zero geleverde producten is volgens wettelijke bepalingen geregeld, Een retourzending kan alleen na
duidelijke afspraak en in de originele verpakking plaatsvinden.SVP een aankoopbon en een duidelijke storingsomschrijving bijvoegen.Van garantie
uitgesloten zijn defecten door overbelasting, onkundig gebruik, of door deelname aan wedstrijden (SPL) ontstaan zijn
La garantie est conforme aux droits légaux. Un retour du produit défectueux doit être dans son emballage d'origine sur présentation du reçu ou de la
facture indiquant la description du défaut .La présente Garantie n'est pas applicable lorsque le produit a été endommagé en raison : Mauvaise alimentation,
Trop de puissance
( HP,Subwoofer) Accident, Installation ou Utilisation non conforme aux normes Technique ( Concours SPL etc.).
GROUND ZERO GmbH
Erlenweg 25; D - 85658 Egmating
Tel. 08095/873 830 Fax -8310
www.ground-zero-audio.com
Wir behalten uns das Recht vor, zukünftig nötige Änderungen oder Verbesserungen an dem Produkt vorzunehmen ohne den Kunden darüber zu informieren.
We reserve the right to make needed change or improvement to the product without informing customer about this in advance.
Wij behouden ons het recht om de nodige veranderingen of verbeteringen aan het product door te voeren zonder de klant hierover te informeren.
Nous réserve le droit d'entreprendre à l'avenir nécessairement des modifications ou des
améliorations au produit sans informer le client.

* Your assessment is very important for improving the work of artificial intelligence, which forms the content of this project