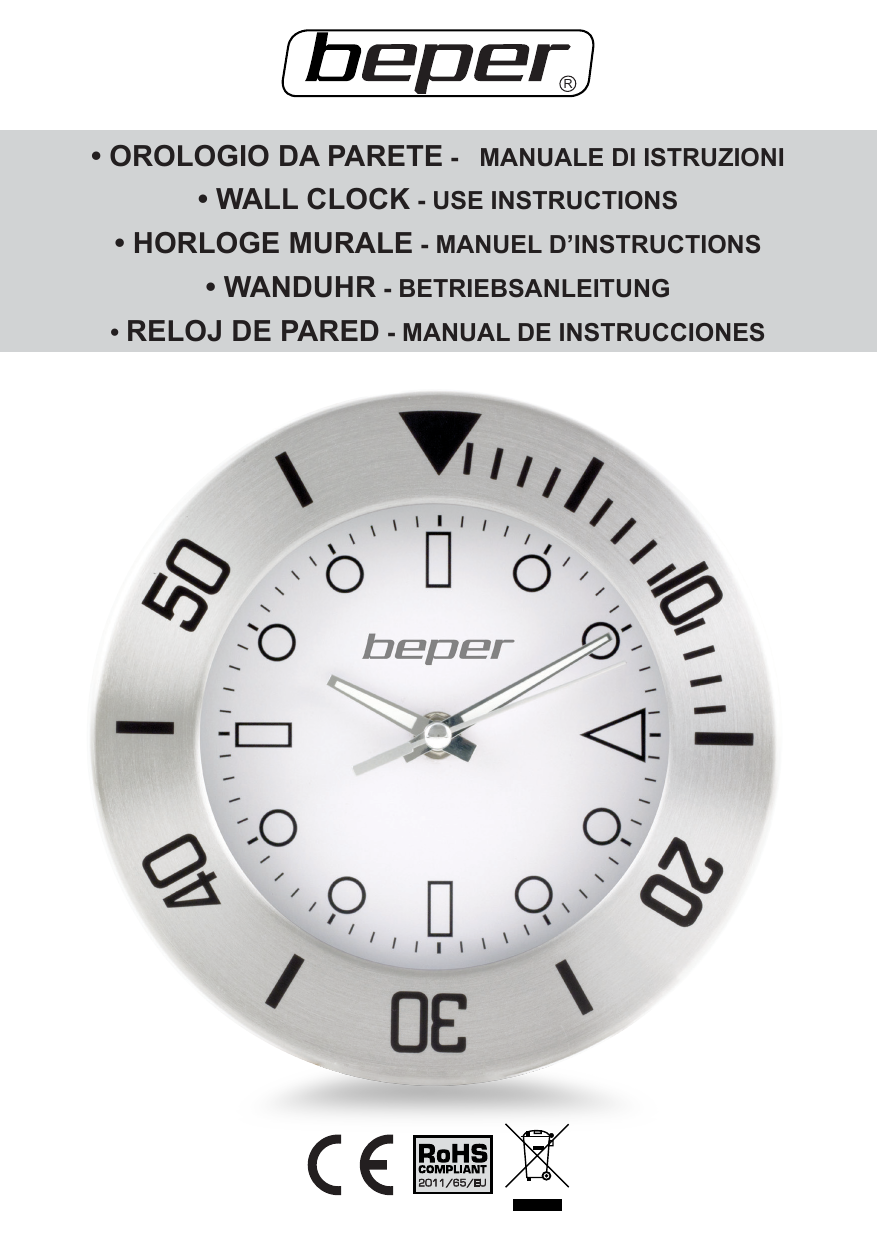 R
• OROLOGIO DA PARETE - MANUALE DI ISTRUZIONI
• WALL CLOCK - USE INSTRUCTIONS
• HORLOGE MURALE - MANUEL D'INSTRUCTIONS
• WANDUHR - BETRIEBSANLEITUNG
• RELOJ DE PARED - MANUAL DE INSTRUCCIONES
ITALIANO
pag. 3
pag. 5
pag. 7
pag. 9
pag. 11
3
BEFORE USING THE INSTRUCTIONS CAREFULLY READ AND KEEP FOR FUTURE
REFERENCE.
INSTRUCTIONS FOR USE
Wall Clock Use instructions
1. In the back of the watch is located the compartment door battery. Insert a AA battery
(1.5 V) paying attention to correct polarity. The operation of the watch may be damaged if
the battery isn't inserted properly.
2. Turn the wheel placed near the battery compartment to set the hour.
3. We recommend replacing the battery once a year, although still functioning.
4. Remove the battery if the clock is not used.
5. Clean the watch with a soft cloth dampened with water. Be careful not to get liquid. Do not immerse in water or in other liquids.
TECHINCAL DATA
Use 1 AA battery (not included)
For any improvement reasons, Beper reserves the right to modify or improve the product
without any notice.
DISPOSAL OF OLD ELECTRICAL APPLIANCES
The European directive 2011/65/EU on Waste Electrical and Electronic Equipment (WEEE), requires that old household electrical appliances must not be disposed of in the normal unsorted
municipal waste stream. Old appliances must be collected separately in order to optimize the recovery and recycling of the materials they contain, and reduce the impact on human health and the
environment.
The crossed out "wheeled bin" symbol
on the product reminds you of your obligation,
that when you dispose of the appliance, it must be separately collected.
5
GUARANTEE CERTIFICATE
This appliance has been checked in the factory. From the date of original purchase a 24 month
guarantee applies to material and production defects. The purchase receipt and the guarantee certificate must be submitted together in case of claim to guarantee.
For any technical assistance, please contact directly the seller or our head office in order to preserve
the appliance's efficiency and NOT TO void the guarantee. Any intervention on this appliance by
non-authorized persons will automatically void the guarantee.
Guarantee conditions
If the appliance shows defects as a result of faulty material and/or production during the period of
guarantee, we guarantee repair free of charge on condition that:
- The appliance has been used properly and for the purpose for which it has been intended.
- Repairs are professionally carried out by qualified persons who are appointed by the supplier.
- The purchase receipt shall be presented.
- The appliance showing a fair wear and tear shall not be covered by this guarantee.
Therefore, any part that could be accidentally broken or having visible signs of use in consumable products (such as lamps, batteries, heating elements…) is excluded from the guarantee, and
any defect whatsoever resulting from non-respect of the rules for use, negligence in usage and/or
maintenance of the appliance, damage during transport and any other damage not attributable the
supplier.
For every defect that could not be repaired within the guarantee period, the appliance will be replaced free of charge.
Technical assistance
Even after the guarantee period we will always pay attention to repairs for defected appliances.
For technical assistance and/or repairs after the guarantee period you can directly contact the below
address:
CONTACT YOUR DISTRIBUTOR IN YOUR COUNTRY OR AFTER SALES DEPARTMENT
BEPER. E-MAIL [email protected]
WHICH WILL FORWARD YOUR ENQUIRIES TO YOUR DISTRIBUTOR.
7
LE SERVICE APRÈS-VENTE EST EFFECTUÉ PAR VOTRE REVENDEUR OU PAR
L'IMPORTATEUR/DISTRIBUTEUR DES PRODUITS BEPER.
ÉCRIVEZ UN E-MAIL AU [email protected] POUR CONNAITRE LE CENTRE SERVICE
AGRÉE BEPER LE PLUS PROCHE DE CHEZ VOUS.
9
TRETEN SIE BITTE IN VERBINDUNG MIT IHREN HÄNDLER IN IHREM LAND
ODER POST SALES ABTEILUNG
VON FA. BEPER. E-MAIL [email protected] DIE IHREN HÄNDLER NENNEN WIRD
11
CONTACTE CON EL DISTRIBUIDOR DE SU PAIS O EL DEPARTAMENTO
DE POST VENTA DE BEPER .
ENVIE UN E-MAIL [email protected] Y LE ENVIAREMOS
DATOS DE SU SERVICIO TECNICO EN SU PAIS.
* Your assessment is very important for improving the work of artificial intelligence, which forms the content of this project