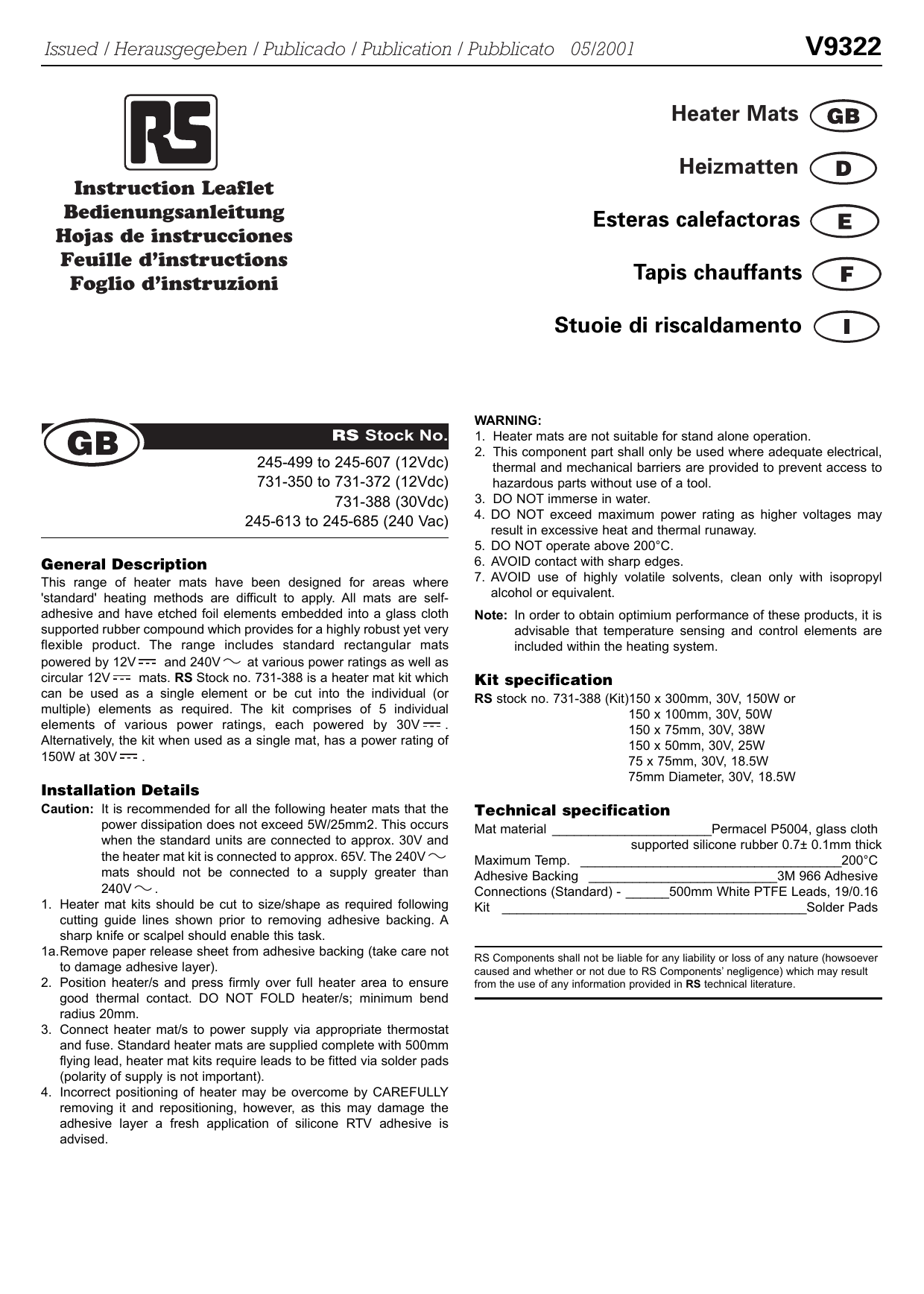 V9322
Issued / Herausgegeben / Publicado / Publication / Pubblicato 05/2001
Esteras calefactoras
Tapis chauffants
Stuoie di riscaldamento
RS Stock No.
245-499 to 245-607 (12Vdc)
731-350 to 731-372 (12Vdc)
731-388 (30Vdc)
245-613 to 245-685 (240 Vac)
General Description
This range of heater mats have been designed for areas where
'standard' heating methods are difficult to apply. All mats are selfadhesive and have etched foil elements embedded into a glass cloth
supported rubber compound which provides for a highly robust yet very
flexible product. The range includes standard rectangular mats
powered by 12V
and 240V
at various power ratings as well as
circular 12V
mats. RS Stock no. 731-388 is a heater mat kit which
can be used as a single element or be cut into the individual (or
multiple) elements as required. The kit comprises of 5 individual
elements of various power ratings, each powered by 30V
.
Alternatively, the kit when used as a single mat, has a power rating of
150W at 30V
.
WARNING:
1. Heater mats are not suitable for stand alone operation.
2. This component part shall only be used where adequate electrical,
thermal and mechanical barriers are provided to prevent access to
hazardous parts without use of a tool.
3. DO NOT immerse in water.
4. DO NOT exceed maximum power rating as higher voltages may
result in excessive heat and thermal runaway.
5. DO NOT operate above 200°C.
6. AVOID contact with sharp edges.
7. AVOID use of highly volatile solvents, clean only with isopropyl
alcohol or equivalent.
Note: In order to obtain optimium performance of these products, it is
advisable that temperature sensing and control elements are
included within the heating system.
Kit specification
RS stock no. 731-388 (Kit)150 x 300mm, 30V, 150W or
150 x 100mm, 30V, 50W
150 x 75mm, 30V, 38W
150 x 50mm, 30V, 25W
75 x 75mm, 30V, 18.5W
75mm Diameter, 30V, 18.5W
Installation Details
Caution: It is recommended for all the following heater mats that the
power dissipation does not exceed 5W/25mm2. This occurs
when the standard units are connected to approx. 30V and
the heater mat kit is connected to approx. 65V. The 240V
mats should not be connected to a supply greater than
240V
.
1. Heater mat kits should be cut to size/shape as required following
cutting guide lines shown prior to removing adhesive backing. A
sharp knife or scalpel should enable this task.
1a.Remove paper release sheet from adhesive backing (take care not
to damage adhesive layer).
2. Position heater/s and press firmly over full heater area to ensure
good thermal contact. DO NOT FOLD heater/s; minimum bend
radius 20mm.
3. Connect heater mat/s to power supply via appropriate thermostat
and fuse. Standard heater mats are supplied complete with 500mm
flying lead, heater mat kits require leads to be fitted via solder pads
(polarity of supply is not important).
4. Incorrect positioning of heater may be overcome by CAREFULLY
removing it and repositioning, however, as this may damage the
adhesive layer a fresh application of silicone RTV adhesive is
advised.
Technical specification
Mat material ______________________Permacel P5004, glass cloth
supported silicone rubber 0.7± 0.1mm thick
Maximum Temp. ____________________________________200°C
Adhesive Backing __________________________3M 966 Adhesive
Connections (Standard) - ______500mm White PTFE Leads, 19/0.16
Kit __________________________________________Solder Pads
RS Components shall not be liable for any liability or loss of any nature (howsoever
caused and whether or not due to RS Components' negligence) which may result
from the use of any information provided in RS technical literature.
2
y 240V
.
150x300 mm, 30V, 150W ó
150x100 mm, 30V, 50W
150x 75 mm, 30V, 38W
150x 50 mm, 30V, 25W
75x 75 mm, 30V, 18,5W
75 mm diámetro, 30V, 18,5W
Code commande RS.
3
Codice RS 731-388 (corredo) 150 x 300mm, 30 V, 150 W o
150 x 100mm, 30V, 50W
150 x 75mm, 30V, 38W
150 x 50mm, 30V, 25W
75 x 75mm, 30V, 18,5W
75mm Ø, 30V, 18,5W
Specifiche tecniche
30V
.