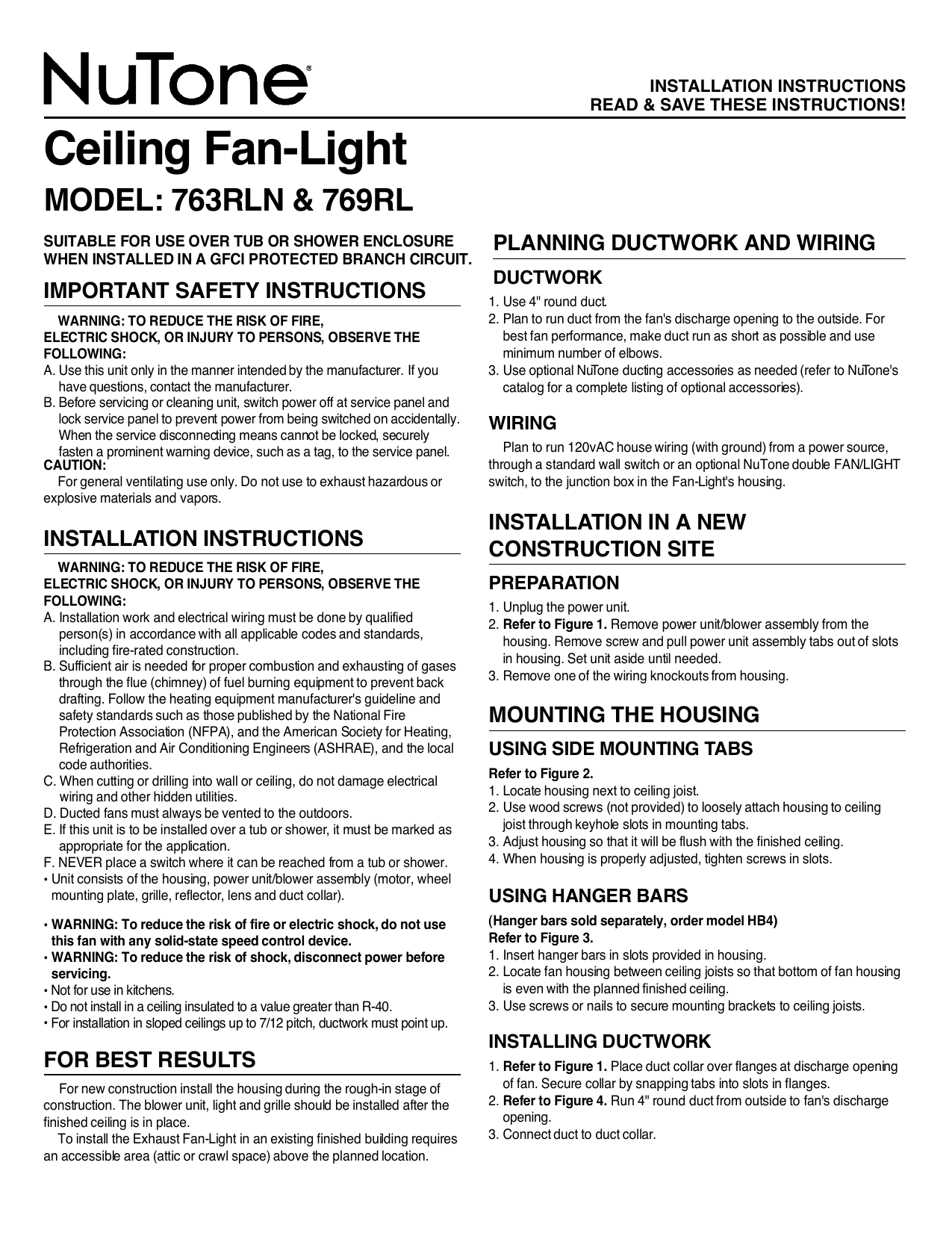 INSTALLATION INSTRUCTIONS
READ & SAVE THESE INSTRUCTIONS!
Ceiling Fan-Light
MODEL: 763RLN & 769RL
SUITABLE FOR USE OVER TUB OR SHOWER ENCLOSURE
WHEN INSTALLED IN A GFCI PROTECTED BRANCH CIRCUIT.
IMPORTANT SAFETY INSTRUCTIONS
WARNING: TO REDUCE THE RISK OF FIRE,
ELECTRIC SHOCK, OR INJURY TO PERSONS, OBSERVE THE
FOLLOWING:
A. Use this unit only in the manner intended by the manufacturer. If you
have questions, contact the manufacturer.
B. Before servicing or cleaning unit, switch power off at service panel and
lock service panel to prevent power from being switched on accidentally.
When the service disconnecting means cannot be locked, securely
fasten a prominent warning device, such as a tag, to the service panel.
CAUTION:
For general ventilating use only. Do not use to exhaust hazardous or
explosive materials and vapors.
INSTALLATION INSTRUCTIONS
WARNING: TO REDUCE THE RISK OF FIRE,
ELECTRIC SHOCK, OR INJURY TO PERSONS, OBSERVE THE
FOLLOWING:
A. Installation work and electrical wiring must be done by qualified
person(s) in accordance with all applicable codes and standards,
including fire-rated construction.
B. Sufficient air is needed for proper combustion and exhausting of gases
through the flue (chimney) of fuel burning equipment to prevent back
drafting. Follow the heating equipment manufacturer's guideline and
safety standards such as those published by the National Fire
Protection Association (NFPA), and the American Society for Heating,
Refrigeration and Air Conditioning Engineers (ASHRAE), and the local
code authorities.
C. When cutting or drilling into wall or ceiling, do not damage electrical
wiring and other hidden utilities.
D. Ducted fans must always be vented to the outdoors.
E. If this unit is to be installed over a tub or shower, it must be marked as
appropriate for the application.
F. NEVER place a switch where it can be reached from a tub or shower.
• Unit consists of the housing, power unit/blower assembly (motor, wheel
mounting plate, grille, reflector, lens and duct collar).
• WARNING: To reduce the risk of fire or electric shock, do not use
this fan with any solid-state speed control device.
• WARNING: To reduce the risk of shock, disconnect power before
servicing.
• Not for use in kitchens.
• Do not install in a ceiling insulated to a value greater than R-40.
• For installation in sloped ceilings up to 7/12 pitch, ductwork must point up.
FOR BEST RESULTS
For new construction install the housing during the rough-in stage of
construction. The blower unit, light and grille should be installed after the
finished ceiling is in place.
To install the Exhaust Fan-Light in an existing finished building requires
an accessible area (attic or crawl space) above the planned location.
PLANNING DUCTWORK AND WIRING
DUCTWORK
1. Use 4" round duct.
2. Plan to run duct from the fan's discharge opening to the outside. For
best fan performance, make duct run as short as possible and use
minimum number of elbows.
3. Use optional NuTone ducting accessories as needed (refer to NuTone's
catalog for a complete listing of optional accessories).
WIRING
Plan to run 120vAC house wiring (with ground) from a power source,
through a standard wall switch or an optional NuTone double FAN/LIGHT
switch, to the junction box in the Fan-Light's housing.
INSTALLATION IN A NEW
CONSTRUCTION SITE
PREPARATION
1. Unplug the power unit.
2. Refer to Figure 1. Remove power unit/blower assembly from the
housing. Remove screw and pull power unit assembly tabs out of slots
in housing. Set unit aside until needed.
3. Remove one of the wiring knockouts from housing.
MOUNTING THE HOUSING
USING SIDE MOUNTING TABS
Refer to Figure 2.
1. Locate housing next to ceiling joist.
2. Use wood screws (not provided) to loosely attach housing to ceiling
joist through keyhole slots in mounting tabs.
3. Adjust housing so that it will be flush with the finished ceiling.
4. When housing is properly adjusted, tighten screws in slots.
USING HANGER BARS
(Hanger bars sold separately, order model HB4)
Refer to Figure 3.
1. Insert hanger bars in slots provided in housing.
2. Locate fan housing between ceiling joists so that bottom of fan housing
is even with the planned finished ceiling.
3. Use screws or nails to secure mounting brackets to ceiling joists.
INSTALLING DUCTWORK
1. Refer to Figure 1. Place duct collar over flanges at discharge opening
of fan. Secure collar by snapping tabs into slots in flanges.
2. Refer to Figure 4. Run 4" round duct from outside to fan's discharge
opening.
3. Connect duct to duct collar.
WIRING
Refer to Figures 5 and 6.
All wiring must comply with local codes and unit must be properly
grounded.
1. Run 120vAC house wiring from power source, through wall switch, to
junction box in housing.
2. To control both fan and light with one switch, install wiring.
3. For separate control of the fan and light, use NuTone double switch and
install wiring.
4. Install approved box connector into wiring access hole. String wires
through box connector and into junction box.
5. Use approved wire nuts to make wire connections. Green or bare supply
ground lead must be connected to green lead in wiring compartment.
INSTALLATION IN EXISTING
CONSTRUCTION
PLANNING
Installing a bathroom exhaust fan-light in a finished house requires
at least a small accessible area (attic or crawl space) above the
planned installation location.
Plan ducting and wiring before proceeding with installation (see
page 1).
CAUTION: Check area above planned location to be sure that:
(1) Ducting can be installed
(2) Wiring can be run to the planned location
(3) No wiring or other obstruction might interfere with installation
POWER/BLOWER UNIT INSTALLATION
Refer to Figure 1.
1. Place power/blower unit into housing so that mounting plate's tabs insert
into slots in housing.
2. Secure mounting plate with provided screw.
3. Insert motor plug into junction box receptacle.
COMPLETING INSTALLATION
Refer to Figure 1.
1. Remove wing nut from the threaded bolt on motor mounting strap.
2. Place reflector into grille.
3. Align grille/reflector assembly with housing and insert light plug into
receptacle in junction box.
4. Using wing nut, secure grille/reflector assembly to motor mounting strap.
5. Install 100 watt (maximum) light bulb into light socket.
6. Install lens by squeezing both sides and inserting lens tabs into slots in
grille.
INSTALLATION
1. The fan light can be mounted directly to a ceiling joist or spaced
between joists using hanger bars (sold separately). If housing is to
be mounted directly to ceiling joist plan cutout so side of housing
with mounting tabs is against joist.
LOCATING JOIST: Lightly tap the ceiling. A hollow sound means
no joists, a solid sound means a joist is present. To be sure you
have located a joist, drill a small hole (1/16") and probe into the
ceiling with a wire. Leave wire in hole to help locate it in the attic or
crawl space.
2. Locate hole in attic or crawl space.
3. Using the housing as a template, mark the ceiling for the cutout.
Cutout dimensions: 9 1/8" x 9 1/8".
4. Make cutout along marked line.
5. Refer to Mounting The Housing on page 2.
Product specifications subject to change without notice.
4820 Red Bank Road, Cincinnati, Ohio 45227
Printed in U.S.A., Rev. 05/06, Part No. 87538
INSTRUCCIONES DE INSTALACION
¡LEA Y GUARDE ESTAS INSTRUCCIONES!
Lámpara-Ventilador
para techos
MODELO: 763RLN y 769RL
APROPIADO PARA SER UTILIZADO EN EL RECINTO
DE LA BANERA O DE LA DUCHA CUANDO SE INSTALA
EN UN CIRCUITO DERIVADO PROTEGIDO POR GFCI.
CABLEADO
INSTALACION EN
UNA CONSTRUCCION EXISTENTE
PLANIFICACION
INSTALACION DE LA UNIDAD
DE POTENCIA/SOPLADOR
INSTALACION
INSTRUCTIONS D'INSTALLATION
LISEZ ET GARDEZ CES INSTRUCTIONS!
INSTALLATION DANS UNE CONSTRUCTION
EXISTANTE
CABLAGE
PLANIFICATION
HOUSING
Caja
HABITACLE
DUCT COLLAR
Collarin Del Conducto
COL DE GAINE
SLOTS
Ranuras
FENTES
FIGURE 3
FIGURA 3
GRILLE
Rejilla
GRILLE
TABS
Lenguetas
LANGUETTES
ROOF CAP
Caperuza De Tejado
CHAPERON DE TOIT
4" DIAMETER DUCT
Conducto De 4" De
Diametro
GAINE DE 4 PO DE
DIAMETRE
FIGURE 1
FIGURA 1
WALL CAP
Caperuza De Pared
CHAPERON DE MUR
SINGLE SWITCH CONTROL
Control De Un Solo Interruptor
COMMANDE AVEC
INTERRUPTEUR SIMPLE
BLACK
Negro
NOIR
WHITE
Blanco
BLANC
FIGURE 4
FIGURA 4
DOUBLE SWITCH CONTROL
Control De Interruptor Doble
COMMANDE AVEC
INTERRUPTEUR DOUBLE
BLACK
Negro
NOIR
MOUNTING TABS
Lenguetas De
Montaje
LANGUETTES DE
MONTAGE
FIGURE 2
FIGURA 2
GROUND
120vAC
120vCA Conexion A Tierra
TERRE
120v CA
GROUND
120vAC
120vCA Conexion A Tierra
TERRE
120v CA
FIGURE 5
FIGURA 5
FIGURE 6
FIGURA 6
PARTS LIST
VF-305CN
EFFECTIVE
DATE
VC-305C3N
C-305C3N
MODEL NUMBER
Rev. VC-305AN
763RLN & 769RL
JUNEVC-305C2N
2003
PRODUCT
GROUP
FAN
5
6
4
3
2
3
3
9 5
3
1
4
6
1
8
6
3
257
6
10
8 11
2
4
7
6
8
7
7
8
7
8
9
1
12
REF.
1
13
1
2
2
10
NOT A PARTS DEPT .
STOCK ITEM
10
11
ORIGINAL
PART NO.
0503B
0504B
86677
PART DESCRIPTION
9
POWER UNIT ASSEMBLY
POWER UNITVC-305C3N
ASSEMBLY
C-305C3N
VC-305C2N
MOTOR
MOTOR
763RLN
CURRENT
REPLACEMENT
PART NO.
0503B-000
769RL
763RLN
0504B-000
86677-000
769RL
763RLN
87547-000
89914-000
82403-000
89765-000
MODEL USED ON
9
VC-305AN
14
3
87547
89914
4
68739
89765
REFLECTOR
769RL
763RLN, 769RL
5
6
88190
30652
LAMP SOCKET
DUCT ADAPTER ASSEMBLY
763RLN, 769RL
763RLN, 769RL
35758-000
30652-000
7
8
85316
89108
GRILLE
LENS
763RLN, 769RL
763RLN, 769RL
85316-000
89108-000
9
10
16133
61326
WING NUT
FAN RECEPTACLE
763RLN, 769RL
763RLN, 769RL
16133-000
61326-000
11
82304
LIGHT RECEPTACLE
763RLN, 769RL
82304-000
3
NOT A PARTS DEPT .
BLOWER WHEEL STOCK ITEM
BLOWER WHEEL
NuTone
Attn: Parts Department
4820 Red Bank Rd.
Cincinnati, OH 45227-1599
Phone: (513) 527-5426
Fax: (513) 527-5173
NOTE: Always order by
current part number
763RLN & 769RL I.I.