Blackboard Academic Suite User Manual
| View Grades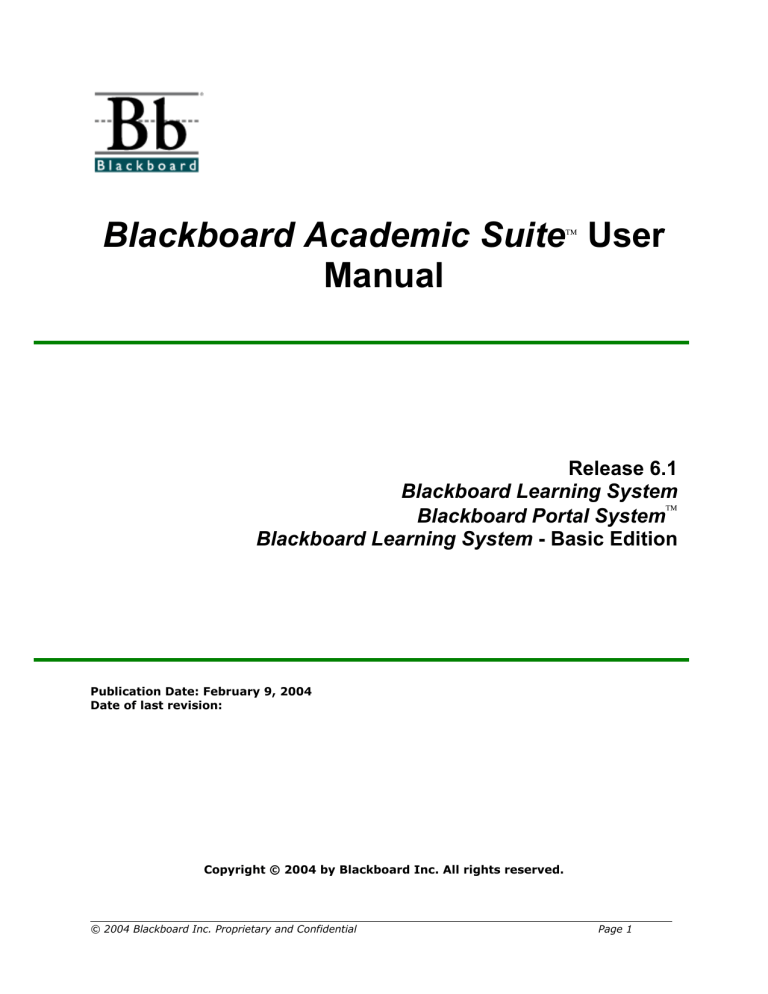 Blackboard Academic Suite
Description:
Event Time
Event Date:
Start Time:
End Time:
User Manual
Enter a description of the event. The following options are available:
 Smart Text: Automatically recognizes a link entered in the text box. Smart text recognizes the ENTER key as a paragraph tag and accepts
HTML tags as well. Smart Text will also prompt to load images if an image source text is used when adding smart text as part of a content item.
 Plain text: Displays text as written.
 HTML: Displays text as coded using HTML tags.
 √ x: Opens the WebEQ Equation Editor .
 <  >: Opens the MathML Equation Editor .

 Preview: Opens the text as it will appear to the user.
Click the drop-down arrow and select date values or click the icon to select a date from the calendar interface.
Click the drop-down arrow and select time values.
Click the drop-down arrow and select time values.
© 2004 Blackboard Inc. Proprietary and Confidential Page 135
Blackboard Academic Suite
Overview
User Manual
View Grades
The Tools box provides quick access for users to check grades and performance statistics from all their Courses. The My Grades page lists each user ' s courses and organizations. Users then select a course or organization to access a report.
Users can check their grades in a course by accessing the View Grades page through the Course menu. This page includes information on the following:
 the user ' s average Assessment grade
 the total number of points the user has accumulated
 details about each Assessment.
 information about the class average on each Assessment
 grade weighting. This is the weight of the item.
Find this page
Follow the steps below to open the View Grades page.
Step 1
Step 2
Step 3
Open a course Web site.
Click
Tools
Select
on the Course menu.
View Grades
.
OR
Select
View Grades
in the Tools box of a common area.
© 2004 Blackboard Inc. Proprietary and Confidential Page 136
* Your assessment is very important for improving the work of artificial intelligence, which forms the content of this project