Guidelines for healthy foods and drinks supplied in school canteens
| The Australian Guide to Healthy Eating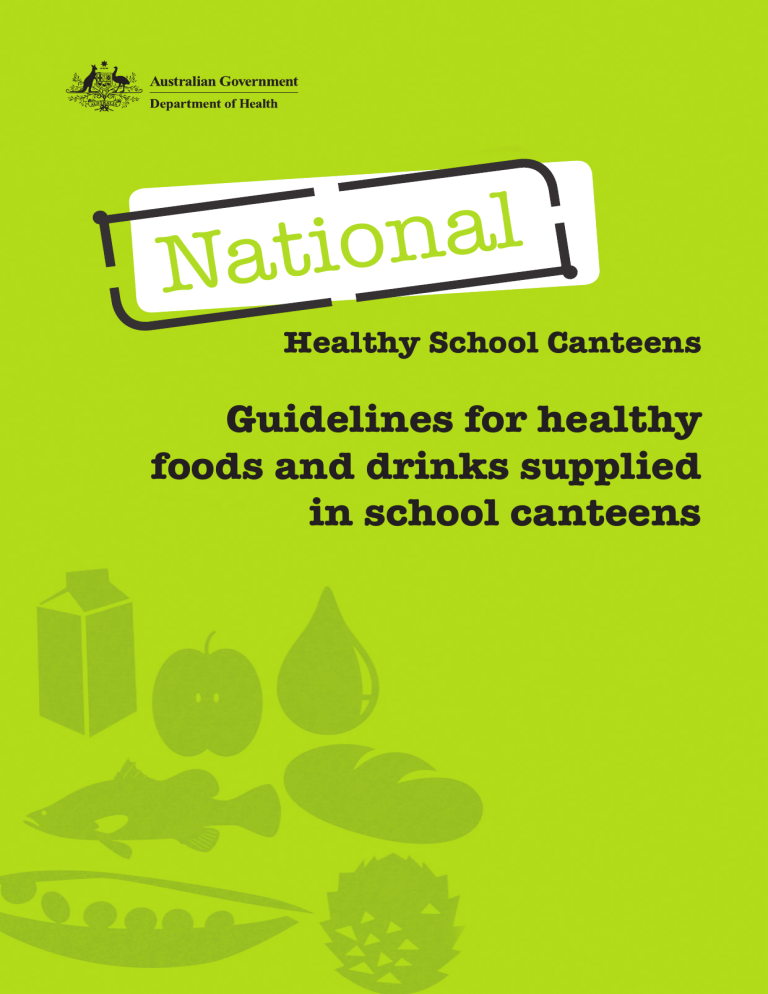 The Australian Guide to Healthy Eating
The
Australian Guide to Health Eating
is the national
Australian food selection guide. The guide is consistent with the
2013 Australian Dietary Guidelines
and visually represents the recommended proportion for consumption from each of the five food groups each day. Following a dietary pattern in these recommended proportions will provide enough of the nutrients essential for good health.
Vegetables – different types and colours, and legume/ beans
The
Australian Guide to Healthy Eating
What are the five food groups?
Five Food Groups Major foods in this group
• Dark green and cruciferous vegetables: bok choy, spinach, broccoli, cauliflower, cabbage, brussels sprouts
• Orange vegetables: sweet potato, pumpkin, carrots
• Salad vegetables: lettuce, tomato, cucumber, capsicum
• Starchy vegetables: potatoes, sweet potato, taro, corn
• Legumes: dried peas, beans, lentils, chick peas
Fruit
• Pome fruits: apples and pears
• Citrus fruit: oranges, mandarins and grapefruit
• Stone fruit: apricots and peaches
• Tropical fruit: bananas, mangoes, pawpaw, and pineapple
• Berries
• Other fruits: grapes and passionfruit
Grain (cereal) foods, mostly wholegrain and/or high in fibre
• Wheat, oats, rice, rye, barley, millet, quinoa, and corn
Lean meats and poultry, fish, eggs, tofu, nuts and seeds, and legumes/beans
Milk, yoghurt, cheese and/or their alternatives, mostly reduced fat
• Lean meats: Beef, lamb, pork, veal, kangaroo
• Lean poultry: Chicken, duck, emu, goose, turkey
• Fish and seafood: Fish, clams, crab, lobster, mussels, oysters, prawns, scallops
• Egg: chicken, duck
• Nuts and seeds: almonds, brazil nuts, cashews, chestnuts, hazel nuts, macadamia nuts, pine nuts, peanuts, pecans, pistachios, walnuts
• Beans/legumes: all beans, chickpeas, lentils, split peas, tofu
• Milks: long life, fat reduce or full cream milks – preferably unflavoured types, buttermilk, evaporated milk, powdered milk
• Soy or other beverages (fortified with at least 100mg calcium/100ml)
• Yoghurt: all yoghurts including reduced fat or full cream – without added sugar; soy yoghurt (calcium fortified)
• Cheese: cheddar, edam, gouda, ricotta, soy cheeses (calcium fortified)
The Australian Guide to Healthy Eating
Page |
3
Discretionary foods and drinks
Some foods and drinks do not appear in the table above. The
2013 Australian Dietary Guidelines
refers to them as 'Discretionary'. Discretionary choices are called that because they are not an essential or necessary part of healthy dietary patterns. Discretionary foods are high in kilojoules, saturated fat, added sugars, added salt, or alcohol. If chosen, they should be eaten only sometimes and in small amounts.
For younger children (up to about 8 years of age), discretionary choices are best avoided or limited to no more than ½ serve a day unless the child is taller or more active, in which case they could have
0-2 serves a day. Older children and adolescents who are more active and not above their healthy weight range could have up to 2 ½ serves a day, and older adolescents up to 3 serves a day.
A sample Discretionary serve could be: 2 scoops (75g) ice-cream, 1 (40g) doughnut, 1 can soft drink,
½ small bar (25g) chocolate, 12 (60g) fried hot chips, ¼ meat pie or pastie (full pie = 4 serves).
How many serves do children need?
How many serves of each of the five food groups a child needs each day will depend on their size, physical activity levels, stage of growth and whether they are male or female. The following table gives a guide for most healthy children to achieve their recommended minimum daily nutrient intake.
Additional serves of the five food groups or unsaturated spreads and oils or discretionary choices are needed only by children and adolescent who are taller, more active or in the higher end of a particular age band, to meet additional energy requirements.
Food Groups
Boys
Vegetables
Fruit
Grain (cereal)
Lean meats and alternatives
4 – 8 years
4 ½
1 ½
4
1 ½
Number Of Serves
9 – 11 years 12 – 13 years 14 – 18 years
5 5 ½ 5 ½
2
5
2 ½
2
6
2 ½
2
7
2 ½
Dairy and alternatives
Girls
Vegetables
2
4 – 8 years
4 ½
2 ½
9 – 11 years
5
3 ½ 3 ½
12 – 13 years 14 – 18 years
5 5
Fruit
Grain (cereal)
Lean meats and alternatives
Dairy and alternatives
1 ½
4
1 ½
1 ½
2
4
2 ½
3
2
5
2 ½
3 ½
2
7
2 ½
3 ½
The Australian Guide to Healthy Eating
Page |
4
How much is a serve?
Food Groups
Vegetables – different types and colours, and legume/ beans
Serve Size
• ½ cup cooked green or orange vegetables (eg broccoli, spinach, carrots or pumpkin)
• ½ cup cooked dried or canned , peas or lentils
• 1 cup green leafy or raw salad vegetables, ½ cup sweet corn,
½ medium potato or other starchy vegetables (sweet potato, taro or cassava), 1 medium tomato
Fruit
Grain (cereal) foods, mostly wholegrain and/or high in fibre
Lean meats and poultry, fish, eggs, tofu, nuts and seeds, and legumes/beans
• 1 medium apple, banana, orange or pear
• 2 small apricots, kiwi fruits or plums
• 1 cup diced or canned fruit (no added sugar)
• 1 slice bread, ½ medium roll or flat bread,
• ½ cup cooked rice, pasta, noodles, barley, buckwheat, semolina, polenta, bulgur or quinoa
• ½ cup cooked porridge, 2/3 cup wheat cereal flakes,
¼ cup muesli
• 3 crispbreads, 1 crumpet, 1 small English muffin or scone
• 65g cooked lean red meats such as beef, lamb, veal, pork, goat or kangaroo (about 90-100g raw)
• 80g cooked lean poultry such as chicken or turkey (100g raw)
• 100g cooked fish fillet (about 115g raw) or one small can of fish
• 2 large eggs (120g), 1 cup (150g) cooked or canned legumes/beans such as lentils, chick peas or split peas
• 30g nuts*, seeds, peanut* or almond butter *or tahini or other nut or seed paste
Milk, yoghurt, cheese and/ or their alternatives, mostly reduced fat
• 1 cup (250ml) milk, ½ cup (120ml) evaporated unsweetened milk, 2 slices
(40g) hard cheese, such as cheddar
• ½ cup (120g) ricotta cheese
• ¾ cup (200g) yoghurt
• 1 cup (250ml) soy, rice or other cereal drink with at least
100mg of added calcium per 100ml
*Check your school policy regarding the use of nuts and products containing nuts
Page |
5
* Your assessment is very important for improving the work of artificial intelligence, which forms the content of this project