Zanussi ZDS 231 User manual
| First use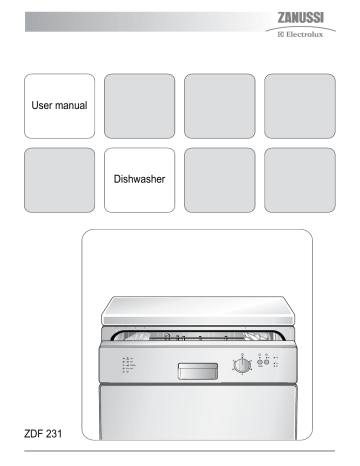 Washing programmes
B
Programme
A
Intensive 70°
Normal 65°
Degree of soil
Heavy soil
Normal soil
Type of load
Crockery, cutlery, pots and pans
Crockery, cutlery, pots and pans
Programme description
Prewash
Main wash
2 intermediate rinses
Final rinse
Drying
Prewash
Main wash
1 intermediate rinses
Final rinse
Drying
Main wash
Final rinse
C
Eat-Load-Run
1)
Light soil Crockery and cutlery
30 min.
D
2)
E
50°
Rinse and Hold
Normal soil
Any.
Crockery and cutlery
Partial load (to be completed later in the day).
Prewash
Main wash
1 intermediate rinse
Final rinse
Drying
1 cold rinse (to avoid food scraps from sticking together).
This programme does not require the use of detergent.
1) Ideal for washing a partially loaded dishwasher. This is perfect daily programme, made to meet the needs of a family of 4 persons who only wish to load breakfast and dinner crockery and cutlery.
2) Test programme for test institutes.
First use
Before using your dishwasher for the first time:
• Ensure that the electrical and water connections comply with the installation instructions
7
* Your assessment is very important for improving the work of artificial intelligence, which forms the content of this project
Related manuals