No category
Host Command Reference Rev I
| Command Summary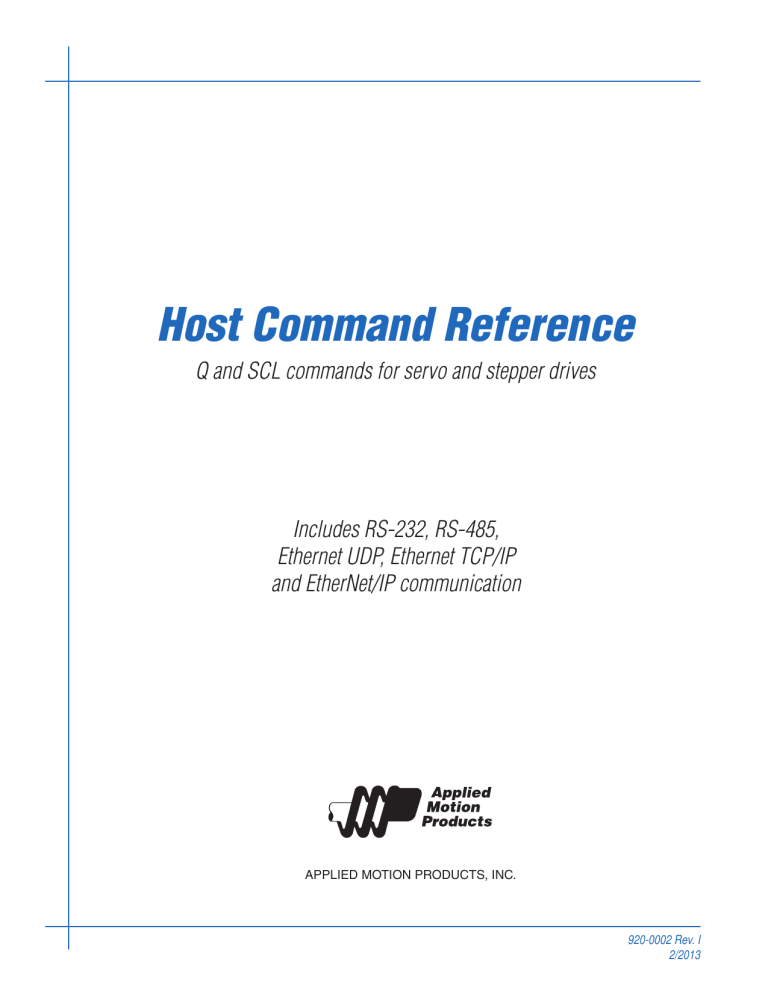 Host Command Reference
Command Summary
This section contains a set of tables that list all of the Host Commands available with your drive. In each table there are a number of columns that give information about each command.
• "Command" shows the command's two-letter Command Code.
• "Description" shows the name of each command.
• "NV" designates which commands are Non-volatile: that is, which commands are saved in non-volatile memory when the SA (Save) command is sent to the drive. Note that certain commands (PA, PB, PC, PI, and PM) save their parameter data to non-volatile memory immediately upon execution, and need not be followed by an SA command.
• "Write only" or "Read only" is checked when a command is not both Read/Write compatible.
• "Immediate" designates an immediate command (all other commands are buffered).
• "Compatibility" shows which drives use each of the commands.
The different categories for these tables - Motion, Servo, Configuration, I/O, Communications, Q Program,
Register - are set up to aid you in finding particular commands quickly.
• "Motion" commands have to do with the actual shaft rotation of the step or servo motor.
• "Servo" commands cover servo tuning parameters, enabling / disabling the motor, and filter setup.
• "Configuration" commands pertain to setting up the drive and motor for your application, including tuning parameters for your servo drive, step resolution and anti-resonance parameters for your step motor drive, etc.
• "I/O" commands are used to control and configure the inputs and outputs of the drive.
• "Communications" commands have to do with the configuration of the drive's serial ports.
• "Q Program" commands deal with programming functions when creating stored programs for your Q drive.
• "Register" commands deal with data registers. Many of these commands are only compatible with Q drives.
920-0002 Rev. I
2/2013
12
Host Command Reference
Motion Commands
JA
JC
JD
JE
FP
FS
FY
HW
FC
FD
FE
FL
FM
FO
JL
JM
JS
MD
ME
MR
PA
SD
Command Description
AC
AM
CJ
DC
DE
DI
ED
EF
EG
EI
EP
SH
SJ
SM
SP
Accel Rate
Accel Max
Commence Jogging
Distance for FC, FM, FO, FY
Decel Rate
Distance or Position
Encoder Direction
Encoder Function
Electronic Gearing
Input Noise Filter
Encoder Position
Feed to Length with Speed Change
Feed to Double Sensor
Follow Encoder
Feed to Length
Feed to Sensor with Mask Dist
Feed to Length & Set Output
Feed to Position
Feed to Sensor
Feed to Sensor with Safety Dist
Hand Wheel
Jog Accel/Decel rate
Velocity mode second speed
Jog Disable
Jog Enable
Jog Decel rate
Jog Mode
Jog Speed
Motor Disable
Motor Enable
Microstep Resolution
Power-up Accel Current
Set Direction
Seek Home
Stop Jogging
Stop the Move
Set Absolute Position
•
•
•
•
•
•
•
•
•
•
•
•
•
•
•
•
•
•
•
•
•
•
•
•
•
NV write only
•
•
•
•
•
•
•
•
•
•
read only
Immediate Compatibility
•
All drives
All drives
All drives
All drives
All drives
All drives
Servos and steppers with encoder feedback
Servos and steppers with encoder feedback
All drives
All drives
Servos and steppers with encoder feedback
All drives
All drives
All drives
All drives
All drives
All drives
All drives
All drives
All drives
All drives
All drives
All drives
All drives
All drives
All drives
Al drives (see JM command)
All drives
All drives
All drives
Stepper drives only
STM stepper drives only
STM stepper drives with Flex I/O only
All drives
All drives
Q drives only
All drives
13
920-0002 Rev. I
2/2013
AL
AR
BD
BE
BS
CA
CC
CD
Host Command Reference
Motion Commands (continued)
ST
VC
VE
VM
WM
WP
Stop Motion
Velocity for Speed Change (FC) •
Velocity Setting (For Feed Commands) •
Velocity Max •
Wait on Move
Wait on Position
Servo Commands
Command Description
PL
PP
VI
VP
KI
KJ
KK
KP
KV
PF
IE
IQ
IX
KC
KD
KE
KF
CP
EP
GC
IC
Change Peak Current
Encoder Position
Current Command
Immediate Current Command
Immediate Encoder Position
Immediate Actual Current
Immediate Position Error
Overall Servo Filter
Differential Constant
Differential Filter
Velocity Feedforward Constant
Integrator Constant
Jerk Filter Frequency
Inertia Feedforward Constant
Proportional Constant
Velocity Feedback Constant
Position Fault
Position Limit
Power-Up Peak Current
Velocity Integrator Constant
Velocity Mode Proportional Constant
Configuration Commands
Command Description
•
•
•
• All drives
All drives
All drives
All drives
Q drives only
Q drives only
•
•
•
•
•
•
•
•
•
•
•
•
•
•
NV write only
•
•
read only
Immediate Compatibility
•
•
•
•
•
•
•
•
•
Servo drives only
Servo drives only
Servo drives only
Servo drives only
Servo drives only
Servo drives only
Servo drives only
Servo drives only
Servo drives only
Servo drives only
Servo drives only
Servo drives only
SV7 Servo drives only
Servo drives only
Servo drives only
Servo drives only
Servo drives, drives with encoder feedback
Servo drives only
Servo drives only
Servo drives only
Servo drives only
Alarm Code
Alarm Reset
Brake Disengage Delay time
Brake Engage Delay time
Buffer Status
Change Acceleration Current
Change Current
Idle Current Delay
•
•
•
NV write only
•
•
•
read only
•
•
Immediate Compatibility
•
•
•
All drives
All drives
All drives
All drives
All drives
STM stepper drives only
All drives
Stepper drives only
920-0002 Rev. I
2/2013
14
Host Command Reference
IF
IQ
IP
IT
IU
IV
LV
MD
ME
MN
MO
MR
MV
OF
OI
OP
PA
PC
PF
PI
PL
PM
PP
PW
ER
HG
HP
IA
ID
IE
Configuration Commands (continued)
CF
CG
CI
CM
CP
DA
DL
DR
ED
Anti-resonance Filter Frequency
Anti-resonance Filter Gain
Change Idle Current
Control mode
Change peak current
Define Address
Define Limits
Data Register for Capture
Encoder Direction
•
•
•
•
•
•
•
•
•
•
•
•
Encoder or Resolution
4th Harmonic Filter Gain
4th Harmonic Filter Phase
Immediate Analog immediate Distance
Immediate Encoder
Immediate Format
Immediate Current
Immediate Position
Immediate Temperature
Immediate Voltage
Immediate Velocity
Low Voltage Threshold
Motor Disable
Motor Enable
Model Number
Motion Output
Microstep Resolution
Model & Revision
On Fault
On Input
Option Board
Power-up Acceleration Current
Power up Current
Position Fault
Power up Idle Current
In Position Limit
Power up Mode
Power up peak current
Pass Word
•
•
•
•
•
•
•
•
•
•
•
•
•
•
•
15
•
•
•
•
•
•
•
•
•
•
•
•
•
•
•
•
•
•
•
•
•
•
•
•
•
Stepper drives only
Stepper drives only
Stepper drives only
All drives
Servo drives only
All drives
All drives
Q servo drives only
Servo drives, drives with encoder feedback
Servo drives, drives with encoder feedback
Stepper drives only
Stepper drives only
All drives
All drives
Servo drives, drives with encoder feedback
All drives
Servo drives only
All drives
All drives
All drives
All drives
All drives
All drives
All drives
All drives
All drives
All drives (deprecated - see EG command)
All drives except Blu servos
Q drives only
Q drives only
All drives
All drives
Servo drives, drives with encoder feedback
Stepper drives only
Servo drives only
All drives
Servo drives only
Q drives only
920-0002 Rev. I
2/2013
SF
SI
SK
ZC
ZR
ZT
Host Command Reference
Configuration Commands (continued)
RE
RL
RS
RV
SA
SC
SD
Restart / Reset
Register Load
Request Status
Revision Level
Save all NV Parameters
Status Code
Set Direction •
•
•
Step Filter Frequency
Enable Input usage
Stop & Kill
Regen Resistor Continuous Wattage
Regen Resistor Value
Regen Resistor Peak Time
•
•
•
•
•
•
AF
AG
AI
AO
AP
AS
AT
AV
AZ
BD
BE
BO
DL
EI
FI
FX
IH
IL
IO
IS
MO
I/O Commands
Command Description
AD Analog Deadband
Analog Filter
Analog Velocity Gain
Alarm Input usage
Alarm Output usage
Analog Position Gain
Analog Scaling
Analog Threshold
Analog Offset
Analog Zero (Auto Zero)
Brake Disengage Delay time
Brake Engage Delay time
Brake Output usage
Define Limits
Input Noise Filter
Filter Input
Filter Selected Inputs
Immediate High Output
Immediate Low Output
Output Status
Input Status request
Motion Output
•
•
•
•
•
•
•
•
•
All drives
All drives
All drives
All drives
All drives
STM stepper drives with Flex I/O only
Stepper drives only
All drives
All drives
BLuAC5 and STAC6 drives only
BLuAC5 and STAC6 drives only
BLuAC5 and STAC6 drives only
•
•
•
•
•
•
•
•
•
•
NV write only
•
•
•
•
•
•
•
•
•
read only
Immediate Compatibility
•
•
•
•
•
All stepper drives and SV servo drives
All drives
All stepper drives and SV servo drives
All drives
All drives
All drives
All stepper drives and SV servo drives
All drives
All drives
All drives
All drives
All drives
All drives
All drives
All drives
All drives (Note: not NV on Blu servos)
Blu, STAC5, STAC6, SVAC3
All drives
All drives
All drives
All drives
All drives
920-0002 Rev. I
2/2013
16
Host Command Reference
OI
PS
QC
QD
QE
AX
MT
NO
OF
QR
QS
QU
QX
QG
QJ
QK
QL
SM
SS
TI
WD
WI
WM
WP
WT
I/O Commands (continued)
OI
SI
On Input
Enable Input usage
SO
TI
WI
Set Output
Test Input
Wait on Input
Communications Commands
Command Description
BR
BS
CE
IF
PB
PR
TD
Baud Rate
Buffer Status
Communications Error
Immediate Format
Power up Baud Rate
Protocol
Transmit Delay
Q Program Commands
Command Description
Alarm Reset
Multi-Tasking
No Operation
On Fault
On Input
Pause
Queue Call
Queue Delete
Queue Execute
Queue Goto
Queue Jump
Queue Kill
Queue Load
Queue Repeat
Queue Save
Queue Upload
Queue Load & Execute
Stop Move
Send String
Test Input
Wait Delay using Data Register
Wait for Input
Wait for Move to complete
Wait for Position in complex move
Wait Time
•
•
•
•
•
Q drives only
All drives
All drives
Q drives only
All drives
•
•
•
•
NV write only
•
read only
Immediate Compatibility
•
•
•
All drives
All drives
All drives
All drives
All drives
All drives
All drives
•
•
•
•
•
•
•
•
•
•
•
•
•
•
•
•
•
•
•
•
•
•
NV write only
•
read only
Immediate Compatibility
•
•
•
•
•
All drives
Q drives only
Q drives only
Q drives only
Q drives only
All drives
Q drives only
Q drives only
Q drives only
Q drives only
Q drives only
Q drives only
Q drives only
Q drives only
Q drives only
Q drives only
Q drives only
Q drives only
All drives
Q drives only
Q drives only
All drives
Q drives only
Q drives only
Q drives only
17
920-0002 Rev. I
2/2013
Host Command Reference
Register Commands
Command Description
R|
TR
TS
R+
R-
R*
R/
R&
RR
RU
RW
RX
CR
DR
RC
RD
RI
RL
RM
Compare Register
Data Register for Capture
Register Counter
Register Decrement
Register Increment
Register Load
Register Move
Register Read
Register Upload
Register Write
Register Load
Register Addition
Register Subtraction
Register Multiplication
Register Division
Register Logical AND
Register Logical OR
Test Register
Time Stamp read
NV write only
•
•
•
•
•
•
•
•
•
•
•
•
•
•
•
•
•
read only
Immediate Compatibility
•
Q drives only
Q drives only
Q drives only
Q drives only
Q drives only
Q drives only
Q drives only
Q drives only
•
Q drives only
Q drives only
Q drives only
Q drives only
Q drives only
Q drives only
Q drives only
Q drives only
Q drives only
Q drives only
920-0002 Rev. I
2/2013
18
* Your assessment is very important for improving the work of artificial intelligence, which forms the content of this project