User`s Manual PMM DR-01
| User's Manual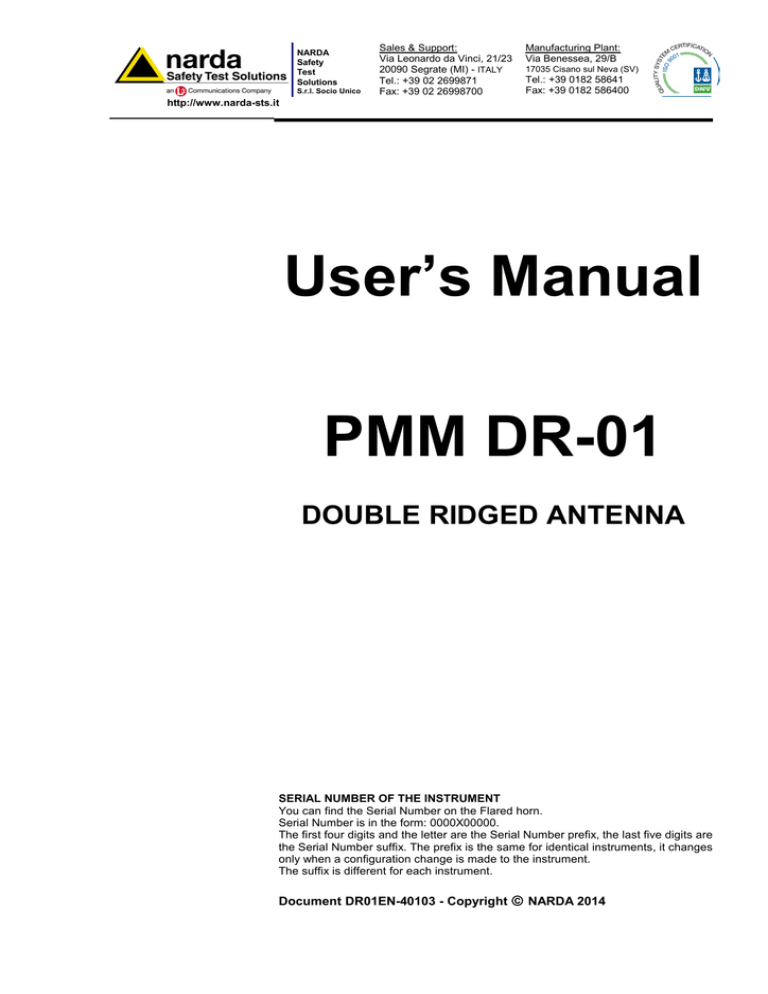 NARDA
Safety
Test
http://www.narda-sts.it
Solutions
S.r.l. Socio Unico
Sales & Support:
Via Leonardo da Vinci, 21/23
20090 Segrate (MI) -
ITALY
Tel.: +39 02 2699871
Fax: +39 02 26998700
Manufacturing Plant:
Via Benessea, 29/B
17035 Cisano sul Neva (SV)
Tel.: +39 0182 58641
Fax: +39 0182 586400
User's Manual
PMM DR-01
DOUBLE RIDGED ANTENNA
SERIAL NUMBER OF THE INSTRUMENT
You can find the Serial Number on the Flared horn.
Serial Number is in the form: 0000X00000.
The first four digits and the letter are the Serial Number prefix, the last five digits are the Serial Number suffix. The prefix is the same for identical instruments, it changes only when a configuration change is made to the instrument.
The suffix is different for each instrument.
Document DR01EN-40103 - Copyright

NARDA 2014
* Your assessment is very important for improving the work of artificial intelligence, which forms the content of this project