HVR-DR60 Manual
| Folder saving format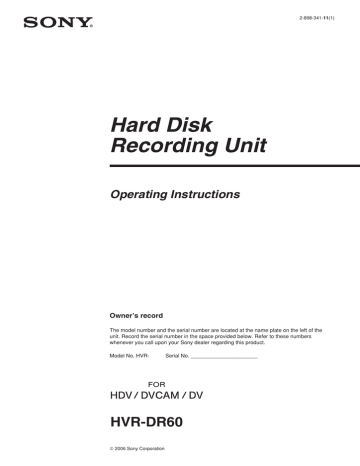 Folder saving format
Folder organization
The file/folder organization on the HDD of this unit is as follows.
VIDEO
DV
DVF
100DVF
101DVF
999DVF
100DVF.IDX
DVS10001.AVI
100DVF.IDX
DVS10002.AVI
999DVF.IDX
DVS99901.DV
HDVF
HDV
100HDVF 100HDVF.IDX
HDV10001.M2T
HDV10001.TS
100HDVF.IDX
HDV10002.M2T
HDV10002.TS
Format
File number
01 - 99
101HDVF
999HDVF
999HDVF.IDX
HDV99901.M2T
HDV99901.TS
HDV xxx xx .M2T
Folder number
100 - 999
Extension
USER
When cache recording, a file of maximum 14 seconds is created at the top of the folder.
Files
The maximum file size is 4 GB. If a file size exceeds 4 GB, that file is automatically divided.
The last number of a new file name is automatically moved up one. When the last number of a file name exceeds 99, a new folder is automatically created and the new file is saved in that folder.
HDVxxxxx.M2T
Data recorded in HDV format
When playback, HDV compatible playback software is needed.
HDVxxxxx.TS
Ancillary data for the data recorded in HDV format
This data is needed for playback with this unit.
After this data is copied to a computer, it is not needed.
DVSxxxxx.AVI
DV format data recorded when DV FILE TYPE is set to
AVI
DVSxxxxx.DV
DV format data recorded when DV FILE TYPE is set to
RAW DV
For playback on Windows, Raw DV compatible playback software is needed.
xxxHDVF.IDV or xxx.DVF.IDX
Information files of recording data in folders
(number of files, number of frames, starting time code, etc.)
20
HDD organization
Video area
User area
Video area
• Up to 4.5 hours of video data can be recorded.
• Do not save the file.
• Do not transfer data from a computer to this unit in
COMPUTER mode.
Write back the data in VIDEO mode.
• Even if you delete or move files in COMPUTER mode, the capacity of the HDD is not increased.
Delete data using this unit or format this unit.
User area
You can use up to about 1 GB of data freely in the user area.
Notes
• Due to the limitations of Windows, this unit may not be detected when normal computer operation is restored after standby or hibernation. For this reason, hibernation is not supported by this unit.
• Due to the specifications of Mac OS X, to disconnect this unit from a Mac with Mac OS X and connect it again, perform the following steps.
To use a partition again
1
To use all the partitions of this unit, restart the computer or use Disk Utility. To use Disk Utility, follow the steps.
2
Start Disk Utility (/Applications/Utilities/).
3
Click the triangle mark on the left of the hard disk icon to display the hard disk volume and partition name.
4
Select one of the two grayed out partition names ("VIDEO" or "USER"). You do not need to select multiple grayed out partition names.
5
Select [Mount] from the [Option] menu. The selected name "VIDEO" or "USER" is displayed on the desktop again.
(If it is still unmounted, select [Unmount] and then select [Mount] again.)
6
Exit Disk Utility.
21
* Your assessment is very important for improving the work of artificial intelligence, which forms the content of this project