No category
TruSight Tumor 26 Reference Guide (15042911 v02)
| Chapter 1 Overview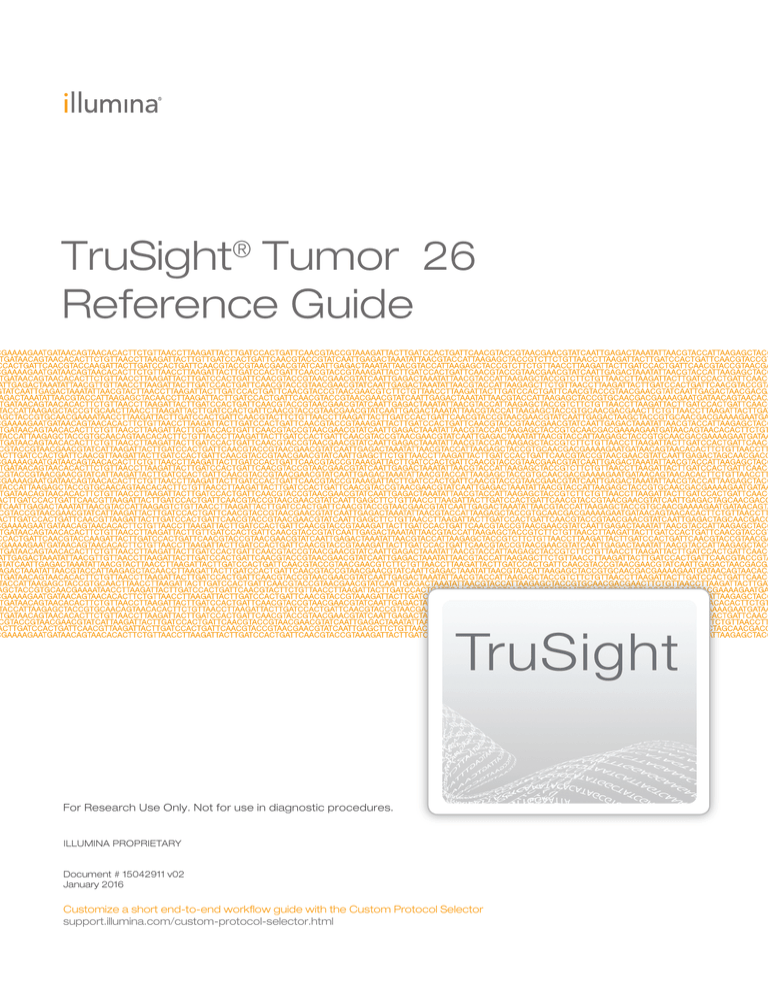 Chapter 1 Overview
Overview
TruSight Tumor 26 Reference Guide
1
Introduction
TruSight ® Tumor 26 takes a deeper view of variation in solid tumors including lung, colon, melanoma, gastric, and ovarian. This step enables clinical researchers to look beyond point mutations within hot spots in single genes for a more comprehensive view of somatic variation. TruSight Tumor 26 provides amplicon-based library preparation reagents, DNA
QC, sample indexes, and oligos targeting identified regions of interest. Sufficient reagents are supplied for 48 samples and the indexes provided enable indexing of 4 samples per sequencing run.
The TruSight Tumor 26 protocol offers:
} High Accuracy, Low-Frequency Variant Detection—Highly accurate somatic variant analysis at limit of detection below 5% allele frequency across 174 amplicons with
1000x minimum coverage of each region Optimized for formalin-fixed, paraffinembedded (FFPE) tissues.
}
Optimized for Formalin-Fixed, Paraffin-Embedded (FFPE) Tissues—Exceptional sample success rate with minimal DNA input for accurate base calling even in degraded FFPE samples.
}
Deep Coverage of Variants Involved with Solid Tumors—Coverage of exon coding regions for analysis of molecular heterogeneity in highly relevant content selected from
CAP and NCCN guidelines and late stage clinical trials.
2
Document # 15042911 v02
DNA Input Recommendations
Formalin-fixed, paraffin-embedded (FFPE) human tissues are a valuable source of material for molecular analysis and clinical studies. Several processes and protocols now exist for the extraction and purification of nucleic acids from FFPE samples. The assays used to evaluate DNA and RNA have evolved from simple monoplex PCR to higher plexity products. As a result, the quality and amount of nucleic acid extracted from FFPE material becomes more critical to the success of these assays.
The TruSight Tumor 26 assay can be used to generate sequencing libraries that are highly multiplexed at both the target and sample level. The high level of assay complexity is enabled by combining an oligo extension-ligation process with universal PCR. Both of these reactions require a largely intact DNA template that can be denatured. The process of preparing FFPE samples negatively impacts DNA quality by fragmenting, cross-linking, and otherwise damaging DNA through various chemical modifications. As a result, it is essential to assess the extent of the damage and, where possible, improve the procedures for fixation of tissue extraction of DNA from FFPE. This adjustment can partially compensate for damage and improve results from the TruSight Tumor 26 assay with FFPE
DNA.
DNA Extraction Recommendations
Illumina recommends using the QIAGEN Supplementary Protocol: Purification of Genomic
DNA from FFPE Tissue using the QIAamp DNA FFPE Tissue Kit and Deparaffinization Solution.
This protocol extracts the highest amount of amplifiable DNA from an FFPE tissue block, with the following modifications:
} Extract gDNA from 8 separate 5 µm FFPE tissue sections per extraction
}
Deparaffinize with 320 µl of QIAGEN Deparaffinization Solution
}
Digest with Proteinase K in a thermal mixer overnight at 1000 rpm
} Decrease elution volume to 30 µl to maximize DNA concentration
TruSight Tumor 26 Reference Guide
3
Additional Resources
Visit the TruSight Tumor 26 support page on the Illumina website for documentation, software downloads, training resources, and information about compatible Illumina products.
The following documentation is available for download from the Illumina website.
Resource
Custom Protocol Selector
TruSight Tumor 26 Protocol
Guide (document #
1000000001444)
TruSight Tumor 26 Checklist
(document # 1000000001445)
Description
http://support.illumina.com/custom-protocol-selector.html
A wizard for generating customized end-to-end documentation that is tailored to the library prep method, run parameters, and analysis method used for the sequencing run.
Provides only protocol instructions.
The protocol guide is intended for experienced users. For new or less experienced users, see the TruSight Tumor 26
Reference Guide.
Provides a checklist of the protocol steps.
The checklist is intended for experienced users. For new or less experienced users, see the TruSight Tumor 26 Reference
Guide.
4
Document # 15042911 v02
* Your assessment is very important for improving the work of artificial intelligence, which forms the content of this project