Welcome. Epson PowerLite 62c, PowerLite 82c
| Welcome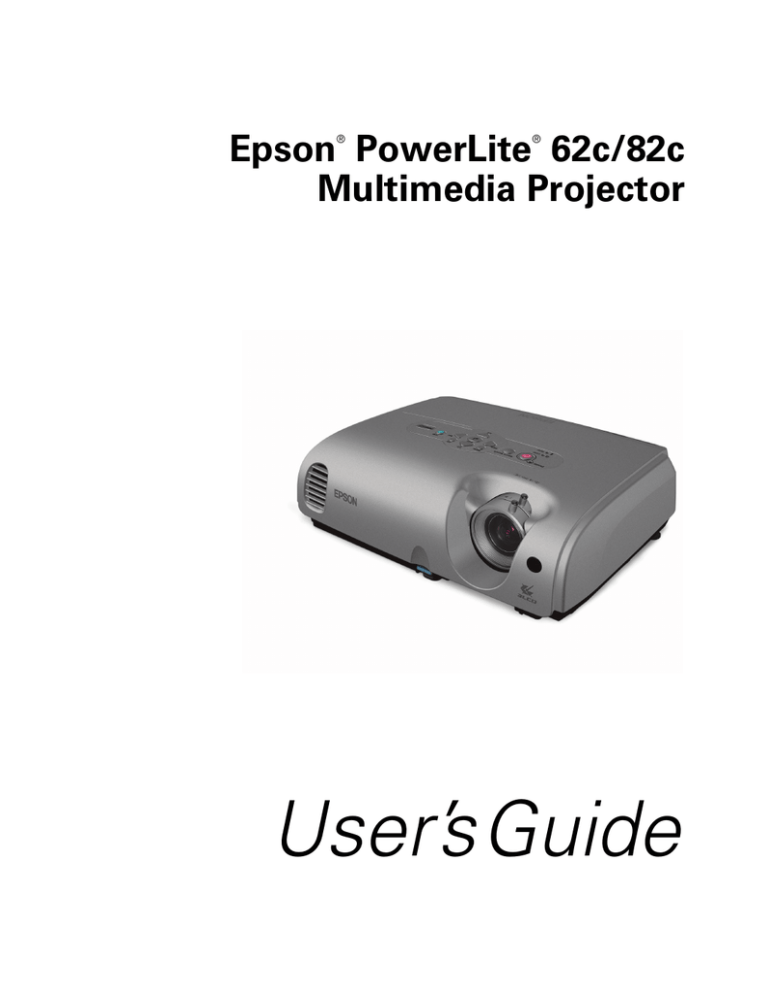 -
Welcome
T he Epson
®
PowerLite
®
62c and 82c are ultra-portable projectors that offer 2000 ANSI lumens of brightness. From classrooms to auditoriums, your full-color presentations and videos will be bright and visible even in ordinary indoor lighting. Additionally, the projector's built-in amplifier and speaker deliver powerful 5 watt audio, making it perfect for presentations in large rooms.
Images are displayed at a native resolution of 800 × 600 pixels
(PowerLite 62c) or 1024 × 768 pixels (PowerLite 82c). Epson 3LCD technology ensures accurate color and remarkable saturation, even in well-lit rooms. Support for S-Video contributes to theater-quality performance.
You can connect the projector to a wide range of computers, including
IBM
®
-compatible PCs and laptops, Apple
®
Macintosh,
®
Power
Macintosh
®
series (including G3, G4, and G5 systems), PowerBook
® computers, and many iMac
®
and iBook
®
series systems. With Epson's patented SizeWise
™
technology, the projector supports computer displays ranging from VGA through UXGA.
You can use any of the following video sources: HDTV, VCR, DVD player, gaming console (such as Microsoft
®
Xbox,
™
Sony
®
PlayStation
®
2, and Nintendo GameCube
™
), camcorder, digital camera, or laser disc player. The projector supports NTSC, PAL, and
SECAM video formats.
You can connect up to four devices to the projector at the same time.
The source buttons let you easily switch among them, and a dedicated audio port for each source lets you switch sound as well as video. With the projector's
Source Search
button, you don't even have to identify your input source. Just press the button until you see the image you want on the screen.
7
8
Welcome
To prevent unauthorized use of the projector, you can assign a password, create a user logo which is displayed at startup to identify the projector, and disable the projector's buttons through the
Operation Lock feature. For more information about security features,
■
■
■
Getting the Most from Your Projector
Depending on your presentation, you can take advantage of any or all of these options:
Connecting to a laptop or other computer
If you want to connect the projector to a laptop or desktop
computer, see page 18. For additional presentation control, you
can connect a USB cable to the projector for running slide shows, and connect an external monitor to view the presentation on your computer simultaneously.
Connecting to video sources
You can connect a DVD player, VCR, HDTV, camcorder, laser disc player, digital camera, and other video sources to your
projector. See page 24 for instructions.
Using the remote control
The remote control lets you switch from computer to video sources, zoom in on part of your image, freeze or mute the presentation, and adjust many other projector features. For
By connecting a USB cable to your projector, you can also use the remote control as a wireless mouse. This lets you click through computer-based presentations (such as PowerPoint ® ) from up to
20 feet away. For more information, see page 49.
Using Your Documentation
Your documentation includes a Quick Setup sheet, warranty brochures, and an Epson PrivateLine ® Support card.
■
■
■
The Quick Setup sheet gives instructions to quickly set up your projector and connect it to a computer or video device.
This book contains all the information you need to set up and use your projector. Please follow these guidelines as you read through it:
Warnings must be followed carefully to avoid bodily injury.
Cautions must be observed to avoid damage to your equipment.
Notes contain important information about your projector.
Getting More Information
Need tips on giving presentations? How about quick steps for setting up your projector? Here's where you can look for help:
■ www.presentersonline.com
Includes a library of articles covering presentation tips, tricks, and technology. The site provides templates, clip art, and sound clips, as well as Presenters Services to use on the road. Even more resources and services are available if you register to join the
Presenters Club
®
—and it's free.
■
Built-in help system
Press the
Help
button on the remote control or projector to get
quick solutions for common problems. See page 82 for details.
■ support.epson.com
Download FAQs (frequently asked questions) and e-mail your questions to Epson support.
If you still need help after checking this User's Guide and the sources listed above, you can use the Epson PrivateLine Support service to get help fast. Call (800) 637-7661 and enter the PIN on your PrivateLine
Support card. See page 95 for more information.
Welcome
9
Registration and Warranty
Your projector comes with a basic carry-in warranty and an international warranty that let you project with confidence anywhere in the world. For details, see the warranty brochures that came with your projector.
In addition, Epson offers free Extra Care
SM
Road Service. In the unlikely event of an equipment failure, you won't have to wait for your unit to be repaired. Instead, Epson will ship you a replacement unit anywhere in the United States or Canada, usually via overnight delivery. See the Extra Care Road Service brochure for details.
To register, complete the registration form that came with your projector and mail it to Epson. Or register your product online at: http://www.epson.com/webreg
Registering also lets you receive special updates on new accessories, products, and services.
Unpacking the Projector
After unpacking the projector, make sure you have all these items:
Projector
Remote control and batteries
Soft carrying case
Quick Setup sheet
VGA computer cable
Power cord
Password Protected
Sticker
10
Welcome
Save all packaging in case you need to ship the projector. Always use the original packaging (or equivalent) when you need to send the projector to another location.
If you are moving the projector by hand, use the carrying case included with the projector.
Projector Parts
Temperature light
Lamp light
Control panel
Lamp cover
Air exhaust vents
Power button
Front adjustable foot
Security lock
Power light
Zoom ring
Focus ring
Remote control sensor
Lens cap
Foot release lever
Computer/Component Video ports and related audio ports
S-Video port Video port
USB port for wireless mouse
Speaker
Power inlet
Rear adjustable foot
Audio out port
Monitor out port Video/S-Video audio ports
RS-232 port (service use only)
Welcome
11
12
Welcome
■
■
■
■
■
Additional Components
Depending on how you plan to use the projector, you may need additional components:
To receive an S-Video signal, you need an S-Video cable. One is usually provided with your video device, or you can purchase it
To receive a component video signal from a VCR or other video device, you need a D-sub, 15-pin, VGA-to-component video
cable, which is available from Epson. See page 13.
Some older PowerBooks and Macintosh desktop models may need a Macintosh video adapter; see your computer dealer. Older iMac systems may need a special adapter to provide a VGA output port; see your computer dealer.
To receive an audio signal, you need a commercially available audio adapter; see your computer or electronics dealer.
To use the projector's remote control as a wireless mouse, you need a USB cable; see your computer or electronics dealer.
Optional Accessories
To enhance your use of the projector, Epson provides the following optional accessories:
Product
Replacement lamp
Air filter set (includes 2 filters)
Samsonite
®
wheeled soft case for projector and laptop
Samsonite soft shoulder case with laptop compartment
Component video cable
S-Video cable
Distribution amplifier
50-inch portable screen
60-inch portable pop-up screen
80-inch portable pop-up screen
83.6-inch hanging pull-down screen
Image presentation camera ELPDC05
Kensington
®
security lock
Ceiling mount (gyro lock with suspension adapter)
False ceiling plate
Suspension adapter
Security bracket/cabling for gyro lock mounts
Adjustable ceiling channel
Product number
V13H010L34
V13H134A08
ELPKS35-S
ELPKS43
ELPKC19
ELPSV01
ELPDA01
ELPSC06
ELPSC07
ELPSC08
ELPSC09
V12H162020
ELPSL01
ELPMBUNI
ELPMBFCP
ELPMBAPL
ELPMBSEC
ELPMBACC
You can purchase video cables, screens, carrying cases, or other accessories from an Epson authorized reseller. Please call
800-GO-EPSON (800-463-7766) for product information and to find the nearest authorized reseller. To purchase online, visit the
Epson Store
SM at www.epsonstore.com (U.S. sales only). In Canada, please call (800) 463-7766 for dealer referral.
note
To purchase a replacement remote control, call
(562) 276-4394 (U.S.) or
(905) 709-3839 (for dealer referral in Canada).
Welcome
13
14
Welcome
* Your assessment is very important for improving the work of artificial intelligence, which forms the content of this project