No category
AlphaServer 8200 Installation Guide Order Number EK–T8230–IN. A01
| Installation Flowchart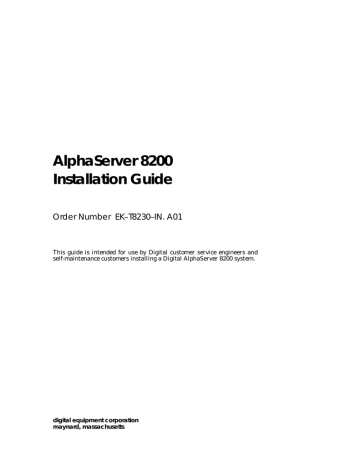 1.
Unpack the VT510 console terminal. The console terminal signal cable is shipped in the loose piece box and consists of a 17-01364-02 cable and H8575-A adapter.
2.
Open the front door and connect one end of the 17-01364-02 cable to the console terminal port on the control panel. Connect the cable ground wire to the cabinet grounding screw nearby (see Figure 4-2).
Connect the other end of the cable to the H8575-A, which connects to a
25-pin D-subminiature connector on the console terminal. Connect the other end of the cable ground wire to one of the screws on the H8575-
A.
3.
If a printer is not present, skip this step. Otherwise, unpack the printer. Connect the BC16E-25 signal cable to the printer and to the console terminal. Plug in the printer.
4.
The following are the default terminal characteristics. If the terminal does not have these characteristics, they must be set accordingly:
•
Baud rate = 9600 (transmit = receive)
•
8 bits, no parity
•
1 Stop Bit
•
Xoff at 64
Figure 4-2 Control Panel and Console Terminal Port
Expander Console
Possible ground screws
Front
PowerComm3
PowerComm2
PowerComm1
External
Enable (XMI/FBUS)
External
UPS Power
External
Power Enable
BX-0446-95
Making Console, SCSI, Ethernet, FDDI, and DSSI Connections 4-3
* Your assessment is very important for improving the work of artificial intelligence, which forms the content of this project