1604-VLZ3 16-Channel Mic/Line Mixer Owner`s Manual
| Channel Strip Description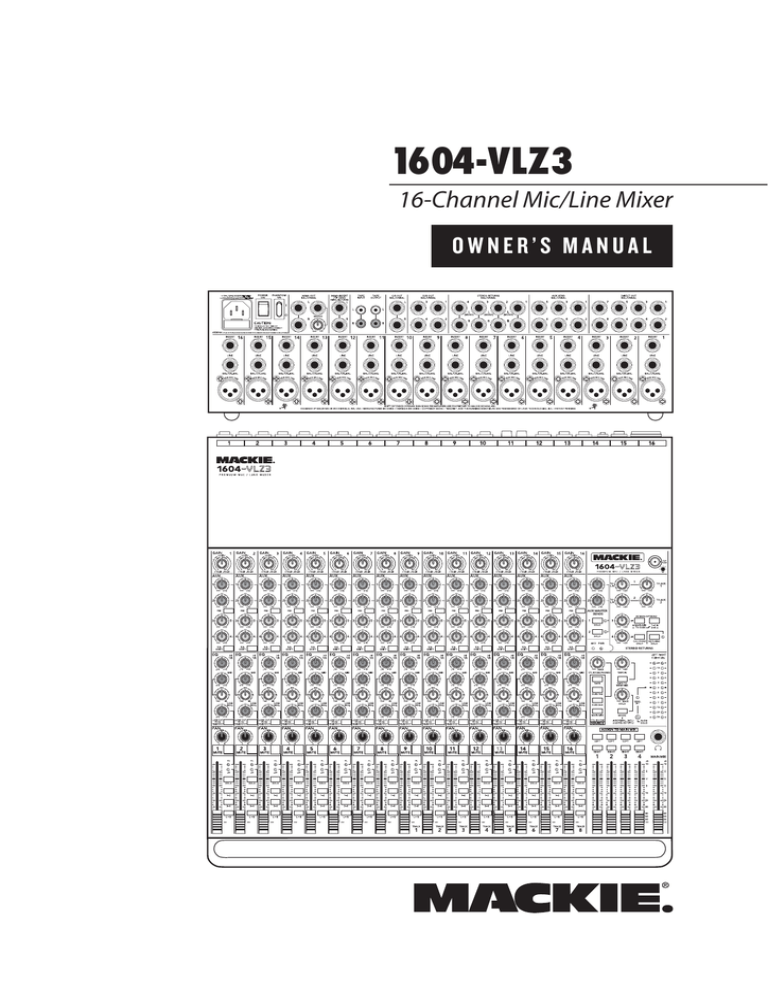 Channel Strip Description
26. ASSIGN (1–2, 3–4, L–R)
The sixteen channel strips look alike and function identically. So if you learn one, you have learned them all. The only difference is that the eight on the left have
DIRECT OUT [5] jacks and the eight on the right don't. We'll start at the bottom and work our way up.
"U" LIKE UNITY GAIN
Alongside each channel fader are four buttons, labeled SOLO, 1–2, 3–4 and L–R. The latter three are collectively referred to as channel assignment switches.
1, 3 and L are the left sides of these stereo pairs, and
2, 4 and R are the right sides. Used in conjunction with the channel's PAN [31] knob, these switches determine the destination of a channel's signal: With PAN set at the center detent, the left and right sides receive equal signal levels. To feed only one side or the other, just turn the PAN knob accordingly.
Mackie mixers have a "U" symbol on almost every level control. This "U" stands for "unity gain," meaning no change in signal level. Once you have performed the
Level-Setting Procedure , you can set every control at "U" and your signals will travel through the mixer at optimal levels. What's more, all the labels on our controls are measured in decibels (dB), so you'll know what you're doing level-wise if you choose to change a control's settings.
If you're doing a mixdown to a 2-track, simply engage the L–R switch on each channel that you want to hear, and they'll be sent to the main mix. If you want to create a subgroup of certain channels, engage either the 1–2 or 3–4 switches instead of the L–R, and they'll be sent to the appropriate subgroup faders. From there, the subgroups can be sent back to the main mix, allowing you to use the subgroup faders as a master control for those channels.
25. CHANNEL FADER
The fader is almost the last control in a channel's signal path. It's placed after the
EQ [32] and MUTE [30] controls (post-EQ
/post-MUTE) and before the PAN [31]control (pre-PAN). The "U" mark, about threequarters of the way up, indicates unity gain, meaning no increase or decrease of signal level. All the way up provides an additional 10 dB, should you need to boost a section of a song. If you fi nd that the overall level is too quiet or too loud with a fader near unity, you'll want to confi rm the setting by performing the Level-Setting
Procedure on page 3.
26
A Clean Fade
25
Faders are not rocket science — they operate by dragging a metal pin (the wiper) across a carbon-based strip (the track). It is possible for airborne crud to land on the track. Should that happen, you may hear scratchy noises or signal dropouts as the wiper stumbles over the crud.
Do all you can to keep airborne crud out of your profession. Use air-conditioned rooms whenever possible, avoid smoking near the mixer, keep food and drink away from the mixer, and for pity's sake, never put the mixer in your kitchen! We also recommend "exercising" the faders — give them a few full-travel excursions once a week or so, and that will help scare the crud away. Do not use spray cleaners, rather use compressed air, or a vacuum with brush attachment.
If you're printing new tracks or bouncing existing ones, you'll also use the 1–2 and 3–4 switches, but not the L–R switch. Here, you don't want the subgroups sent back into the main mix, but sent out, via the SUB
OUTS [8] jacks, to your multitrack inputs. However, if you're printing tracks via the DIRECT OUT [5] jacks, all the channel assignment switches should be disengaged
(up).
The 1604-VLZ3 is what we call a "true 4-bus mixer."
Each channel can be assigned or unassigned to any of the subgroups without affecting the other subgroups or settings within the channel, and each subgroup has its own master fader and dedicated output. In fact, since there are 4 subgroups and the main L/R mix, it's actually a true 6-bus mixer. We could have named it the 1606-
VLZ3. Darn!
Owner's Manual
15
27. SOLO
This lovable switch allows you to check signals in your phones or control room without having to assign them to the L-R, 1-2 or 3-4 mixes. You can solo as many channels as you like. SOLO does not interrupt any of the other channels, buses or outputs — that's called nondestructive solo.
Using the MODE [44] switch, the 1604-VLZ3's solo system comes in two fl avors:
NORMAL (AFL) (sometimes called SIP, or solo-in-place) and LEVEL SET (PFL) (sometimes called PFL, or prefader-listen). The MODE switch is described in tender loving detail on page 21.
29. OL (MUTE) LED
Another LED that does two completely different things! First, the "OL" part: "OL" means overload, or clip. You don't want that to happen. Ever. Clipping can happen to any mixer — it's the point where the signal's voltage tries to exceed the supply voltages that power the circuitry. The 1604-VLZ3's OL LED will come on just before clipping, so if you see it, take immediate action:
Perform the Level-Setting Procedure on page 3. If that doesn't help, check for excessive use of EQ boost or fader gain. Like the –20 LED, it will tend to fl icker in time with that channel's signal.
Now for the "MUTE" part. Assuming your levels are set correctly, the OL LED will never come on as a result of clipping. That's pretty boring. So, to liven things up, this
LED will glow steadily when that channel's MUTE [30] switch is engaged.
LEVEL SET (PFL) taps the channel signal before the fader. If you have a channel's fader set way below "U" (unity gain), SOLO won't know that and will send a unity gain signal to the control room, headphones, and meter display. That may result in a startling level boost at these outputs, depending on the position of the SOLO [46] level knob.
Here is a quick reference to these LEDs:
Name Color Flickering
–20 (SOLO) green signal present
OL (MUTE) red
Glowing channel soloed channel clipping channel muted
32
31
30
29
28
27
In a nutshell, soloed channels are sent to the SOURCE
[42] mix, that ultimately feeds your control room, headphones and meter display. Whenever SOLO is engaged, all source selections (MAIN MIX, 1–2, 3–4, and TAPE) are defeated, to allow the soloed channel to do just that
— SOLO!
30. MUTE
Engaging this switch provides the same results as turning the channel's fader all the way down: Any channel assignment to L-R, 1-2 or 3-4 will be interrupted.
All the post AUX sends will be silenced, as will the
direct out signals on channels 1 through 8, and the OL
(MUTE) LED will glow. The PRE AUX sends, channel
INSERT send, and SOLO (in LEVEL SET (PFL) mode) will continue to function during MUTE.
28. –20 (SOLO) LED
An LED that does two completely different things! Saves space, recycles the planet, but requires some explanation. First, the
"–20" part: Often referred to as "signal activity," this LED will fl icker in time with the signal present in that channel. It's handy for confi rming that a channel is indeed active, and may also lend a clue as to what the signal is. For instance, a kick drum will cause the LED to pulse in time with the drum, and a synth pad will cause it glow a bit more steadily.
Depending on the audio content in a channel, engaging its MUTE switch may cause a slight popping sound.
This is not a problem within the mixer, and it can be avoided: Simply engage the LOW CUT [33] switch on each channel (unless its low frequency content is vitally important, such as a kick drum or bass guitar). LOW
CUT eliminates subsonic debris, which causes the pop, and its effect is usually transparent.
Now for the "SOLO" part. When a channel's SOLO switch is engaged, this LED will glow steadily, without fl ickering. It will also be brighter than it would be as a –20 indicator. In conjunction with the RUDE SOLO
LIGHT [47], you can fi nd a rogue SOLO switch quickly.
16
1604-VLZ3
31. PAN
This adjusts the amount of channel signal sent to the left versus the right outputs. PAN determines the fate of the L-R assignment, subgroups 1–2 and 3–4, and the
SOLO (in AFL mode). With the PAN knob hard left, the signal will feed the left main mix, subgroup 1, subgroup
3 and left NORMAL (AFL) solo mode (assuming their assignment switches are engaged). With the knob hard right, signal feeds the right main mix, subgroup 2, subgroup 4 and right NORMAL (AFL) solo mode. With PAN set somewhere in-between left and right, the signal will be divided between the left and right buses.
The LOW EQ provides up to
15 dB boost or cut below 80 Hz.
The circuit is fl at (no boost or cut) at the center detent posi-
+15
+10
+5
0
–5
tion. This frequency represents the punch in bass drums, bass
–10
–15
20
Hz
100
Hz
1k
Hz
10k
Hz
20k
Hz
guitar, fat synth patches, and some really serious male singers who eat broken glass for breakfast.
Used in conjunction with the LOW CUT [33] switch, you can boost the LOW EQ without injecting a ton of subsonic debris into the mix. We recommend using the
LOW CUT feature on all channels, except low frequency signals, like kick drums and bass guitars.
Stereo Sources
Your life will be easier if you follow this standard convention: When patching stereo sound sources to a mixer, always plug the left signal into an "odd" channel (1, 3, 5, etc.) and the right signal into the adjacent "even" channel (2, 4, 6, etc.). Then pan the odd channel hard left and the even channel hard right.
The MID EQ , or "midrange," has a fi xed bandwidth of
1 octave. The MID knob sets the amount of boost or cut, up to 15 dB, and is effectively bypassed at the center detent. The frequency knob sets the center frequency, sweepable from 100 Hz to 8 kHz.
CONSTANT LOUDNESS ! ! !
The 1604-VLZ3's PAN controls employ a design called "Constant Loudness." It has nothing to do with living next to a freeway. As you turn the PAN knob from left to right (thereby causing the sound to move from the left to the center to the right), the sound will appear to remain at the same volume (or loudness).
If you have a channel panned hard left (or right) and reading 0 dB, it must dip down about 4 dB on the left
(or right) when panned center. To do otherwise, like those Brand X mixers, would make the sound appear much louder when panned center.
+15
+10
+5
0
–5
–10
–15
20
Hz
100
Hz
1k
Hz
+15
+10
+5
0
–5
10k
Hz
20k
Hz
–10
–15
20
Hz
100
Hz
1k
Hz
10k
Hz
20k
Hz
Most of the root and lower harmonics that defi ne a sound are located in the 100 Hz–8 kHz frequency range, and you can create drastic changes with these two knobs. Many engineers use MID EQ to cut midrange frequencies, not boost them. One popular trick is to set the MID fully up, turn the frequency knob until you fi nd a point where it sounds just terrible, then back the MID down into the cut range, causing those terrible frequencies to disappear. Sounds silly, but it works. Sometimes.
32. 3-BAND MID-SWEEP EQ
The 1604-VLZ3 has a 3-band, mid-sweep equalization:
LOW shelving at 80 Hz, MID sweep peaking from 100
Hz to 8 kHz, and HI shelving at 12 kHz. It's probably all the EQ you'll ever need! (Shelving means that the circuitry boosts or cuts all frequencies past the specifi ed frequency. For example, the 1604-VLZ3's LOW EQ boosts bass frequencies below 80 Hz and continuing down to the lowest note you never heard. Peaking means that certain frequencies form a "hill" around the center frequency.)
The HI EQ provides you up to 15 dB boost or cut above 12 kHz, and it is also fl at at the detent. Use it to add sizzle to
+15
+10
+5
0
–5
cymbals, an overall sense of transparency, or an edge to
–10
–15
20
Hz
100
Hz
1k
Hz
10k
Hz
20k
Hz
keyboards, vocals, guitar and bacon frying. Turn it down a little to reduce sibilance or to mask tape hiss.
With too much EQ, you can screw things up royally.
We've designed a lot of boost and cut into each equalizer circuit because we love you, and know that everyone will occasionally need that. But if you max the EQ on every channel, you'll get mix mush. Equalize subtly and use the left sides of the knobs (cut), as well as the right (boost). If you fi nd yourself repeatedly using full boost or cut, consider altering the sound source, such as placing a mic differently, trying a different kind of mic, changing the strings, or gargling.
Owner's Manual
17
33. LOW CUT
This switch, often referred to as a high pass fi lter (all depends on how you look at it), cuts bass frequencies below 75 Hz at a rate of 18 dB per octave. This ain't no thrown-in dime-store fi lter — an 18 dB per octave curve requires an elaborate circuit. Nothing but the best.
We recommend that you use this on every sound source except kick drum, bass guitar, bassy synth patches, or recordings of earthquakes. These aside, there isn't much down there that you want to hear, and fi ltering it out makes the low stuff you do want much more crisp and tasty. Not only that, but low cut can help reduce the possibility of feedback in live situations, and it helps to conserve amplifi er power.
We recommend going into a stereo reverb in mono and returning in stereo. We have found that on most "stereo" reverbs, the second input just ties up an extra aux send and adds nothing to the sound. There are exceptions, so feel free to try it both ways. Should you choose to use two aux sends, use the "odd" AUX (1, 3 or 5) to feed its left input and the "even" AUX (2, 4 or 6) to feed the right input.
Remember, if you're also dealing with a stereo source signal, you'll want to follow the sides — use the odd
AUX on the channel carrying the left side and the even
AUX on the channel carrying the right.
34
35
With LOW CUT, you can safely boost LOW EQ. Many times, bass shelving EQ can really benefi t voices.
Trouble is, adding LOW EQ also boosts the subsonic debris: Stage rumble, mic handling clunks, wind noise and breath pops.
LOW CUT removes all that debris so you can boost the LOW EQ without frying your woofer.
Here's a frequency curve of LOW EQ combined with LOW CUT:
36
33
35. PRE
This switch determines the tap point of AUX 1 and 2.
Generally, "post" sends are used to feed effects devices, and "pre" sends are used to feed your stage monitors.
See the "Pre vs. Post" diagram below. AUX 3 through 6 are always in post mode.
MUTE
PAN ASSIGN
INPUT TRIM INSERT
LOW
CUT
EQ
FADER
'PRE' SIGNAL 'POST' SIGNAL
PRE SWITCH
AUX 1
+15
+10
+5
0
–5
–10
–15
20
Hz
100
Hz
1k
Hz
10k
Hz
20k
Hz
In post mode (switch up), AUX 1 and 2 will follow the
EQ [32], LOW CUT [33], FADER [25], and MUTE [30] settings. If you fade the channel, you fade the send. This is a must for effects sends, since you want the levels of your "wet" signals to follow the level of the "dry."
34. AUX 1, 2, 3, & 4
These four knobs tap a portion of each channel's signal, mix them together and send them to the AUX SEND [6] outputs.
They are off when turned fully down, deliver unity gain at the center detent, and can provide up to 15 dB of gain turned fully up. Chances are you'll never need this extra gain, but it's nice to know it's there if you do.
In PRE mode (switch down), AUX 1 and 2 follow the
GAIN and LOW CUT settings only. EQ, PAN, FADER, and
MUTE settings have no effect on the PRE sends. This is the preferred method for setting up stage monitor feeds
— they'll be controlled independently of the fader and mute moves.
36. 5/6 SHIFT
Don't let the fact that there's only four AUX knobs per channel fool you — the 1604-VLZ3 has six AUX SENDs
[6]. With this 5/6 SHIFT switch up, the knobs labeled
AUX 3 and AUX 4 deliver their signals to AUX SEND 3 and 4 outputs. With this switch down, the signals appear at the AUX SEND 5 and 6 outputs.
The AUX SEND outputs are then patched to parallel effects processor inputs or stage monitor amp inputs. AUX SENDS 1 and 2 levels are controlled not only by the channel's AUX knobs, but also by the AUX
SEND [49] master knobs.
We recommend that AUX SEND 3 and 4 be patched into your "utility" effects, like a short reverb and slap delay; effects you use all the time. Use AUX SEND 5 and
6 for "exotic" effects, like harmonizers and multi-tap delays; they are not likely to be used as often.
AUX SENDS can also be used to generate separate mixes for recording or "mix-minuses" for broadcast. By using AUX 1 or 2 in the PRE [35] mode, these mix levels can be obtained independently of a channel's
FADER [25] settings.
AUX 2
18
1604-VLZ3
* Your assessment is very important for improving the work of artificial intelligence, which forms the content of this project