Dowadge AH562 UG.book
| Specifications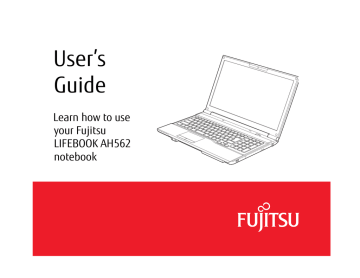 Chapter 6
System Specifications
Specifications
This section provides the hardware and environmental specifications for your Fujitsu LIFEBOOK notebook.
Specifications of particular configurations will vary.
Microprocessor
3rd Generation Intel® Core™ processor family
Chipset
•
Mobile Intel HM76 Express
Memory
System Memory
•
DDR3-1600 MHz SDRAM dual-channel memory module.
•
Two DIMM slots; upgradeable to 16 GB of total memory (8 GB x 2)
Cache Memory
3 MB L3 cache on-die
99
Video
Built-in color flat-panel TFT active matrix high-definition touchscreen LCD display with simultaneous display capability.
Video Color and Resolution
15.6" Crystal View Wide XGA:
•
Internal: 1366 x 768 pixel resolution, 16M colors
•
External: 1920 x 1200 pixel resolution, 16M colors
•
Simultaneous: 1360 x 768, 16M colors
Video RAM
Shared Intel® HD Graphics 4000 controller. Uses Unified Memory Architecture (UMA) built onto motherboard which shares part of main memory for video memory. The amount of shared video memory is determined by the amount of system memory.
Audio
•
Realtek codec ALC269-VC2 with 2-channel High Definition (HD) audio.
•
Headphones: Stereo headphone/line-out jack, 3.5 mm, 1 V rms
or less, min. impedance 32 Ohms
•
Microphone: Stereo microphone/line-in jack, 3.5 mm, 100 mV p-p
or less, min. impedance 10K Ohms
•
Two built-in boxless stereo speakers
Mass Storage Device Options
Hard Drive
Serial ATA, 5400 rpm. The hard drive capacity is dependent upon the system configuration.
Optical Drive
Dual-Layer Multi-Format DVD Writer: This drive lets you access movies, audio DVD/CDs, and software, and read and write to CD-R, CD-RW, DVD-R, DVD+R, DVD-RW, DVD+RW, and DVD RAM discs. The dual-layer architecture allows you to record up to 8.5 GB of data on DVD+R discs.
100 - Specifications
Features
Integrated Pointing Devices
•
Touchpad pointing device
•
High-definition touchscreen display
Communications
•
LAN: Internal wired 10/100/1000 Giga LAN
•
Wireless LAN: Intel® Centrino® Wireless-N 2230
•
Bluetooth: Bluetooth V4.0+HS device for wireless personal area network communication is located on the
Wireless LAN module
Theft Prevention Lock
Lock slot for use with security restraint systems.
Device Ports
•
ExpressCard slot for one 34 mm ExpressCard
•
SD Card slot for one SD, SDHC, or SDXC Card
•
One 15-pin D-SUB connector for VGA external monitor (analog RGB port)
•
Three USB 3.0 (Universal Serial Bus) connectors for input/output devices (including one with Anytime USB
Charge capability)
•
One USB 2.0 (Universal Serial Bus) connector for input/output devices
•
One DC In connector
•
One LAN (RJ-45) connector
•
One HDMI jack
•
One stereo headphone/line-out jack
•
One stereo microphone/line-in jack
•
One HD web camera (1200x768 pixel) with digital microphone
101 - Specifications
Keyboard
Built-in keyboard including integrated 10-key keypad
•
Total number of keys: 103
•
Integrated 10-key keypad
•
Function keys: [F1] through [F12]
•
Feature extension key: Fn
•
Two Windows keys: one Start key and one Application key
•
Key pitch: 18.4 mm / Key stroke: 2.0 mm +0.2 mm
•
Built-in Touchpad pointing device with left and right buttons.
•
Spill-resistant keyboard
•
Built-in Palm Rest
•
USB-compatible keyboard and/or mouse support
Power
Battery
Lithium ion battery, rechargeable, 6-cell, 10.8V, 4400 mAh
AC Adapter
Autosensing 100-240V AC, supplying 19V DC, 3.42A, 65W to the LIFEBOOK; includes an AC cable
Power Management
Conforms to ACPI (Advanced Configuration and Power Interface)
Dimensions and Weight
Overall Dimensions
Approximately 14.9"(w) x 9.9"(d) x 1.15/1.35" (h) (378 mm x 252 mm x 29.2/34.4 mm)
Weight
Approximately 5.7 lbs. (2.6 kg) with 6-cell battery
102 - Specifications
Environmental Requirements
Temperature
Operating: 41° to 95° F (5° to 35° C)
Non-operating: 5° to 140° F (–15° to 60° C)
Humidity
Operating: 20% to 85%, relative, non-condensing
Non-operating; 20% to 80%, relative, non-condensing
Popular Accessories
For ordering or additional information on Fujitsu accessories please visit our Web site at www.shopfujitsu.com or call 1-800-FUJITSU.
Included Software
Depending on your pre-installed operating system, your notebook comes with software for playing audio and video files of various formats. In addition there is file transfer software, virus protection software and Power Management software. The following list indicates the software included with your system.
•
Adobe Reader
•
Norton Internet Security™ (60-day free trial)
•
Norton Studio
•
Skype
•
Roxio Creator LJ
•
CyberLink YouCam
•
CyberLink PowerDirector
•
CyberLink PowerDVD
103 - Specifications
Learning About Your Software
Tutorials
All operating systems and most application software have tutorials built into them upon installation. We highly recommend that you step through the tutorial before you use an application.
Manuals
Included with your notebook you will find manuals for your installed operating system and other pre-installed software. Any manuals that are not included, are available online through the help system of the software. We recommend that you review these manuals for information on the use of these applications.
Adobe Reader
Adobe Reader allows you to view, navigate, and print PDF files across all major computing platforms.
Norton Studio
Easily manage your Norton™ protection for your PCs and other devices right from your Windows® 8 tile interface desktop. Designed and optimized for Windows 8 tile interface, Norton Studio lets you view, control, fix, update, and renew all your Norton protection products from a single screen.
Norton Internet Security
Your system includes a free 60-day trial version of Symantec's Norton Internet Security™. Internet Security is a suite of tools designed to protect your notebook from computer viruses, hackers, spyware, and spam. It assists in the protection of data currently on your hard disk from destruction or contamination. The trial version is activated upon your acceptance of software license agreement. After 60 days, you will need to purchase a subscription from Symantec to download latest virus, spyware, and spam definitions.
Skype
Skype allows users to communicate with peers by voice, video, and instant messaging over the Internet. Skype can be used to place phone calls on traditional telephone networks. Calls to other users within Skype are free, while calls to landlines and cell phones are charged via a user account system. Skype is also a popular tool for file transfer and teleconferencing.
104 - Specifications
Roxio Creator LJ
Roxio Creator lets you burn CDs and organize, edit and share digital photos, music, data, or videos.
CyberLink PowerDVD
CyberLink PowerDVD allows you to view DVDs on your computer.
CyberLink PowerDirector
CyberLink PowerDirector allows you to edit and enhance your videos, and add special effects to them.
CyberLink YouCam
CyberLink YouCam allows you to capture photos or movies on the embedded webcam, add special effects to them, and share them in a variety of formats or via social networks.
105 - Specifications
Glossary
AC Adapter
A device which converts the AC voltage from a wall outlet to the DC voltage needed to power your LIFEBOOK notebook.
Access point
Wireless network device used to bridge wireless and wired network traffic.
ACPI
Advanced Configuration and Power Interface
Active-Matrix Display
A type of technology for making flat-panel displays which has a transistor or similar device for every pixel on the screen.
Ad Hoc Mode
Ad Hoc Mode refers to a wireless network architecture where wireless network connectivity between multiple computers is established without a central wireless network device, typically known as Access Points. Connectivity is
accomplished using only client devices in a peer-to-peer fashion. For details, refer to on "Ad Hoc Mode" on page 123
AGP
Accelerated Graphics Port. Graphics port specifically designed for graphics-intensive devices, such as video cards and
3D accelerators.
106
Auto/Airline Adapter
A device which converts the DC voltage from an automobile cigarette lighter or aircraft DC power outlet to the DC voltage needed to power your LIFEBOOK notebook.
BIOS
Basic Input-Output System. A program and set of default parameters stored in ROM which tests and operates your
LIFEBOOK notebook when you turn it on until it loads your installed operating system from disk. Information from the
BIOS is transferred to the installed operating system to provide it with information on the configuration and status of the hardware.
Bit
An abbreviation for binary digit. A single piece of information which is either a one (1) or a zero (0).
bps
An abbreviation for bits per second. Used to describe data transfer rates.
Boot
To start-up a computer and load its operating system from disk, ROM or other storage media into RAM.
Bus
An electrical circuit which passes data between the CPU and the sub-assemblies inside your LIFEBOOK notebook.
Byte
8 bits of parallel binary information.
Cache Memory
A block of memory built into the micro-processor which is much faster to access than your system RAM and used in specially structured ways to make your overall data handling time faster.
Channel
Range of narrow-band frequencies used by the WLAN device to transmit data.
107 -
CMOS RAM
Complementary metal oxide semiconductor random access memory. This is a technology for manufacturing random access memory which requires very low levels of power to operate.
Command
An instruction which you give your operating system. Example: run a particular application or format a floppy disk.
Configuration
The combination of hardware and software that makes up your system and how it is allocated for use.
CRT
Cathode Ray Tube. A display device which uses a beam of electronic particles striking a luminescent screen. It produces a visual image by varying the position and intensity of the beam.
Data
The information a system stores and processes.
DC
Direct current. A voltage or current that does not fluctuate periodically with time.
Default Value
A pre-programmed value to be used if you fail to set your own.
DHCP
Dynamic Host Configuration Protocol. Protocol used to automatically acquire parameters required for communication, such as IP address. The sender of IP address is called a DHCP server, and the receiver is called a DHCP client.
DIMM
Dual-in-line memory module.
Disk
A spinning platter of magnetic data storage media, such as a hard drive.
108 -
Disk Drive
The hardware which spins the disk and has the heads and control circuitry for reading and writing the data on the disk.
DMA
Direct Memory Access. Special circuitry for memory to memory transfers of data which do not require CPU action.
DMI
Desktop Management Interface. A standard that provides PC management applications with a common method of locally or remotely querying and configuring PC computer systems, hardware and software components, and peripherals.
DNS
Domain Name System. A function to control the association between the IP address and the name assigned to the computer. If you do not know the IP address but if you know the computer name, you can still communicate to that computer.
Driver
A computer program which converts application and operating system commands to external devices into the exact form required by a specific brand and model of device in order to produce the desired results from that particular equipment.
Encryption Key (Network Key)
Data encryption key used to encrypt message text and for computing message integrity checks. Data encryption protects data from unauthorized viewing.
This device uses the same encryption key to encode and decode the data, and the identical encryption key is required between the sender and receiver.
ESD
Electro-Static Discharge. The sudden discharge of electricity from a static charge which has built-up slowly. Example: the shock you get from a doorknob on a dry day or the sparks you get from brushing hair on a dry day.
109 -
FCC
Federal Communication Commission.
GB
Gigabyte. One billion bytes.
Hard drive
A spinning platter of magnetic data storage media where the platter is very stiff.
I/O
Input/Output. Data entering and leaving your notebook in electronic form.
I/O Port
The connector and associated control circuits for data entering and leaving your notebook in electronic form.
IDE
Intelligent Drive Electronics. A type of control interface for a hard drive which is inside the hard drive unit.
IEEE802.11a
Wireless LAN standard that supports a maximum data rate of 54 Mbps. 802.11a devices operate in the 5 GHz lower and middle UNII bands.
IEEE802.11b
WLAN standard that supports a maximum data rate of 11 Mbps. 802.11b devices operate in the 2.4 GHz ISM band.
IEEE802.11g
Wireless LAN standard that supports a maximum data rate of 54 Mbps. 802.11g devices operate in the 2.4 GHz ISM band.
IEEE802.11n
Wireless LAN standard that supports a maximum data rate of up to 150 Mbps. 802.11n devices operate in the 2.4 and
5 GHz ISM bands.
110 -
Infrastructure
A name of a wireless LAN configuration. This type of communication uses an access point. Another type of communication is called Ad Hoc.
IP Address
An identifier for a computer or device on a TCP/IP network. Networks using the TCP/IP protocol route messages based on the IP address of the destination. The format of an IP address is a 32-bit numeric address written as four numbers separated by periods. Each number can be zero to 255. For example, 1.160.10.240 could be an IP address.
Within an isolated network, you can assign IP addresses at random as long as each is unique. However, connecting a private network to the Internet requires using registered IP addresses (called Internet addresses) to avoid duplicates.
The four numbers in an IP address are used in different ways to identify a particular network and a host on that network. Three regional Internet registries -- ARIN, RIPE NCC and APNIC -- assign Internet addresses from the following three classes.
Class A - supports 16 million hosts on each of 126 networks
Class B - supports 65,000 hosts on each of 16,000 networks
Class C - supports 254 hosts on each of 2 million networks
The number of unassigned Internet addresses is running out, so a new classless scheme called CIDR is gradually replacing the system based on classes A, B, and C and is tied to adoption of IPv6.
IRQ
Interrupt Request. An acronym for the hardware signal to the CPU that an external event has occurred which needs to be processed.
KB
Kilobyte. One thousand bytes.
LAN
Local Area Network. An interconnection of computers and peripherals within a single limited geographic location which can pass programs and data amongst themselves.
111 -
LCD
Liquid Crystal Display. A type of display which makes images by controlling the orientation of crystals in a crystalline liquid.
Lithium ion Battery
A type of rechargeable battery which has a high power-time life for its size and is not subject to the memory effect as Nickel Cadmium batteries.
MAC Address
Media Access Control Address. A unique physical address of a network card. For Ethernet, the first three bytes are used as the vendor code, controlled and assigned by IEEE. The remaining three bytes are controlled by each vendor
(preventing overlap), therefore, every Ethernet card is given a unique physical address in the world, being assigned with a different address from other cards. For Ethernet, frames are sent and received based on this address.
MB
Megabyte. One million bytes.
Megahertz / MHz
1,000,000 cycles per second.
Memory
A repository for data and applications which is readily accessible to your LIFEBOOK notebook's CPU.
Monaural
A system using one channel to process sound from all sources.
MTU
Maximum Transmission Unit
The maximum data size that can be transferred at a time through the Internet or other networks. You can set a smaller MTU size to obtain successful communication, if you have difficulty transferring data due to the fact that the maximum size is too large.
112 -
Network key
Data that is used for encrypting data in data communication. The personal computer uses the same network key both for data encryption and decryption, therefore, it is necessary to set the same network key as the other side of communication.
Network name (SSID: Service Set Identifier)
When a wireless LAN network is configured, grouping is performed to avoid interference or data theft. This grouping is performed with "Network name (SSID)". In order to improve security, the network key is set allowing no communication unless "Network name (SSID)" coincides with the network key.
NTSC
National TV Standards Commission. The standard for TV broadcast and reception for the USA.
Open system authentication
Null authentication method specified in the 802.11 standard that performs no authentication checks on a wireless client before allowing it to associate.
Operating System
A group of control programs that convert application commands, including driver programs, into the form required by a specific model of microprocessor in order to produce the desired results from that particular equipment.
Partition
A block of space on a hard drive which is set aside and made to appear to the operating system as if it were a separate disk, and addressed by the operating system accordingly.
PCMCIA
PCMCIA is a trademark of the Personal Computer Memory Card International Association. The Personal Computer
Memory Card International Association is an organization that sets standards for add-in cards for personal computers.
Peripheral Device
A piece of equipment which performs a specific function associated with but not integral to a computer. Examples: a printer, a modem, a CD-ROM.
113 -
Pitch (keyboard)
The distance between the centers of the letter keys of a keyboard.
Pixel
The smallest element of a display, a dot of color on your display screen. The more pixels per area the clearer your image will appear.
POST
Power On Self Test. A program which is part of the BIOS which checks the configuration and operating condition of your hardware whenever power is applied to your notebook. Status and error messages may be displayed before the operating system is loaded. If the self test detects failures that are so serious that operation can not continue, the operating system will not be loaded.
PPPoE
Point to Point Protocol over Ethernet. A protocol for Ethernet, using a Point-to-Point Protocol (PPP), which is used for connection on the phone line.
Program
An integrated set of coded commands to your computers telling your hardware what to do and how and when to do it.
Protocol
Procedures and rules use to send and receive data between computers. It is also a method of sending and receiving data and a process used to handle communication errors. Conditions required for communication are organized in procedures for correct transfer of information.
RAM
Random Access Memory. A hardware component of your LIFEBOOK notebook that holds binary information (both program and data) as long as it has the proper power applied to it.
RAM Module
A printed circuit card with memory and associated circuitry which allows the user to add additional memory to the computer without special tools.
114 -
Reset / Restart
The act of reloading the operating system. A reset erases all information stored in RAM.
Resume
To proceed after interruption. In your notebook this refers to returning to active operation after having been in one of the suspension states.
ROM
Read Only Memory. A form of memory in which information is stored by physically altering the material. Data stored in this way can not be changed by your notebook and does not require power to maintain it.
SDRAM
Synchronous Dynamic Random Access Memory.
Shared key authentication
802.11 network authentication method in which the AP sends the client device a challenge text packet that the client must then encrypt with the correct WEP key and return to the AP. If the client has the wrong key or no key, authentication will fail and the client will not be allowed to associate with the AP. Shared key authentication is not considered secure, because a hacker who detects both the clear-text challenge and the same challenge encrypted with a WEP key can decipher the key.
SSID
Service Set Identifier, a 32-character unique identifier attached to the header of packets sent over a WLAN that acts as a password when a mobile device tries to connect to the BSS. The SSID differentiates one WLAN from another, so all access points and all devices attempting to connect to a specific WLAN must use the same SSID. A device will not be permitted to join the BSS unless it can provide the unique SSID. Because the SSID is broadcast in plain text, it does not supply any security to the network.
Standby
To make inoperative for a period of time. Your LIFEBOOK notebook uses various suspension states to reduce power consumption and prolong the charge of your battery.
115 -
Status Indicator
A display which reports the condition of some portion of your hardware. On your LIFEBOOK notebook this is an LCD screen just above the keyboard.
Stereo (audio)
A system using two channels to process sound from two different sources.
Subnet mask
TCP-IP network is controlled by being divided into multiple smaller networks (subnets). IP address consists of the subnet address and the address of each computer. Subnet mask defines how many bits of IP address comprise the subnet address. The same value shall be set among computers communicating with each other.
System Clock
An oscillator of fixed precise frequency which synchronizes the operation of the system and is counted to provide time of day and date.
TCP/IP
Transmission Control Protocol/Internet Protocol. A standard Internet protocol that is most widely used.
TFT
Thin Film Transistor – A technology for flat display panels which uses a thin film matrix of transistors to control each pixel of the display screen individually.
Touchscreen
A computer display that enables the user to interact with the computer by touching areas on the screen.
UL
Underwriters Laboratories – An independent organization that tests and certifies the electrical safety of devices.
USB
Universal Serial Bus. Standard that allows you to simultaneously connect up to 127 USB devices such as game pads, pointing devices, printers, and keyboards to your computer.
116 -
VRAM
Video Random Access Memory. A memory dedicated to video display data and control.
WFM
Wired for Management is Intel's broad-based initiative to reduce the total cost of ownership (TCO) of business computing without sacrificing power and flexibility.
Wi-Fi Compatible
Wi-Fi (Wireless Fidelity) Identifies that the product has passed the interoperability test, supplied by the WECA
(Wireless Ethernet Compatibility Alliance), which guarantees the interoperability of wireless IEEE 802.11 LAN products. For more information on the Wi-Fi standard, go to the WECA Web site at: www.wirelessethernet.com.
WLAN
Wireless Local Area Network. A wireless interconnection of computers and peripherals within a single limited geographic location which can pass programs and data amongst themselves.
117 -
* Your assessment is very important for improving the work of artificial intelligence, which forms the content of this project