Cubase Artist 6
| Go deeper with VST Expression 2*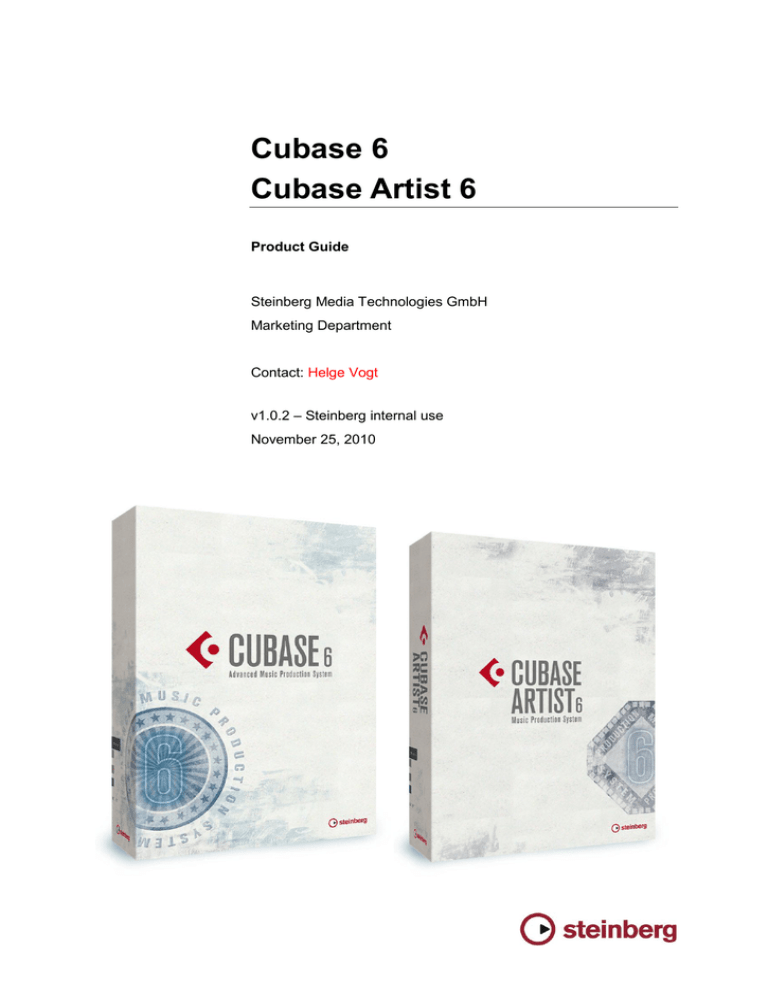 Go deeper with VST Expression 2*
Maximum note expression*
With the simultaneous release of Cubase 6 and VST 3.5, Steinberg is taking MIDI editing to a whole new level. Note Expression is the new smart way to assign, create and edit multiple controller values directly on single note-level — all in a single handy graphical interface. The perfect choice for demanding orchestral arrangements and creating unique sound effects, Note Expression allows controller values to be drawn directly onto single note events in the Key Editor. Because each individual note event contains its own set of controller data, even polyphonic sounding notes can now be dynamically controlled — fully independent from each other. This way, composers can access controller information such as volume or pitch bend in one place, making it easy to scale, shift or delete several values at once. Best of all, when moving or copying a note event, the associated controller data will follow as well. Each single note event and controllers are treated as one unit, which makes working with instrument articulations faster and more intuitive than ever before. Breaking the traditional
MIDI limitations opens up entirely new creative possibilities: Imagine a chord containing different filter sweeps, volume curves or dynamic expressions for every single note!
* Cubase 6 exclusive
Cubase 6 - Cubase Artist 6 Product Guide
Note Expression also integrates seamlessly with VariAudio. Its new
Extended MIDI Conversion feature generates micro-pitch curves directly on note events in the Key Editor!
Page 45 Steinberg Media Technologies GmbH
But there's more. The included HALion Sonic SE virtual instrument, as well as HALion Sonic and the HALion Symphonic Orchestra VST
Sound Instrument Set are among the first of their kind to fully support the VST 3.5 technology. From ultra-realistic instrument sounds to the most unexpected sonic spheres, VST 3.5 and Note Expression enable a whole new creative approach to composition and sound design.
And it doesn't stop here. Use VariAudio together with Note Expression to bring lifeless MIDI recordings to life. With the Extract MIDI feature inside the Sample Editor you can make snapshots of the pitch and volume curves of monophonic audio recordings and paste that information into MIDI notes!
Summed up
 Break traditional MIDI limitations — assign, create and edit multiple controller values directly on single note-level
 Draw, scale or shift multiple controller values in a single graphical interface
 Audio to MIDI conversion, seamlessly integrated with VariAudio
 Invaluable for demanding orchestral arrangements, cutting-edge electronic music and unique sound effects
 Fully supported by included HALion Sonic SE and HALion Sonic
1.5
Make it dynamic*
The VST Expression set has been extended and now also sports dynamics in the Key Editor as well as in the Score Editor. From pianissimo to crescendo and fortissimo — all dynamics from the Score
Editor are available in the new Articulations/Dynamics Lane in the Key
Editor. When using VST 3.5-compatible instruments, you get instant acoustic feedback from parts that contain dynamics. What's more, the
Dynamics Mapping feature allows very fine adjustments for up to three controllers for dynamics, including velocity, volume and the freely assignable MIDI CC.
* Cubase 6 exclusive
Cubase 6 - Cubase Artist 6 Product Guide Page 46 Steinberg Media Technologies GmbH
* Your assessment is very important for improving the work of artificial intelligence, which forms the content of this project