Cubase Artist 6
| Work smarter, flow faster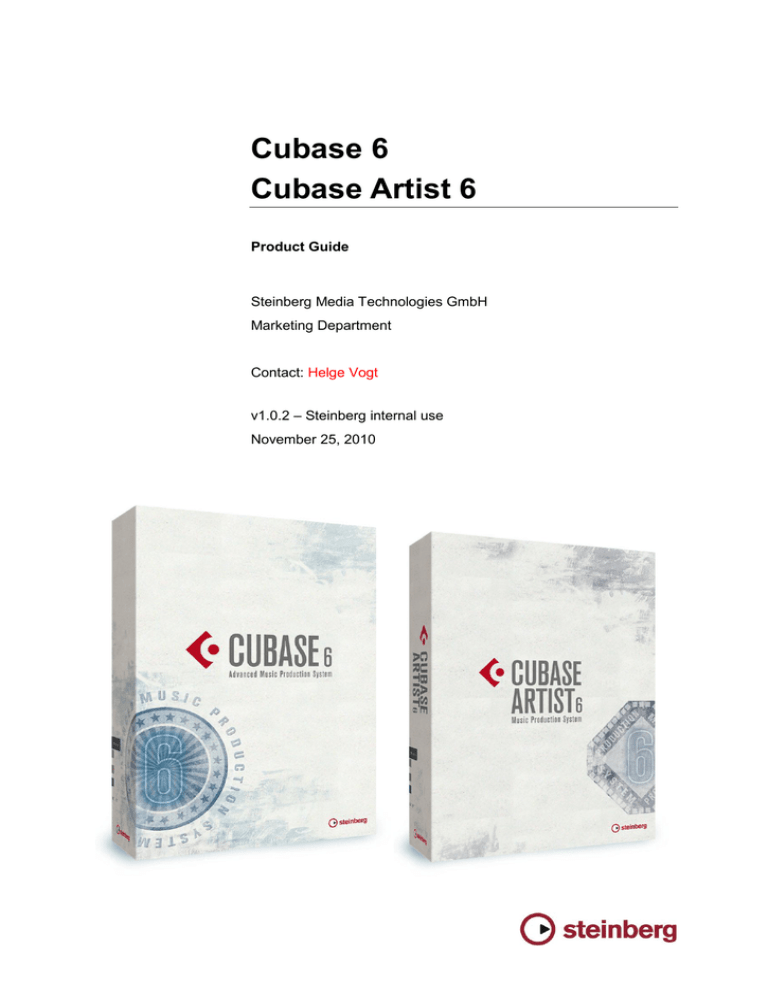 Work smarter, flow faster
Plenty of eye candy and snazziness
Cubase 6 features a significantly redesigned graphical user interface that not only looks good but also makes the huge Cubase 6 feature set even more accessible. Color and contrast optimization minimize eye strain and viewing fatigue during extended viewing sessions — this is pivotal when working long hours to meet project deadlines. The brand-new look for Parts, Events, Arranger and Marker tracks helps you to distinguish between what's important and what may not be so important in the Project window, while the revised Inspector and the overall new color scheme round out the fresh new design.
Cubase 6 - Cubase Artist 6 Product Guide
X64 support for Mac*
The native Cubase 64-bit support under Mac OS X 10.6 64-bit increases the addressable amount of RAM from 2 gigabytes to an astonishing 1 terabyte. In plain words, the bigger your memory, the more tracks, plug-ins and samples you can use in Cubase. This also means you can easily use all the compatible libraries available on the market today. That's what 64-bit support is all about.
* The initial release of Cubase 6 for Mac OS X has the following restrictions if run as native x64 application: no Rewire support, no MP3 export, no score printing, no OMF im/export, no Tonic audio effect plugin, no Embracer and Monologue instrument plug-in.
Page 54 Steinberg Media Technologies GmbH
Get a grip on
Cubase 6 is all about enhanced accessibility, with all the benefits to ease-of-use and workflow that this entails. Building on enhancements engineered for the Sample Editor in Cubase 6, the Key Editor has now been extended to provide smooth and intuitive access to all pivotal parameters. Cubase 6 provides a new command console for all the most important MIDI tools and functions in the form of the new
Inspector. Expression Maps, Note Expression, Quantize, Transpose and Length are now close at hand, available from one central spot — it's all a breeze in Cubase 6..
New scaling tools for controller and automation data offer a highly intuitive user experience when working with MIDI data, including simultaneous editing of several events and an dramatically streamlined look-and-feel. You are in full control: scale, rotate and move marked events up or down; all events are scaled smoothly in relation to each other.
Because the enhanced Quick Control functionality is paired with the
MIDI Learn mode, parameters can now be directly assigned to a
Quick Control by simply right-clicking a VST 3 plug-in or instrument control. Alternatively, you can also use the Quick Control's "Learn mode" button to assign a plug-in or instrument's control to an empty
Quick Control slot.
Cubase 6 - Cubase Artist 6 Product Guide Page 55 Steinberg Media Technologies GmbH
In-depth video tutorials included
Cubase 6 features more than two hours of detailed video tutorials produced by the experts of Streamworks Audio. Ranging from step-bystep instructions for beginners to advanced workflow and editing techniques, there's something in store for everyone — recorded in finest HD quality and included for free.
Cubase 6 - Cubase Artist 6 Product Guide Page 56 Steinberg Media Technologies GmbH
There's more to stay for
Cubase 6 comes with many new and exciting features that make the latest incarnation of Cubase possibly the most comprehensive DAW to date. But it's also all the small details that have been refined or newly introduced that make the overall Cubase experience not only more powerful but truly inspiring.
Global project compatibility between Cubase 6 derivates
Ensure seamless project compatibility between all Cubase 6 derivates and exchange projects with other studios or friends that run a smaller
Cubase 6 version (such as Cubase Artist 6). The sixth version of
Cubase allows for overall project consistency so users of different
Cubase 6 versions can read and work on the same project — absolutely hassle-free.
Pristine time-stretching algorithms
The stunning zplane algorithms in Cubase 6 have been customized for tonal, complex, single and percussive audio material. These algorithms are optimized for extreme time-stretching so you will be amazed how good they sound. This is one jaw-dropping tool you won't want to miss after the first try.
Cubase 6 - Cubase Artist 6 Product Guide Page 57 Steinberg Media Technologies GmbH
New plug-in generation
Cubase 6 includes redesigned and extended VST 3 versions of some of Steinberg's most popular, first-class VST 2 plug-ins: the powerful
De-esser, the greatly enhanced Surround Panner*, Mixer Delay,
SMPTE Generator, Mix 6 to 2 and the really useful Test Generator.
Cubase 6 - Cubase Artist 6 Product Guide Page 58 Steinberg Media Technologies GmbH
Take your MediaBay with you
With Cubase 6, you can now store the loops and samples in your
MediaBay on external USB hard drives. Take your content along with you and call it up within another MediaBay with no further indexing required.
The latest MediaBay version also sports a new Mini Browser which displays all the information you need at a glance.
Notepad track data export
This useful feature lets you export all information stored in each track's Notepad as one consolidated text file so you don't have to open numerous files to find the data you're looking for.
Cubase 6 - Cubase Artist 6 Product Guide Page 59 Steinberg Media Technologies GmbH
* Your assessment is very important for improving the work of artificial intelligence, which forms the content of this project