Sample Chapters from Microsoft Exchange
| Using the Graphical Administration Tools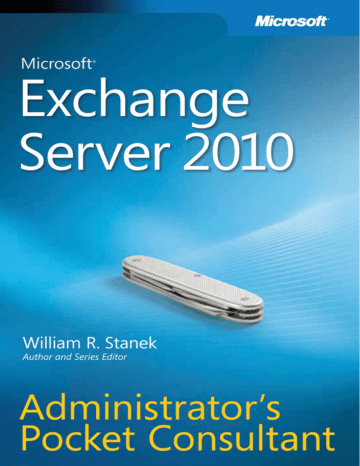 n
If you deploy an Exchange Server 2010 organization with multiple forests, you must install Exchange Server 2010 in each forest and then connect the forests using appropriate cross-forest trusts . The trust allows users to see
address and availability data across the forests .
n
In an Exchange Server 2010 organization, if you want direct mail flow
between Exchange servers in different forests, you must configure SMTP send connectors and SMTP receive connectors on the Hub Transport servers that should communicate directly with each other .
The organization's Mail Transport servers handle mail delivery outside the organization and receipt of mail from outside servers . You can use two types of
Mail Transport servers: Hub Transport servers and Edge Transport servers . You deploy Hub Transport servers within the organization . You can optionally deploy
Edge Transport servers in the organization's perimeter network for added security .
Typically a perimeter network is a secure network set up outside the organization's private network .
With Hub Transport servers, no other special configuration is needed for message routing to external destinations . You must configure only the standard mail setup, which includes identifying DNS servers to use for lookups . With Edge Transport servers, you can optimize mail routing and delivery by configuring one-way synchronization from the internal Hub Transport servers to the perimeter network's
Edge Transport servers . Beyond this, no other special configuration is required for mail routing and delivery .
Using the Graphical Administration Tools
Exchange Server 2010 provides several types of tools for administration . The graphical tools are the ones you'll use most frequently . Exchange Server and Forefront
Protection for Exchange Server have separate management consoles . If you follow the instructions for installing Exchange Server in Chapter 2, you'll be able to access the Exchange tools by selecting Start, choosing All Programs, and then using the
Microsoft Exchange Server 2010 menu . To access the Forefront Protection tools,
select Start, choose All Programs, and then use the Microsoft Forefront Server
Security menu .
Exchange Server 2010 has several graphical tools that replace or combine features of the graphical tools in Exchange Server 2003 and earlier editions . The
Exchange Management Console, shown in Figure 1-1, replaces Exchange System
Manager .
Exchange Server 2010 Administration Overview
ChAPTEr 1 19
FIGURE 1-1
The Exchange Management Console .
As discussed further in Chapter 14, "Exchange Server 2010 Maintenance, Monitoring, and Queuing," and Chapter 15, "Backing Up and Restoring Exchange Server
2010," the Toolbox node in the Exchange Management Console provides access to a suite of related tools, including the following: n
Best Practices Analyzer Checks the configuration and health of your
Exchange organization to ensure that it complies with current best practices recommended by Microsoft . Because best practices are periodically updated, the tool includes an update facility to ensure that the most current best
practices are in place .
n
Details Templates Editor Helps administrators customize client-side GUI presentation of object properties accessed through address lists . You can use this tool to customize the presentation of contacts, users, groups, public folders, and more in the client interface .
n
Mail Flow Troubleshooter Helps troubleshoot problems related to mail flow and transport configuration by providing suggested resolutions for symptoms observed by administrators .
n
Message Tracking Allows administrators to track messages as they are routed through the Exchange organization .
n
Performance Monitor Allows administrators to graph system performance . Also allows administrators to create performance logs and alerts .
20 ChAPTEr 1
Exchange Server 2010 Administration Overview
Wide arrays of Exchange performance objects are available for tracking performance .
n
Performance Troubleshooter Helps troubleshoot problems related to performance by identifying possible bottlenecks and providing suggested solutions .
n
Public Folder Management Console Allows administrators to manage public folders using a graphical interface rather than the command line .
n
Queue viewer Allows administrators to track message queues and mail flow . Also allows administrators to manage message queuing and remove messages . n
Remote Connectivity Analyzer Allows administrators to perform
connectivity tests for inbound e-mail, ActiveSync, Exchange Web Services,
Outlook Anywhere, and Outlook 2003 RPC over HTTP .
n
Role-Based Access Control (RBAC) User Editor Allows administrators to assign users to RBAC groups and roles .
n
Routing Log viewer Helps administrators troubleshoot routing problems on transport servers by providing information about routing topology .
n
Tracking Log Explorer Provides access to the message tracking logs for troubleshooting .
Other administration tools that you might want to use with Exchange Server are summarized in Table 1-2 .
TABLE 1-2
Quick Reference Administration Tools to Use with Exchange Server 2010
ADMINISTRATIvE TOOL PURPOSE
Computer Management Starts and stops services, manages disks, and accesses other system management tools .
DNS
Event Viewer
IIS Manager
Manages the DNS service .
Manages events and logs .
Microsoft Network
Monitor
Server Manager
Manages Web servers used by Exchange as well as the management service configuration .
Monitors network traffic, and troubleshoots networking problems .
Adds, removes, and configures roles, role services, and features .
You access most of the tools listed in Table 1-2 from the Administrative Tools
program group . Click Start, point to All Programs, and then point to Administrative
Tools .
Exchange Server 2010 Administration Overview
ChAPTEr 1 21
* Your assessment is very important for improving the work of artificial intelligence, which forms the content of this project