1202-VLZ3 12-Channel Mic/Line Mixer Owner`s
| Channel Strip Description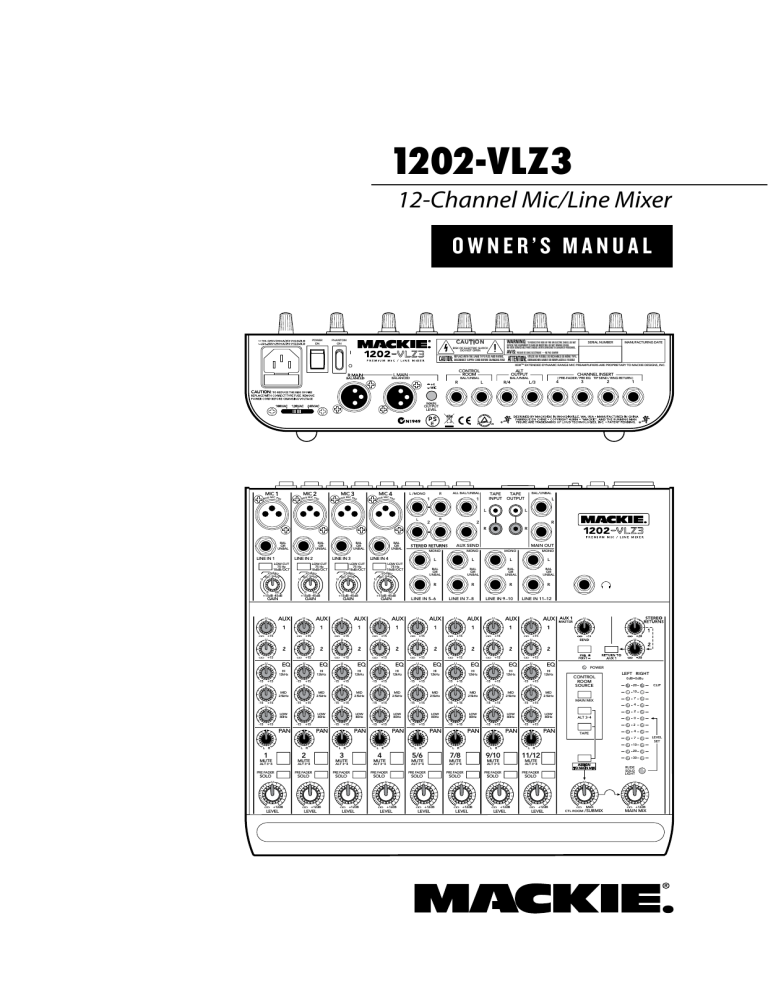 CAUTION
25
24
23
Channel Strip Description
The eight channel strips look alike, and function identically. The only difference is that the four on the left are for individual mics or mono instruments and have more gain available, while the next four are for either stereo or mono line-level sources. (Each of the stereo channel strips is actually two complete circuits. The controls are linked together to preserve stereo.) We'll start at the bottom and work our way up…
"U" LIKE UNITY GAIN
mix, or to just check out what a particular channel is up to anytime during a session. You can solo as many channels at a time as you like.
Solo is also the key player in the Level- Setting Procedure on page 3.
Soloed channels are sent to the SOURCE mix, which ultimately feeds your control room, phones and meter display. Whenever SOLO is engaged, all SOURCE selections (MAIN MIX, ALT 3-4 and TAPE) are defeated, to allow the soloed signal to do just that — solo!
Mackie mixers have a "U" symbol on almost every level control. This "U" stands for "unity gain," meaning no change in signal level. Once you have adjusted the input signal to line-level, you can set every control at
"U" and your signals will travel through the mixer at optimal levels. What's more, all the labels on our level controls are measured in decibels (dB), so you'll know what you're doing level-wise if you choose to change a control's settings.
WARNING: PRE-FADER SOLO taps the channel signal before the LEVEL knob. If you have a channel's LEVEL knob set below
"U" (unity gain), SOLO won't know that and will send a unity gain signal to the control room, phones and meter display. That may result in a startling level boost at these outputs.
25. MUTE/ALT 3–4
O
O
-15
U
O
U
+15
O
U
+15
-15
U
+15
-15
U
+15
+15
AUX
EQ
HI
12kHz
MID
2.5kHz
LOW
80Hz
PAN
You won't have to check it here and check it there, as you would with some other mixers. In fact, some don't even have any reference to actual dB levels at all!
You were smart — you bought a
Mackie.
23. LEVEL
This adjusts the channel's level… from off, to unity gain at the detent, on up to 12 dB of additional gain.
The LEVEL knob is the equivalent of a channel fader, so sometimes we lapse and say the word fader.
The dual-purpose MUTE/ALT 3–4 bus is a Mackie signature. When Greg was designing our fi rst product, he had to include a mute switch for each channel. Mute switches do just what they sound like they do. They turn off the signal by "routing" it into oblivion. "Gee, what a waste," Greg reasoned. "Why not have the mute button route the signal somewhere else useful… like a separate stereo bus?" So MUTE/ALT 3–4 really serves two functions — muting (often used during a mixdown or live show), and signal routing (for multitrack and live work) where it acts as an extra stereo bus.
To use this as a MUTE switch, all you have to do is not use the ALT 3–4 [16] outputs. Then, whenever you press this switch, you will assign a channel to these unused outputs, disconnecting it from the main mix, and effectively muting the channel.
L R
1
MUTE
ALT 3–4
PRE FADER
SOLO
U
O O
+12dB
LEVEL
Channels 1 through 4 use mono controls, and channels 5 through
12 use stereo controls, and so they may feel slightly different. Not a problem.
24. PRE-FADER SOLO
This lovable switch allows you to hear signals through your headphones or control room without having to route them to the main mix or ALT 3-4 mix. You don't even have to have the channel's LEVEL
[23] knob turned up. Folks use solo in live work to preview channels before they are let into the
To use this as an ALT 3–4 switch, all you have to do is connect the ALT 3–4 outputs to whatever destination you desire. Here are two popular examples:
When doing multitrack recording, use the ALT 3–4 outputs to feed your multitrack. With most decks, you can "mult" the ALT 3–4 [16] outputs, using Y-cords or mults, to feed multiple tracks. So, take ALT OUTPUT L and send it to tracks 1, 3, 5 and 7, and ALT OUTPUT R and send it to tracks 2, 4, 6 and 8. Now, tracks that are in Record or Input modes will hear the ALT 3–4 signals, and tracks in Playback or Safe modes will ignore them.
When doing live sound or mixdown, it's often handy to control the level of several channels with one knob.
That's called subgrouping. Simply assign these channels to the ALT 3–4 mix, engage ALT 3–4 in the SOURCE
[33] matrix, and the signals will appear at the CON-
Owner's Manual
13
ASSIGN
TO MAIN MIX
CAUTION
14
TROL ROOM [15] and PHONES [12] output s. If you want the ALT 3–4 signals to go back into the main mix, engage the ASSIGN TO MAIN MIX [36] switch, and the
CONTROL ROOM/SUBMIX [34] level control becomes the one knob to control the levels of all the channels assigned to ALT 3–4.
Another way to do the same thing is assign the channels to the ALT 3–4 mix, then patch out of the ALT 3–4
OUTPUT [16]back into an unused stereo channel LINE
INPUT [2]. If that's your choice, don't ever engage the
MUTE/ALT 3–4 switch on that stereo channel, or you'll have every dog in the neighborhood howling at your feedback loop.
CONSTANT LOUDNESS ! ! !
The 1202-VLZ3's PAN controls employ a design called
"Constant Loudness." It has nothing to do with living next to an all-night disco. As you turn the PAN [26] knob from left to right (thereby causing the sound to move from the left to the center to the right), the sound will appear to remain at the same volume (or loudness).
If you have a channel panned hard left (or right) and reading 0 dB, it must dip down about 4 dB on the left
(or right) when panned center. To do otherwise (the way Brand X compact mixers do) would make the sound appear much louder when panned center.
Another benefi t of the ALT 3–4 feature is that it can act as a "SIP" (Solo-In-Place): just engage a channel's
MUTE/ALT 3–4 switch and the ALT 3–4 switch in the
SOURCE matrix and you'll get that channel, all by itself, in the control room and phones.
MUTE/ALT 3–4 is one of those controls that can bewilder newcomers, so take your time and play around with it. Once you've got it down, you'll probably think of a hundred uses for it!
31
30
29
28
27
26
U
O O
U
+15
L R
1
MUTE
ALT 3–4
PRE FADER
SOLO
U
AUX
O O
U
+15
EQ
HI
12kHz
-15
U
+15
MID
2.5kHz
-15
U
+15
LOW
80Hz
-15 +15
PAN
O O
+12dB
LEVEL
3-BAND EQ
The 1202-VLZ3 has 3-band equalization at carefully selected points — LOW shelving at 80 Hz, MID peaking at 2.5 kHz, and HI shelving at 12 kHz. "Shelving" means that the circuitry boosts or cuts all frequencies past the
specifi ed frequency. For example, rotating the LOW EQ knob 15 dB to the right boosts bass starting at 80 Hz and continuing down to the lowest note you never heard.
"Peaking" means that certain frequencies form a "hill" around the center frequency — 2.5 kHz in the case of the MID EQ.
26. PAN
PAN adjusts the amount of channel signal sent to the left versus the right outputs. On mono channels (ch. 1–4 or
5–12 with connections to the L input only) these controls act as pan pots. On stereo channels
(5–12) with stereo connections to L and R inputs, the PAN knob works like the balance control on your home stereo.
PAN determines the fate of the main mix and ALT 3–4 mix.
With the PAN knob hard left, the signal will feed either MAIN
OUT L (bus 1) or ALT OUTPUT
L (bus 3), depending on the position of the ALT 3–4 switch.
With the knob hard right, the signal feeds MAIN OUT R (bus
2) or ALT OUTPUT R (bus 4).
27. LOW EQ
This control gives you up to 15 dB boost or cut below 80 Hz. The circuit is fl at (no boost or cut) at the center detent position. This frequency represents the punch in bass drums, bass guitar, fat synth patches, and some really serious male singers.
+15
+10
+5
0
–5
–10
+15
+10
–15
20
Hz
100
Hz
Low EQ
+5
Used in conjunction with the LOW CUT [3] switch, you can boost the LOW EQ without injecting a ton of subsonic debris into the mix.
0
–5
–10
1k
Hz
–15
20
Hz
100
Hz
1k
Hz
Low EQ with Low Cut
10k
Hz
20k
Hz
10k
Hz
20k
Hz
28. MID EQ
+15
Short for "midrange," this knob provides 15 dB of boost or cut, centered at
+10
+5
0
2.5 kHz, also fl at at the center detent. Midrange EQ
–5
–10
is often thought of as the most dynamic, because the
–15
20
Hz
100
Hz
1k
Hz
10k
Hz
20k
Hz
Mid EQ
frequencies that defi ne any particular sound are almost always found in this range.
You can create many interesting and useful EQ changes by turning this knob down as well as up.
1202-VLZ3
ASSIGN
TO MAIN MIX
29. HI EQ
This control gives you up to 15 dB boost or cut above
12 kHz, and it is also fl at at the detent. Use it to add sizzle to cymbals, and an overall sense of transparency, or edge to keyboards,
vocals, guitar and bacon
frying. Turn it down a little to reduce sibilance, or to hide tape hiss.
+15
+10
–5
+5
0
–10
–15
20
Hz
100
Hz
High EQ
1k
Hz
10k
Hz
20k
Hz
MODERATION DURING EQ
With EQ, you can also screw things up royally. We've designed a lot of boost and cut into each equalizer circuit, because we know everyone will occasionally need that. But if you max the EQs on every channel, you'll get mix mush. Equalize subtly and use the left sides of the knobs (cut), as well as the right (boost). Very few gold-record-album engineers ever use more than about
3 dB of EQ. If you need more than that, there's usually a better way to get it, such as placing a mic differently (or using a different kind of mic entirely).
Each AUX send level ranges from off through unity
(the center detent position) on up to 15 dB of extra gain
(when turned fully clockwise). Chances are you'll never need this extra gain, but it's nice to know it's there if you do.
Channel 5–12 AUX knobs control the mono sum of the channel's stereo signals for each AUX send. For instance, channel 5 (L) and 6 (R) mix together to feed that channel's AUX send knobs.
We recommend going into a stereo reverb in mono and returning in stereo. We have found that on most "stereo" reverbs the second input just ties up an extra AUX send and adds nothing to the sound. There are exceptions, so feel free to try it both ways. If your effects device is true stereo all the way through, use AUX 1 to feed its left input and AUX 2 to feed the right input.
Still with us? Good for you. Here come the tricky parts, the output or master section where the mixing is really done. We have even started it on a new page:
AUX
31. AUX 1 SEND
These knobs allow you to tap a portion of each channel signal out to another source for parallel effects processing or stage monitoring. AUX send levels are controlled by these knobs and by the AUX 1 MASTER [39].
These are more than just effects and monitor sends.
They can be used to generate separate mixes for recording or "mix-minuses" for broadcast. By using AUX 1 in the PRE mode, these mix levels can be obtained independently of the channel's LEVEL control.
AUX 1 in post mode and AUX 2 are post-LOW CUT, post-EQ and post-LEVEL. That is, the sends obey the settings of these controls. AUX 1 in PRE mode follows the EQ and LOW CUT settings only. PAN and LEVEL have no effect on the PRE send (see diagram below).
LEVEL
PAN
MAIN / ALT
INPUT GAIN
LO CUT INSERT
EQ
"Pre vs. Post"
Signal Flow Diagram
"PRE" SIGNAL
"POST" SIGNAL
AUX 2 KNOB
AUX 1 KNOB
TO AUX SEND 2 LEVEL
TO AUX SEND 1 LEVEL
AUX SEND 1 PRE/POST SWITCH
(IN MASTER SECTION)
Owner's Manual
15
* Your assessment is very important for improving the work of artificial intelligence, which forms the content of this project