1202-VLZ3 12-Channel Mic/Line Mixer Owner`s
| Output Section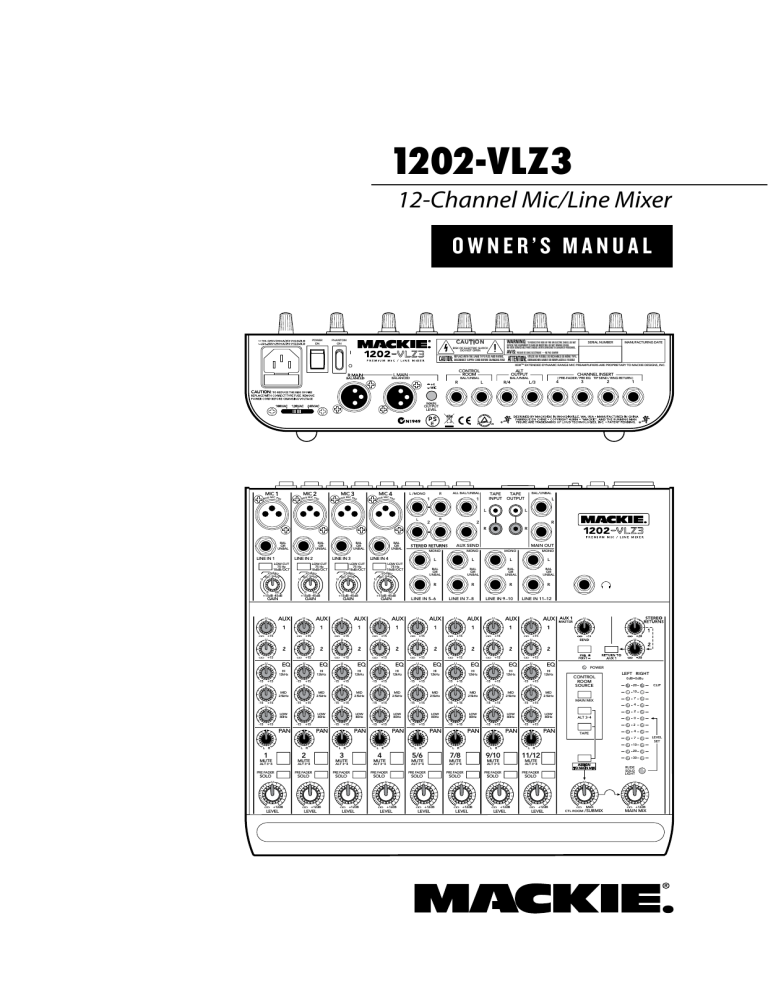 CAUTION
16
Output Section
34
33
36
POWER
CONTROL
ROOM
SOURCE
MAIN MIX
ALT 3–4
TAPE
TO
ASSIGN
TO MA IN MIX
U
O O
MAX
CTL ROOM
/SUBMIX
LEFT RIGHT
0dB=0dBu
20 CLIP
RUDE
SOLO
LIGHT
U
0
2
4
4
2
10
7
7
10
20
30
O O
+12dB
MAIN MIX
37
LEVEL
SET
35
32
32. MAIN MIX
This knob controls the levels of signals sent to the main outputs: XLR [13] and 1⁄4" [11] and RCA TAPE
OUTPUT [10]. All channels and STEREO RETURNS [7] that are not muted or turned fully down will wind up in the main mix.
Fully counterclockwise is off, the center detent is unity gain, and fully clockwise provides 12 dB of additional gain. This additional gain will typically never be needed, but once again, it's nice to know it's there. This is the knob to turn down at the end of the song when you want The Great Fade-Out.
33. CONTROL ROOM SOURCE MATRIX
Typically, the engineer sends the main mix to an audience (if live) or a mixdown deck (if recording). But what if the engineer in the control room needs to hear something other than the main mix? With the 1202-
VLZ3, the engineer has several choices of what to listen to. This is one of those tricky parts, so brace yourself.
Via these SOURCE switches, you can choose to listen to any combination of main mix, ALT 3-4 and Tape. By now, you probably know what the main mix is. ALT 3-4 is that additional stereo mix bus. Tape is the stereo signal coming in from the TAPE INPUT [9] jacks.
Selections made in the source matrix deliver stereo signals to the control room, phones and meter display.
With no switches engaged, there will be no signal at these outputs and no meter indication.
The exception is the solo function. Regardless of the source selection, engaging a channel's SOLO [24] switch will replace that selection with the solo signal, also sent to the control room, phones and right meter
(the left meter becomes inactive). This is what makes the Level-Setting Procedure so easy to do.
WARNING: Engaging both the TAPE and
ASSIGN TO MAIN MIX [36] buttons can create a feedback path between TAPE INPUT
[9] and TAPE OUTPUT [10]. Make sure your tape deck is not in record, record-pause, or input-monitor mode when you engage these switches, or make sure the CON-
TROL ROOM / SUBMIX 34] level knob is fully counterclockwise (off).
Now you know how to select the signals to send to the engineer's control room or phones. From there, these signals all pass through the same level control:
34. CONTROL ROOM/SUBMIX
This knob controls the levels of both the stereo CON-
TROL ROOM [15] and PHONES [12] outputs. The control range is from off through unity gain at the detent, with 10 dB of extra gain (when turned fully clockwise).
When MAIN MIX is your control room source selection, those signals will now pass through two level controls on the way to your control room amp and phones
— the MAIN MIX [32] knob and this CONTROL ROOM
/ SUBMIX knob. This way, you can send a nice healthy level to the main output (MAIN MIX knob at "U"), and a quiet level to the control room or phones (CONTROL
ROOM / SUBMIX knob wherever you like it).
When ALT 3-4 or TAPE is selected, or SOLO [24] is engaged, the CONTROL ROOM / SUBMIX knob will be the only one controlling these levels (channel controls not withstanding).
1202-VLZ3
Whatever your selection, you can also use the CON-
TROL ROOM [15] outputs for other applications. Its sound quality is just as impeccable as the MAIN OUTS
[11 and 13]. It can be used as additional main mix output, which may sound silly since there are already three, but this one has its own level control. However, should you do something like this, be sure that you do not engage a SOLO switch, as that will interrupt your
SOURCE selection.
A WORD ABOUT PRE-FADER SOLO (PFL)
Engaging a channel's SOLO [24] switch will cause this dramatic turn of events: Any existing control room source selections will be replaced by the solo signal, appearing in the control room, headphones, and in the right meter. The audible solo levels are then controlled by the CONTROL ROOM / SUBMIX [34] knob. The solo levels appearing on the right meter display are not controlled by anything — you wouldn't want that. You want to see the actual channel level on the meter display
regardless of how loud you're listening.
"PRE-FADER" SOLO means that the channel signal is being tapped before the channel's LEVEL [23] knob
(not really a fader in this case, but we were afraid you'd laugh if we called it Pre-Knob Solo). It does, however, obey GAIN [4], LOW CUT [3] and EQ [27] settings, making it the perfect tool for quick inspections of suspect channels. The channel's PAN [26] and MUTE/ALT
3-4 [25]settings have no effect on the solo signal.
Note: For stereo channels 5-12, the solo signal is the mono sum of the left (odd-numbered) and right (evennumbered) signals for that channel strip.
WARNING: PRE-FADER SOLO [24] taps the channel signal before the LEVEL knob. If you have a channel's LEVEL knob set below
"U" (unity gain), SOLO won't know that, and will send a unity gain signal to the control room, phones and meter display, that may result in a startling level boost at these outputs.
Another handy use for this switch is to enable the ALT
3-4 mix to become a submix of the main mix, using the
CONTROL ROOM/SUBMIX knob as its level control.
Side effects: (1) Engaging this switch will also feed any soloed channels into the main mix, which may be the last thing you want. (2) If you have MAIN MIX as your control room source selection and then engage AS-
SIGN TO MAIN MIX, the main mix lines to the control room will be interrupted to prevent feedback. Then again, why would anyone want to assign the main mix to the main mix?
37. METERS – MANY DISPLAYS IN ONE!
The 1202-VLZ3's peak metering system is made up of two columns of twelve LEDs. Deceptively simple, considering the multitude of signals that can be monitored by it.
If nothing is selected in the SOURCE matrix and no channels are in SOLO, the METERS will just sit there and do nothing. To put them to work, you must make a selection in the SOURCE matrix (or engage a SOLO switch).
Why? You want the meter display to refl ect what the engineer is listening to, and as we've covered, the engineer is listening either to the CONTROL ROOM [15] outputs or the PHONES [12] outputs. The only difference is that while the listening levels are controlled by the CONTROL ROOM / SUBMIX [34] knob, the meters read the SOURCE mix before that control, giving you the real facts at all times, even if you're not listening at all.
35. RUDE SOLO LIGHT
This fl ashing Light Emitting Diode serves two purposes — to remind you that at least one channel is in solo, and to let you know that you're mixing on a Mackie. No other company is so concerned about your level of solo awareness. If you work on a mixer that has a solo function with no indicator lights, and you happen to forget you're in solo, you can easily be tricked into thinking that something is wrong with your mixer. Hence the
RUDE SOLO LIGHT. It's especially handy at about 3 a.m. when no sound is coming out of your monitors but your multitrack is playing back like mad.
36. ASSIGN TO MAIN MIX
Let's say you're doing a live show. Intermission is nearing and you'll want to play a soothing CD for the crowd to prevent them from eating the furniture. Then you think, "But I have the CD player plugged into the TAPE
inputs, and that never gets to the MAIN OUTS!" Oh, but it does. Simply engage this switch and your control room source selection, after going through the CONTROL
ROOM / SUBMIX [34] knob, will feed into the main mix, just as if it were another stereo channel.
Thanks to the 1202-VLZ3's wide dynamic range, you can get a good mix with peaks fl ashing anywhere between –20 and +10 dB on the METERS. Most amplifi ers clip at about +10 dB, and some recorders aren't so forgiving either. For best real-world results, try to keep your peaks between "0" and "+7".
You may already be an expert at the world of "+4" (+4 dBu=1.23 V) and "–10" (–10 dBV=0.32 V) operating levels. Basically, what makes a mixer one or the other is the relative 0 dB VU (or 0 VU) chosen for the meters.
A "+4" mixer, with a +4 dBu signal pouring out the back will actually read 0 VU on its meters. A "–10" mixer, with a –10 dBV signal trickling out, will read 0VU on its meters. So when is 0 VU actually 0 dBu? Right now!
Owner's Manual
17
CAUTION
At the risk of creating another standard, Mackie's compact mixers address the need of both crowds by calling things as they are — 0 dBu (0.775 V) at the output shows as 0 dB VU on the METERS. What could be easier? By the way, the most wonderful thing about standards is that there are so many to choose from.
Remember, audio meters are just tools to help assure you that your levels are "in the ballpark." You don't have to stare at them (unless you want to).
These outputs can be fed to the inputs of a reverb or other device. From there, the outputs of this external device are fed back to the mixer's STEREO RETURN [7] jacks. Then these signals are sent through the STEREO
RETURN [40] level controls, and fi nally delivered to the main mix.
So, the original "dry" signals go from the channels to the main mix and the affected "wet" signals go from the
STEREO RETURN [7] to the main mix, and once mixed together, the dry and wet signals combine to create a glorious sound. So, armed with this knowledge, let's visit the Auxiliary World:
A Word About Aux
First of all, there is no particular alliance between
AUX SEND 1 (or 2) and STEREO RETURN 1 (or 2).
They're just numbers. They're like two complete strangers.
SENDS are outputs, RETURNS are inputs. The channel AUX [30 and 31] knobs tap the signal off the channel and sends it to the AUX SEND [8] outputs. AUX 1 signal is sent to the AUX 1 MASTER [39] knob before going to the AUX SEND 1 [8] output and the AUX 2 signal goes directly to the AUX SEND 2 [8] output.
39
38
POWER
CONTROL
ROOM
SOURCE
MAIN MIX
ALT 3–4
TAPE
TO
ASSIGN
TO MA IN MIX
U
41
LEFT RIGHT
0dB=0dBu
20
10
CLIP
4
7
0
2
7
4
2
10
20
30
LEVEL
SET
RUDE
SOLO
LIGHT
U
40
38. PRE or POST (AUX 1)
Besides being used to work effects into your mix, Aux
Sends serve another critical role — that of delivering cue mixes to stage monitors, so musicians can hear what they're doing. On the 1202-VLZ3, AUX SEND 1 can play either role, depending on the position of this switch.
With this switch up (disengaged), AUX SEND 1 will tap a channel pre-fader (LEVEL) and pre-MUTE/ALT
3-4, meaning that no matter how you manipulate those controls as they feed the main mix, the AUX SEND will continue to belt out that channel's signal. This is the preferred method for setting up stage monitor feeds. EQ settings will affect all AUX SENDs.
With the switch down, the AUX SEND 1 becomes an ordinary effects send — post-fader (LEVEL) and post-
MUTE/ALT 3-4. This is a must for effects sends, since you want the levels of your "wet" signals to follow the level of the "dry."
39. AUX 1 MASTER
This knob provides overall level control of AUX SEND
1, just before it's delivered to the AUX SEND 1 [8] output. (AUX SEND 2 has no such control.) This knob goes from off (turned fully down), to unity gain at the center detent, with 10 dB of extra gain (turned fully up). As with some other level controls, you may never need the additional gain, but if you ever do, you'll be glad you bought a Mackie.
This is usually the knob you turn up when the lead singer glares at you, points at his stage monitor, and sticks his thumb up in the air. (It would follow suit that if the singer stuck his thumb down, you'd turn the knob down… but that never happens.)
O O
MAX
CTL ROOM
/SUBMIX
O O
+12dB
MAIN MIX
40. STEREO RETURNS
These two controls set the overall level of effects received from STEREO RETURN [7] inputs 1 and 2. These controls are designed to handle a wide range of signal levels, from off, to unity gain at the detent, with 20 dB gain fully clockwise, to compensate for low-level effects.
18
1202-VLZ3
Typically, these knobs can just live at the center detent, and the effects device's output control should be set at whatever they call unity gain (check their manual). If that turns out to be too loud or too quiet, adjust the effects device's outputs, not the mixer. That way, the mixer's knobs are easy to relocate at the center detent.
Signals passing through these controls will proceed directly to main mix, with one exception (see paragraph below). The STEREO RETURNs do not have MUTE/ALT
3-4 switches, so if you want these signals to get to the
ALT 3-4 mix, you'll have to patch the effects device's outputs into one of the stereo channels, and MUTE/ALT those channels.
Engage the RETURN TO AUX 1 switch, and now the
STEREO RETURN 2 knob will become an additional
AUX SEND 1 knob for the signal at AUX RETURN 1. Say that ten times! Once again, AUX RETURN 1 will behave normally, as always.
Congratulations! You've just read about all the features of your 1202-VLZ3. You're probably ready for a cold one. Go ahead. The rest of the manual can wait.
41. RETURN TO AUX 1
If you want to add reverb or delay to the stage monitor mixes of AUX 1, this is the switch for you.
With the switch up, STEREO RETURN 1 and 2 behave normally — they deliver their signals into the main mix.
With the switch down, STEREO RETURN 1 still behaves normally, but STEREO RETURN 2 will feed AUX SEND 1 instead of the main mix.
Still with us? Good. So far, with the switch down, we have STEREO RETURN 1 feeding the main mix and
STEREO RETURN 2 feeding AUX SEND 1. Now, suppose you only have one effects device, and you want it to feed both the MAIN MIX and AUX SEND 1. That's where
"jack normalling" comes in:
JACK NORMALLING
Jack normalling (not to be confused with Jack
Normalling, Chicago Cubs utility infi elder, 1952-61, .267
LBA) is a feature found on almost every mixer, keyboard loaded pins that connect to the signal pins, but when something is plugged into the jack, that connection is broken.
These normalling pins can be used in all sorts of ways.
The ubiquitous phrase "LEFT (MONO)" means that if you plug a signal into the LEFT side and have nothing in the RIGHT side, that signal is also fed to the right input, courtesy of jack normalling. As soon as you plug something in the RIGHT side, that normalled connection is broken.
How does all this relate to the
RETURN TO AUX 1 [41] switch?
STEREO RETURN 1's inputs are normalled to STEREO RETURN 2.
L /MONO
L
1
R
R
ALL BAL/UNBAL
1
2
If you have one effects device, plug it into STEREO RETURN 1. Plug
O O
AUX SEND
O O nothing into STEREO RETURN 2.
Now the signals feeding the STEREO RETURN 1 inputs will also be sent to the STEREO RETURN 2 inputs.
2
Owner's Manual
19
ASSIGN
TO MAIN MIX
* Your assessment is very important for improving the work of artificial intelligence, which forms the content of this project