LampLinc V2 2456D3
| SPECIFICATIONS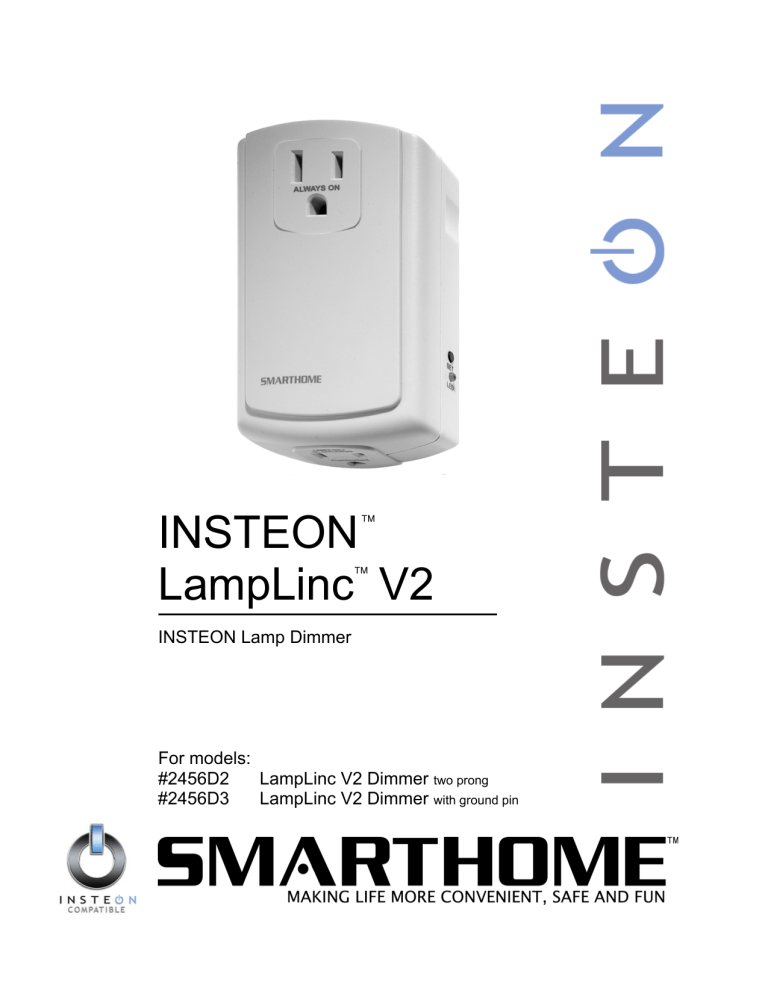 INSTEON LampLinc V2 Dimmer User's Guide
SPECIFICATIONS
LampLinc Dimmer Specifications
General
Smarthome Product Number 2456D2, INSTEON LampLinc V2 Lamp Dimmer, 2-prong
2456D3, INSTEON LampLinc V2 Lamp Dimmer, 3-prong
Operation
Status LED White
On-Levels 32
Ramp Rate
(full-ON to full-OFF)
Local Control
Setup Memory
INSTEON Features
0.125 to 9 seconds if programmed locally,
0.125 seconds to 9 minutes if programmed remotely
Load sensing (can be disabled)
Non-volatile EEPROM
INSTEON Addresses
INSTEON Links
INSTEON Powerline Frequency
INSTEON Minimum Transmit Level
1 hard-coded out of 16,777,216 possible
417 out of 16,777,216 possible
131.65 KHz
3.2 V pp
into 5 Ohms
1 mV pp
nominal
Yes
INSTEON Minimum Receive Level
INSTEON Messages Repeated
X10 Features
X10 Primary Address
X10 Scene Addresses
X10 Status Response
1 optional (comes unassigned)
255 possible
Supported
X10 Resume Dim
X10 Powerline Frequency
X10 Minimum Transmit Level
X10 Minimum Receive Level
X10 Messages Repeated
Mechanical
Operating Conditions
Dimensions
Supported (by setting X10 Primary Address On-Level to zero)
120 KHz
3.2 V pp
into 5 Ohms
10 mV pp
nominal
No
Indoors, 32 to 122°F, up to 85% relative humidity
4.0" H x 2.5" W x 1.5" D
Electrical
Supply Voltage
Surge Protection
Power Plug
Pass-through Outlet
Controlled Outlet
Load Types
Maximum Load
Minimum Load
Certification
120 Volts AC +/- 10%, 60 Hertz, single phase
MOV rated for 150 Volts
3-pin grounded (2456D3), 2-pin polarized (2456D2)
3-pin grounded (2456D3), 2-pin polarized (2456D2)
3-pin grounded (2456D3), 2-pin polarized (2456D2)
Plug-in incandescent lighting devices
300 Watts
25 watts (for Local Control load sensing)
Safety tested for use in USA and Canada (ETL #3017581)
Page 20 of 21
INSTEON LampLinc V2 Dimmer User's Guide
Certification
LampLinc V2 Dimmer has been thoroughly tested by ITS ETL SEMKO, a nationally recognized independent third-party testing laboratory. The North American ETL Listed mark signifies that the product has been tested to and has met the requirements of a widely recognized consensus of U.S and Canadian product safety standards, that the manufacturing site has been audited, and that the manufacturer has agreed to a program of quarterly factory follow-up inspections to verify continued conformance.
Limited Warranty
Seller warrants to the original consumer purchaser of this product that, for a period of two years from the date of purchase, this product will be free from defects in material and workmanship and will perform in substantial conformity to the description of the product in this User's Guide. This warranty shall not apply to defects or errors caused by misuse or neglect. If the product is found to be defective in material or workmanship, or if the product does not perform as warranted above during the warranty period, Seller will either repair it, replace it or refund the purchase price, at its option, upon receipt of the product at the address below, postage prepaid, with proof of the date of purchase and an explanation of the defect or error. The repair, replacement, or refund that is provided for above shall be the full extent of Seller's liability with respect to this product. For repair or replacement during the warranty period, call Smarthome customer service to receive an RA# (return authorization number), properly package the product (with the
RA# clearly printed on the outside of the package) and send the product, along with all other required materials, to:
Smarthome, Inc.
ATTN: Receiving Dept.
16542 Millikan Ave.
Irvine, CA 92606-5027
Limitations
The above warranty is in lieu of and seller disclaims all other warranties, whether oral or written, express or implied, including and warranty or merchantability or fitness for a particular purpose. Any implied warranty, including any warranty of merchantability or fitness for a particular purpose, which may not be disclaimed or supplanted as provided above shall be limited to the one-year period of the express warranty above. No other representation or claim of any nature by any person shall be binding upon seller or modify the terms of the above warranty and disclaimer. In no event shall seller be liable for special, incidental, consequential, or other damages resulting from the possession or use of this product, including without limitation damage to property and, to the extent permitted by law, personal injury, even if seller knew or should have known of the possibility of such damages. Some states do not allow limitations on how long an implied warranty lasts and/or the exclusion or limitation of damages, in which case the above limitations and/or exclusions may not apply to you. You may also have other legal rights that may vary from state to state.
INSTEON, Plug-n-Tap, ControLinc, TesterLinc, SignaLinc, LampLinc, ToggleLinc, BoosterLinc, ApplianceLinc, KeypadLinc,
FilterLinc, ProbeLinc, SwitchLinc, TempLinc, IR Linc and SmarthomeLive are trademarks of Smarthome, Inc. INSTEON networking technology is covered by pending U.S. and foreign patents.
© Copyright 2005 Smarthome, Inc., 16542 Millikan Ave., Irvine, CA 92606-5027,
800-SMARTHOME (800-762-7846), 949-221-9200, www.smarthome.com
Rev 050622
Page 21 of 21
* Your assessment is very important for improving the work of artificial intelligence, which forms the content of this project