Intelligently Reducing SharePoint Costs through Storage
| The Solution: Move the BLOBs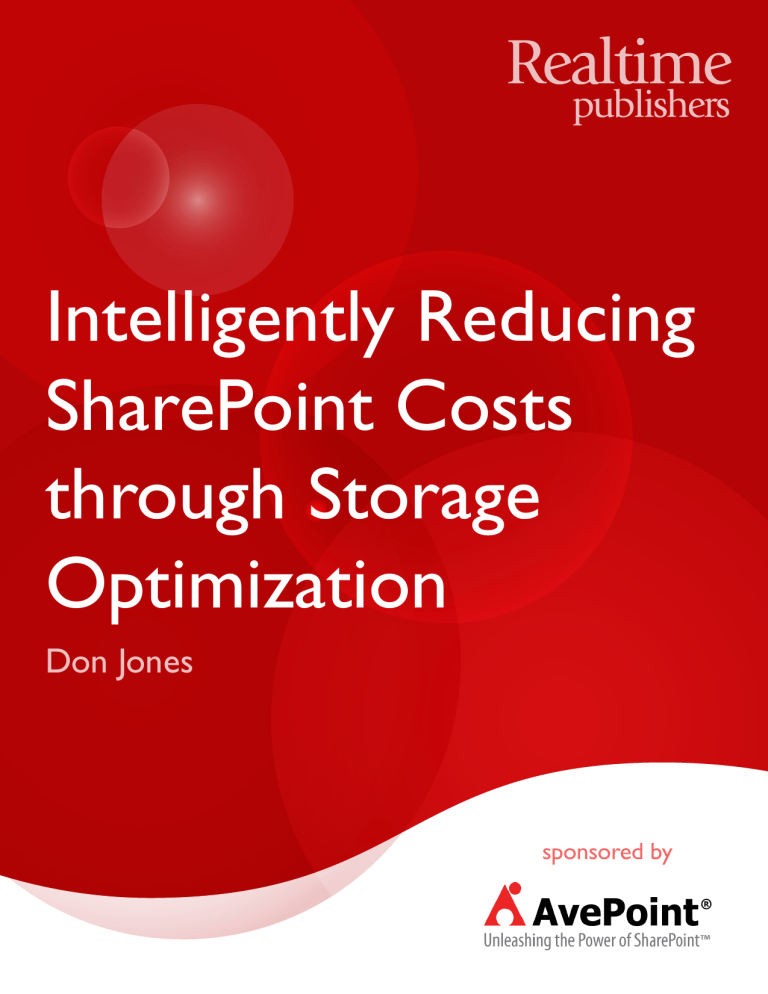 Intelligently Reducing SharePoint Costs through Storage Optimization Don Jones
We might also want to implement some kind of tiered storage, so that older, less‐used data can be moved to less‐expensive storage but still remain generally accessible. We might need to observe data‐retention policies, too, and it's possible an "outsourced" storage mechanism can address that. This is actually a bigger topic than just offloading BLOB data, and I'll spend all of Chapter 4 exploring it.
The Solution: Move the BLOBs
Ultimately, what we want to do is get the BLOBs out of the SQL Server database. That'll reduce the size of the database, which will help improve its performance. Of course, we need to do so in a way that still keeps the content entirely visible to SharePoint so that all of its features—alerts, workflow, versioning, metadata, security, and so forth—still work for us. There are two basic approaches to BLOB offloading: External BLOB Storage (EBS) and
Remote BLOB Storage (RBS).
EBS
EBS was introduced with the previous version of SharePoint. It's a SharePoint‐specific feature; it's not generic to SQL Server. Essentially, EBS was the SharePoint product team's way of addressing the BLOB problem without specific help from the SQL Server tea m.
By the way, you should know that EBS is deprecated in SharePoint 2010, meaning
Microsoft doesn't plan to pursue the technology. Instead, they're pushing for RBS, which I'll discuss next. However, it's still useful to understand what EBS is and how it works.
How It Works
EBS basically provides a secondary storage mechanism within SharePoint: You still use SQL
Server to store structured data, but those unstructured large items are directed to a different storage mechanism. A Component Object Model (COM) interface coordinates the two. EBS is an extensibility point; both Microsoft and third parties can supply you with EBS providers, and the provider makes the connection between SharePoint's EBS layer (that
COM interface) and the actual external storage mechanism. Figure 2.7 illustrates how EBS is built.
25
Intelligently Reducing SharePoint Costs through Storage Optimization Don Jones
Figure 2.7: SharePoint EBS.
As you can see, structured data is still stored in SQL Server in the normal fashion; BLOB data is redirected at the SharePoint source through the EBS interface.
Pros
Obviously, the "pro" is that EBS gets BLOB content out of the SQL Server database, reducing its size and helping to improve its performance. EBS can work with any version of SQL
Server supported by SharePoint, so you don't need to be on the latest versions of everything in order to use it.
Cons
EBS isn't the most sophisticated technology. For example, it doesn't automatically overwrite old BLOBs. If you update a file attachment, EBS creates a new store item, and redirects all of the structured SharePoint data—metadata and the like—toward the new item. Whoever wrote the EBS provider is responsible for cleaning up the now‐orphaned
"old" data item. In practice, Microsoft says most EBS providers will put that off until some scheduled "garbage collection" time, when orphaned BLOB data will be cleaned up.
EBS doesn't integrate with SQL Server directly, meaning SQL Server's internal backup/recovery mechanisms, log shipping, replication, and so forth are unaware that
BLOB offloading is happening. That adds a layer of complexity to these operations.
26
Intelligently Reducing SharePoint Costs through Storage Optimization Don Jones
EBS was always intended as a kind of stopgap solution; even when introducing it, the
SharePoint team knew that something better would be on the way—and they did not design EBS to migrate to that better way (which turns out to be RBS, which I'll cover next).
That said, some third parties can help migrate from EBS to RBS, and many third‐party EBS providers have RBS equivalents, so you can often stay with the same storage vendor.
If you add EBS to an existing SharePoint installation, it won't convert existing BLOBs over to the new EBS storage; you'll have to do that manually—for example, by creating a new
SharePoint site that uses EBS, then restoring your existing SharePoint data to that new site.
Not exactly painless; some third parties may offer tools to help automate the process and make it less painful.
RBS
This is a technology implemented entirely by SQL Server (2008 and later); SharePoint has no clue that it's there or working, nor would any other application. You don't configure
SharePoint at all—you simply enable this in SQL Server. Applications can be made RBS‐ aware, though (SharePoint is one such application), and those applications can make even more efficient use of RBS.
How It Works
RBS is designed as an extensible mechanism. To use it, you need an RBS provider, which is what actually handles dealing with the BLOBs on behalf of SQL Server. Microsoft ships a default provider, the FILESTREAM provider, that utilizes the new FILESTREAM data type in
SQL Server's 2008 R2 Feature Pack.
Essentially, the FILESTREAM data type is something you assign to a column in a table. That is, instead of declaring the column as a varbinary() type, you add the FILESTREAM attribute to the varbinary() column. SQL Server then automatically writes the BLOB data to the file system rather than into the database. You still use SQL Server to add and retrieve
BLOB data; all that's changed is where SQL Server physically stores it. Using a simple
FILESTREAM column doesn't change the way you do backup and recovery, in fact; SQL
Server "knows" about FILESTREAM columns and integrates them into the backup processes. They even work within SQL Server's security model and are fully supported by transactions. Figure 2.8 shows how it works: Essentially, the FILESTREAM type tells SQL
Server to split out the BLOB data into normal files on the file system.
27
Intelligently Reducing SharePoint Costs through Storage Optimization Don Jones
Figure 2.8: How the FILESTREAM type works.
Developers can choose to use a different technique to access BLOB data, which involves using Win32 streaming application programming interfaces (APIs), essentially meaning they can access the externally‐stored files directly through a shared folder—taking some of the burden off SQL Server and instead using the Windows file system—which is really, really good at handling files. That does require a programming change in the application, but it can improve performance pretty significantly. Figure 2.9 shows how this works: The application, in this case, needs to do a little bit of extra work because it needs to access two data stores in order to deal with BLOBs. It isn't a massive undertaking from a programming perspective, but it isn't as transparent as just letting SQL Server do the work. However, SQL
Server isn't a file system, so the extra programming work is generally rewarded by improved application performance. SharePoint doesn't necessarily use this approach; instead, you'll typically see it using RBS—which itself can use FILESTREAM.
28
Intelligently Reducing SharePoint Costs through Storage Optimization Don Jones
Figure 2.9: FILESTREAM­aware applications.
The trick with the default FILESTREAM implementation is that it can only store data on the local disks available to the SQL Server computer. Some SQL Server features—such as transparent encryption—won't work for FILESTREAM data. Tables containing
FILESTREAM data can't be used in database snapshots or in database mirroring (although log shipping is supported).
As I said, SharePoint doesn't necessarily use FILESTREAM types directly. The next level up is the RBS API, which is what SharePoint 2010 does normally use. RBS recognizes that some companies have developed BLOB‐specific storage systems, and RBS provides a way to offload BLOB data to those. RBS retains full awareness of the BLOB. That is, if you delete a row, SQL Server will delete the corresponding BLOB data even though it's stored elsewhere. RBS also doesn't provide quite the same level of data consistency that you get when storing BLOBs directly in the database or by using the normal FILESTREAM type.
Figure 2.10 illustrates one way in which this can work. Note that in this example,
SharePoint has been modified (there's a downloadable RBS component for it) to explicitly use RBS.
29
Intelligently Reducing SharePoint Costs through Storage Optimization Don Jones
Figure 2.10: SharePoint and RBS.
Figure 2.10 is a bit of a simplification; the actual stack of components is a bit more complicated, but this illustrates the general idea. For completeness' sake, I should also note that RBS doesn't always require that an application be aware of it. It's something that can operate solely within SQL Server, as shown in Figure 2.11.
30
Intelligently Reducing SharePoint Costs through Storage Optimization Don Jones
Figure 2.11: Transparent RBS.
Microsoft's general intention is that providers of BLOB stores—that is, vendors—will write
RBS‐compatible providers that tell SQL Server how to talk to that vendor's BLOB store.
Microsoft offers an RBS provider that simply utilizes the FILESTREAM type, so you can get a basic RBS setup running out of the box (with SQL Server 2008 R2, at least). Essentially, what you do is create a new database in SQL Server that will be your "BLOB Store." You configure RBS on your SharePoint database to offload BLOBs to that BLOB Store; the BLOB
Store in turn is set up to use the FILESTREAM type to push the BLOB data to disk. So the
BLOB store winds up being nothing more than pointers to the actual BLOB data; the
SharePoint database, in turn, contains pointers to the BLOB Store. Figure 2.12 shows how this all fits together.
31
Intelligently Reducing SharePoint Costs through Storage Optimization Don Jones
Figure 2.12: Microsoft's FILESTREAM RBS provider.
Again, all of this happens locally on the SQL Server—the files must be on the same physical machine as the BLOB database when using Microsoft's FILESTREAM RBS provider.
Pros
Obviously, the big advantage here is reducing your SQL Server database size—by as much as 90 to 95% in some instances I've seen. That's huge for maintaining SQL Server's efficiency as well as giving you a bit more flexibility in the backup and recovery department. Using strictly the Microsoft‐offered FILESTREAM provider, however, does limit your flexibility: You're still stuck with only local storage, and there are complex interactions with other SQL Server features.
RBS is definitely the "way forward" for both SQL Server and SharePoint. Using RBS will provide a longer future for you than EBS will.
32
Intelligently Reducing SharePoint Costs through Storage Optimization Don Jones
Cons
RBS obviously creates a somewhat more complex environment. Although normal SQL
Server backups can work transparently, third‐party backups may or may not work with
RBS, depending on their exact approach—so it's something to investigate.
Not every RBS approach is created equal. You explicitly need to ensure that offloaded data can still contain metadata, still be indexed for searching, still be managed by SharePoint and its security rules, and so forth. You might want to offload different types of data to different locations, and the RBS provider would need to offer that kind of filtering functionality; if you just want to offload everything, you can likely use a simpler RBS provider.
Finally, RBS does require the latest versions of SQL Server and SharePoint. Thus, if you're stuck using older versions with no chance of upgrading, this might not be an option for you.
Third‐Party Approaches
Many third parties are now offering their own RBS providers, as RBS is the officially‐ supported BLOB offloading mechanism. SharePoint only needs to understand that "RBS is in use;" it doesn't care what's actually handling the BLOBs in the background.
How It Works
Third parties can either write an RBS provider that is installed on SQL Server or even tap into the EBS architecture used by older versions of SharePoint. If you're in a mixed‐version environment, an extender that can use either RBS or EBS might be desirable.
Added Flexibility
Third‐party RBS providers can provide much faster BLOB offloading and can take more load off SQL Server. Keep in mind that the RBS FILESTREAM provider still places a load on
SQL Server because SQL Server has to process the BLOBs into and off of the file system.
Third‐party providers can also offer other features:
• Offload to remote storage (such as a network‐attached store or even to cloud storage)
• Cache BLOB data for transmission to off‐premises storage (such as a cloud‐based backup)
• Spread BLOB data across multiple storage locations, potentially storing different types of data in different places—Figure 2.13 shows one way in which that might work, with files of different categories (perhaps defined by SharePoint metadata) are offloaded to different storage mechanisms
33
Intelligently Reducing SharePoint Costs through Storage Optimization Don Jones
Figure 2.13: Offloading data to different locations.
• Add secure deletion (erasing) to the BLOB deletion process to help comply with security requirements
• Compress and/or encrypt BLOB data—something that the native FILESTREAM provider cannot do
• Work with hierarchical storage mechanisms for tiered storage, enabling you to migrate older content (for example) into near‐line storage; note that some vendors may implement this kind of functionality as a discrete product that works in conjunction with a separate RBS provider, while others may build the functionality into an RBS provider
• Transparently ensure that SharePoint can access BLOB data for search indexing
34
* Your assessment is very important for improving the work of artificial intelligence, which forms the content of this project