Intelligently Reducing SharePoint Costs through Storage
| Traditional Approaches for Getting External Content into SharePoint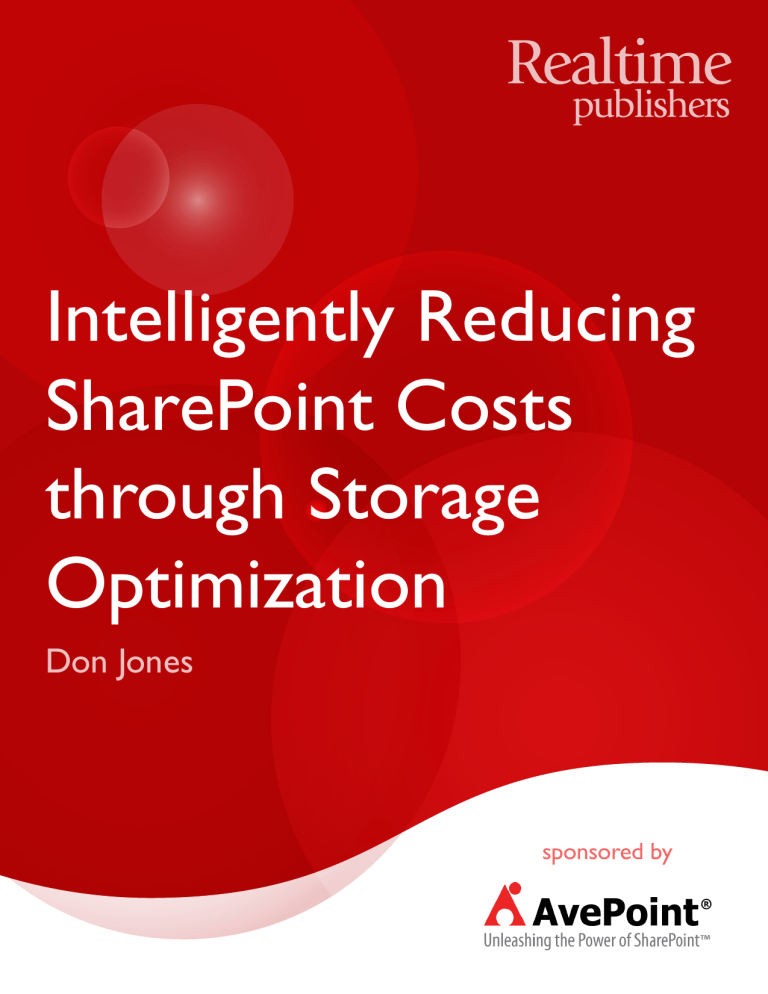 Intelligently Reducing SharePoint Costs through Storage Optimization Don Jones
Traditional Approaches for Getting External Content into SharePoint
Let's start by looking at some of the traditional ways of incorporating external content into
SharePoint. None of these techniques are bad, but they're not always the best. They offer compelling features and they help to meet certain business goals, so it's important that we consider them as potential tactics.
Integration
When you're dealing primarily with data that lives in external databases, you're not going to migrate it into SharePoint unless your plan is to create a SharePoint‐based application and eventually eliminate that external application (and its database) entirely. For this discussion, I'll assume you have data that you want to keep separate from SharePoint, but that you want some means of accessing that data from within SharePoint. Traditionally,
Microsoft's answer—introduced with SharePoint Server 2007—has been the Business Data
Catalog (BDC).
The BDC
The BDC is a shared service within SharePoint, enabling SharePoint to grab business data from back‐end server applications—ideally without any coding on your part (prior to the
BDC, integrating back‐end data almost always required some form of custom programming, which could be expensive to both create and maintain). The BDC allows data to be integrated into user profiles, custom applications, Web Parts, lists, and even search. It also provides support for displaying data drawn from both databases and from Web services— such as SAP, Siebel, or other line‐of‐business (LOB) applications.
Figure 3.2 shows how back‐end data can be integrated into SharePoint portals. Here, marketing campaign and other information is drawn from a back‐end database or Web service.
Figure 3.2: Using the data accessed by the BDC.
40
Intelligently Reducing SharePoint Costs through Storage Optimization Don Jones
From an architecture standpoint, the BDC uses ADO.NET and other data‐access techniques—such as a Web service proxy—to access back‐end data from a variety of sources. It then makes that data available to a variety of SharePoint features. XML‐based metadata is stored in SharePoint itself to help manage that data, and some of the back‐end data is cached within SharePoint to enable features like search. Figure 3.3 illustrates the basic architecture.
Figure 3.3: BDC architecture.
That XML‐based metadata is the real functionality of the BDC. It defines the "mapping" between SharePoint and the back‐end data, defining back‐end entities, data relationships, and so on. You have to define this metadata when connecting the BDC to back‐end data;
SharePoint includes tools for doing so.
Business Connectivity Services or "Two‐Way BDC"
For SharePoint 2010, BDC was renamed Business Connectivity Services (BSC), and given the ability to do more than just read data from back‐end services. Now, it can also write data to the back‐end. BCS can also be used from within Office 2010 applications. You might use Word to perform a mail merge from a customer database, for example. In SharePoint
2010, "BDC" now stands for "Business Data Connectivity ," the service that makes BCS work.
41
Intelligently Reducing SharePoint Costs through Storage Optimization Don Jones
You still have to create XML models of your back‐end data, and those models help control the ability to write data back to the back‐end. As Figure 3.4 shows (drawn from http://msdn.microsoft.com/en‐us/library/ee557658.aspx
), the number of ways in which this data can be consumed is even larger than it was with the old BDC. It even includes robust caching so that users—say, someone using Excel 2010—can access data even if the back‐end data source isn't accessible at the moment. BCS can sync read and write operations with the back‐end server, once it does become available.
Figure 3.4: BCS architecture.
As shown, you can also write custom .NET Framework assemblies to broker connections to back‐end data, enabling you to impose and enforce business logic between SharePoint and your back‐end data.
Resource
You can read more about BCS at http://msdn.microsoft.com/en‐ us/library/ee557658.aspx
.
BCS remains a solid way of integrating back‐end data into SharePoint. It isn't exactly "no coding" as sometimes implied because you do need to be able to create your data models, b ut you won't have to actually write programming code in order to create those models.
42
Intelligently Reducing SharePoint Costs through Storage Optimization Don Jones
Migration
Migration: Moving content from place to place. In this case, permanently moving content from file servers or wherever into SharePoint. This isn't an option with back‐end data; I'm not presenting migration as an alternative to the BDC/BCS. But for files, media, and so forth, migration is an option.
How It's Done
Migration is typically performed using a tool of some kind—and a plethora of them exist from third‐party vendors, although migration isn't a space that Microsoft has directly addressed with any major effort.
At its simplest, migration can involve simply copying a folder hierarchy into SharePoint, while maintaining whatever access permissions the file had on its file server. A more complex migration might also involve restructuring the data because SharePoint offers organizational metaphors and techniques that aren't present in a simpler, hierarchical folder structure on a file server. Migrations can also help automatically populate document metadata, which helps make those documents easier to find through SharePoint's search facilities.
Benefits of Migrating Content
The benefits of migrating content into SharePoint are varied and significant. Your content becomes indexes and searchable. You gain the ability to add version control to documents, and to enforce workflow rules around document updates. You can in many cases employ simpler permissions structures, using SharePoint groups rather than individual user permissions—making long‐term permission maintenance easier. You can even make it easier for content to be accessed from a variety of places, since SharePoint not only integrates with the Office suite of applications, but also exposes content via a Web‐based interface.
But perhaps the biggest benefit of migration is that you can start to end data chaos. Along with BDC/BCS, migration can help bring all of your content into one place, as shown in
Figure 3.5. Users have one place to go to find everything they need. You can start to manage permissions in this one place, report on utilization in this one place, and so on. You won't need to spend days teaching new users where to find everything on the network, and you can stop mapping a dozen network drives in logon scripts. Users begin to utilize SharePoint as—well, as a replacement for file servers, perhaps. Everything lives in one place.
By keeping authoritative copies of data in a single location, you can also start to avoid the bloat that often accompanies file servers. Users won't have as strong a need to make copies of data into their home folders; they can simply keep smaller shortcuts to SharePoint‐ stored documents. Everyone will be working from a single copy of information, rather than having dozens of copies spread across everyone's home folders.
43
Intelligently Reducing SharePoint Costs through Storage Optimization Don Jones
Fi gure 3.5: SharePoint migrations can hel p reduce dat a chaos.
There are a lot of strong arguments in favor of migrating everything into SharePoint.
Downsides of Migrating Content
There a re, however, downsides to migrating content, many of which I've outlined already .
• Large content items are going to take up a lot of room in the SharePoint database.
That's going to complicate SharePoint performance management, as well as database maintenance tasks like backups, defragmentation, and so on.
• Media items don't work as well from a database—which as I've pointed out isn't designed for streaming data—as they would from a file system.
• Some file server‐based data, as I suggested earlier, needs to be on a file server in order to interact with other processes. For example, you might have a process that
"watches" a given folder for new files, and does something with them; that won't work if the file "lives" in SharePoint.
Ideally, there's some middle ground, where we can get the advantages of having content in
SharePoint—without the downsides.
44
* Your assessment is very important for improving the work of artificial intelligence, which forms the content of this project