Oracle on LinuxONE
| Preface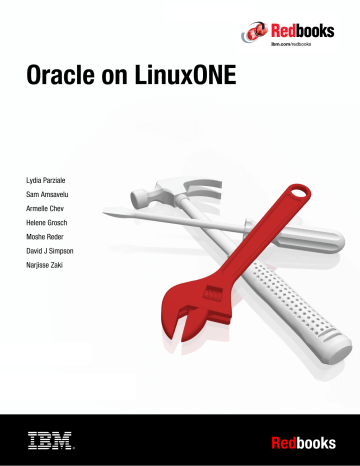 Preface
Oracle Database 12c Release 1 running on Linux is available for deployment on IBM®
LinuxONE. The enterprise-grade Linux on LinuxONE solution is designed to add value to
Oracle Database solutions, including the new functions that are introduced in Oracle
Database 12c.
In this IBM Redbooks® publication, we explore the IBM and Oracle Alliance and describe how
Oracle Database benefits from LinuxONE. We then explain how to set up Linux guests to install Oracle Database 12c. We also describe how to use the Oracle Enterprise Manager
Cloud Control Agent to manage Oracle Database 12c Release 1.
We also describe a successful consolidation project from sizing to migration, performance management topics, and high availability.
Finally, we end with a chapter about surrounding Oracle with Open Source software.
The audience for this publication includes database consultants, installers, administrators, and system programmers. This publication is not meant to replace Oracle documentation, but to supplement it with our experiences while installing and using Oracle products.
Authors
This book was produced by a team of specialists from around the world working at the
International Technical Support Organization, Poughkeepsie Center.
Lydia Parziale is a Project Leader for the ITSO team in Poughkeepsie, New York, with domestic and international experience in technology management, including software development, project leadership, and strategic planning. Her areas of expertise include business development and database management technologies. Lydia is a certified PMP and an IBM Certified IT Specialist with an MBA in Technology Management and has been employed by IBM for over 25 years in various technology areas.
Sam Amsavelu is a IBM certified consulting I/T architect providing technical support for
Oracle solutions on IBM platforms. During the last 22 years with IBM, he worked with many customers in developing solutions to resolve their business problems with IBM technology and products.
Armelle Chev is a z Client Technical Specialist in the Advanced Technical Support (ATS) IBM
Oracle Center (IOC), located in Montpellier, France. She has over 20 years of IT experience, including development in C/C++, SQL, and performance benchmark tests for European customer accounts. Since 2001, Armelle has been providing presales in support of new customer's workloads for IBM and, most recently, for Oracle Solutions that are running on
Linux for IBM z® Servers. This support includes technical support, consolidation sizing, architecture, and performance studies.
ix
© Copyright IBM Corp. 2017. All rights reserved.
Helene Grosch is a certified architect, working since 2010 in the IBM Oracle Center in IBM
Client Center Montpellier, France. In this pre-sales organization, she leads projects with
Oracle solutions on IBM z Systems® and LinuxONE. Her previous focus was on consolidation projects on Linux on z Systems solutions in the New Technology Center, Montpellier. She has
18 years of experience in IT. Before joining IBM in 2007, she was a software developer for business applications on Mainframes in a Consultant and System Integration company, mainly for public sector.
Moshe Reder provides Global Sales Support at the IOICC (IBM Oracle International
Competency Center). Moshe has over 30 years of experience with the IT industry and spent several years in the IBM Sales organization as a technical sales support for IBM Large
Systems (IBM Brazil and IBM USA). He also spent a few years at the IBM Programming
Laboratory (performance and benchmark for IBM S/390®, now IBM z Servers, and at the
Technical Office for IBM Storage products). Moshe has been with the IOICC since its inception in 1997 and he focuses on the Oracle Technology for IBM Systems.
David J Simpson is part of the IBM North America Channels and ISV Solutions technical sales team with almost 30 years of experience in the IT Industry. He is an Oracle certified
Oracle specialist working with Oracle Database since version 5 of this product.
Narjisse Zaki is working in IBM Oracle Center in Montpellier, France. She provides technical sales support for Oracle projects on IBM z Systems and LinuxONE, Most recently, she provides for Open Source Databases, including architectural studies, consolidation sizing, performance analysis, and conducting briefings and workshops for IBM clients. Narjisse is certified z Systems Technical Support V6. She holds a Master of Science degree in Computer
Science and Management. Before joining the IOC in 2016, Narjisse was involved in an Agile
Project Management leading projects as a Scrum Master in the IBM Client Center
Montpellier.
Thanks to the following people for their contributions to this project:
Susan Adamovich, Wayne T. Martin
IBM USA
Andrew Braid, Nora Kissari, Majidkhan Remtoula
IBM Montpellier
Now you can become a published author, too!
Here's an opportunity to spotlight your skills, grow your career, and become a published author—all at the same time! Join an ITSO residency project and help write a book in your area of expertise, while honing your experience using leading-edge technologies. Your efforts will help to increase product acceptance and customer satisfaction, as you expand your network of technical contacts and relationships. Residencies run from two to six weeks in length, and you can participate either in person or as a remote resident working from your home base.
Find out more about the residency program, browse the residency index, and apply online at:
ibm.com/redbooks/residencies.html
x
Oracle on LinuxONE
Comments welcome
Your comments are important to us!
We want our books to be as helpful as possible. Send us your comments about this book or other IBM Redbooks publications in one of the following ways:
򐂰 Use the online Contact us review Redbooks form found at:
ibm.com/redbooks
򐂰 Send your comments in an email to: [email protected]
򐂰 Mail your comments to:
IBM Corporation, International Technical Support Organization
Dept. HYTD Mail Station P099
2455 South Road
Poughkeepsie, NY 12601-5400
Stay connected to IBM Redbooks
򐂰
Find us on Facebook: http://www.facebook.com/IBMRedbooks
򐂰 Follow us on Twitter: http://twitter.com/ibmredbooks
򐂰 Look for us on LinkedIn: http://www.linkedin.com/groups?home=&gid=2130806
򐂰
Explore new Redbooks publications, residencies, and workshops with the IBM Redbooks weekly newsletter: https://www.redbooks.ibm.com/Redbooks.nsf/subscribe?OpenForm
򐂰
Stay current on recent Redbooks publications with RSS Feeds: http://www.redbooks.ibm.com/rss.html
Preface
xi
xii
Oracle on LinuxONE
* Your assessment is very important for improving the work of artificial intelligence, which forms the content of this project