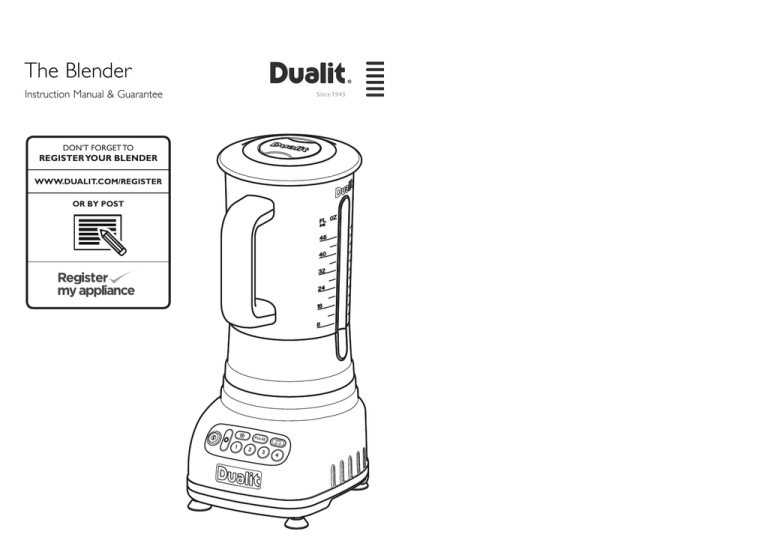 The Blender
Instruction Manual & Guarantee
DON'T FORGET TO
REGISTER YOUR BLENDER
WWW.DUALIT.COM/REGISTER
OR BY POST
CONTENTS
Safety precautions
Know your blender
The controls
Blade assembly & removal tool
Setting up
Removable blades
Assembling
Starting & stopping
Auto pulse and pulse
Ice crushing
Settings and their uses
Hot liquids
Notes for blending
Daily cleaning
Maintenance and storage
Do's & Dont's
Troubleshooting
Recipe ideas
Guarantee
2
11
12
12
9
10
10
13
13
14
14
18
23
8
9
7
8
3
6
7
SAFETY PRECAUTIONS
READ ALL THE
INSTRUCTIONS
CAREFULLY BEFORE USING
YOUR DUALIT BLENDER
KEEP THESE
INSTRUCTIONS SAFE FOR
FUTURE REFERENCE.
Always follow these safety precautions when using your blender for your own safety and to avoid damaging the appliance.
•
T his is an attended appliance.
Do not leave appliance unattended during use. Always disconnect the appliance from the supply if it is left unattended and before assembling, disassembling or cleaning.
•
T his appliance must not be used by children and people with very extensive and complex disabilities. People with reduced physical, sensory or mental capabilities or lack of experience and knowledge shall not use this appliance, unless they are supervised and have been given instruction concerning the use of the appliance in a safe way and understand the hazards involved. Children shall not play with the appliance. Cleaning and user maintenance shall not be made by children.
•
K eep the appliance and its cord out of reach of children.
•
T his appliance is intended for indoor
household use only. If the appliance is used improperly or for professional or semi-professional purposes or if it is not used according to these instructions the guarantee becomes invalid and Dualit refuses any liability for damage caused.
•
T he use of attachments, not recommended or sold by the manufacturer may cause fire, electric shock or injury.
E lectrical safety
•
M ake sure the electrical outlet is rated at the same voltage as that stated on the bottom of the power base.
•
U se this product with rated voltage A.C.
outlet only.
•
N
OTE: any plug cut from the power supply cord should be disposed of immediately. Inserting any cut off plug into a 13A socket-outlet is hazardous.
•
N ever use the plug without the fuse cover fitted. Ensure replacement fuse is the same current value as the original.
Replacement fuses are available and should be ASTA approved to BS1362.
•
B e sure to unplug the A.C. cord when blender is not being used.
•
S witch off the appliance and disconnect from supply before changing acessories or approaching parts that move in use.
•
D o not operate the appliance with a damaged cord or plug or after appliance malfunctions, or is dropped or damaged in any manner. Return appliance to the nearest Authorized Service Centre for examination, repair or ele ctrical or mechanical adjustment.
3
SAFETY PRECAUTIONS
•
T o protect against risk of electrical shock, do not submerge the motor housing, cord or plug in water or any other liquids.
•
D o not let cord hang over edge of table or counter.
G eneral safety
•
T his appliance should only be operated in a dry well ventilated area.
•
N ever tamper with the safety systems.
They are included for your personal safety.
•
D o not operate the appliance empty.
•
U nplug from outlet when not in use, before putting on or taking off parts, and before cleaning.
•
F or safety reasons keep hands and utensils out of jug while blending to reduce the risk of severe injury to persons or damage to the blender. A spatula may be used but must be used only when the blender is not running and jar is off the base or the appliance is unplugged.
•
R isk of injury never place the blades on the base without jug properly attached.
•
D o not attempt to defeat the safety interlock mechanisms.
•
A void contact with moving parts, never reach into the jar with your fingers or an object (e.g. a spatula) while the appliance is running.
•
B e certain the jar is firmly on the base and the lid and blade assembly is correctly in position before operating appliance.
•
D o not blend dough, pastry or mashed potato.
•
B lades are sharp. Handle carefully.
•
I f the blade is jammed, switch off immediately and unplug the appliance before removing the lid.
•
A lways operate appliance with lid in place, spillage may occur if the lid is damaged or incorrectly fitted.
•
D o not lift the jar up while the motor is running.
•
K eep jug empty when not in use.
•
C aution, after extended periods of use the metal drive coupling on the blade assembly may become hot.
•
W hen blending heavy loads pulse for 30 seconds and allow cooling until room temperature between each pulse. Please note that no recipe contained within the manual is considered a heavy load.
W hen Blending warm/cold ingredients
•
N ever blend more than 1L when crushing ice.
•
W hen blending warm ingredients do not blend over 1L and only use setting 1.
•
W hen processing warm ingredients, secure the lid by hand using a heatproof glove or suitable protection.
•
W hen blending warm ingredients, loosen the filler cap to allow steam to escape, be cautious of steam venting and possible spilage.
4
•
D o not add boiling liquids or foods to the jar. Always cool liquids or food items to below 60°C before adding to the jar.
•
F rozen foods with the exception of small pieces of fruit or ice cubes should not be placed in the jug.
•
D o not insert frozen items into jug taken directly from a hot dishwasher.
•
D o not immerse or wash jug in boiling or very hot water.
SAvE THESE
INSTRUCTIONS
BEFORE FIRST USE
When you turn the blender on for the first time, a "new" smell may be given off, this will dissipate after a few uses.
Clean all parts in contact with food before using for the first time.
INSTRUCTIONS ON
ENVIRONMENT PROTECTION
D o not dispose this product in the usual household garbage at the end of its life cycle. Please hand it over to a collection point for the recycling of electrical and electronic appliances. The symbol on the product, the instruction of use or the packaging will inform you about the methods of disposal. The materials are recyclable as mentioned on its marking. By recycling, material recycling or other forms of re-utilization of old appliances you are making an important contribution to protect our environment. Please enquire at the community administration for the authorised disposal location.
Unpack the box with care, keeping all the packaging materials until you are satisfied everything is present and in working order. Once satisfied remove any tags from the appliance and recycle the packaging appropriately. Do not remove tags from the cord where appropriate. You may wish to keep the box to store your appliance.
All illustrations are for representation only, your model may vary from illustrations shown.
Patent pending, registered design and protected under the U.K. Copyright Designs and
Patent Act and Community Design Regulation.
5
KNOW YOUR BLENDER
LID WITH FILLER CAP
2.0L TRITAN jAR
(WHEN USING AUTO PULSE)
SURE GRIP HANDLE
GASKET
6 PRONG BLADE
METAL DRIVE COUPLING
INTERLOCK FEATURE
(HIDDEN DETAIL)
DRIVE COUPLING
CONTROL
PANEL
SUCKER FEET
6
CORD STORAGE
CONTROLS
MAIN
ON/OFF
ICE
CRUSH
PULSE
AUTO
PULSE
STOP
SPEED SETTING
BLADE ASSEMBLY
& BLADE REMOVAL TOOL
BLADE & GASKET
7
BLADE REMOVAL TOOL
TOP RACK
ONLY
40 C
Cycle
TOP RACK
ONLY
40 C
Cycle
TOP RACK
ONLY
40 C
Cycle
TOP RACK
ONLY
40 C
Cycle
TOP RACK
ONLY
SETTING UP
DO NOT LET CORD HANG OvER EDGE OF TABLE OR COUNTERTOP
AND POSITION AwAY FORm THE EDGE
1
CORD TIDY 2 SECURE TO SURFACE
3
RINSE AND DRY
ASSEMBLING
CAUTION: NEvER USE THE BLENDER wITHOUT THE BLADES AND LID
CORRECTLY IN PLACE. NEvER RUN THE BLENDER EmPTY.
1
THE jAR 2
ADD INGREDIENTS
3
THE LID
Unwind the required length of cord. It is important to keep the cord short. Wrap the excess cord length round the cord tidy.
Place the blender on a level surface and push down so the sucker feet stick to the surface.
Rinse and dry the jar, lid and blades before every use.
REMOVABLE BLADES
CAUTION: THE BLADES ARE vERY SHARP! ENSURE THE GASKET IS IN
PLACE BEFORE USING.
1
THE GASKET
2
LOCKING BLADE
3
REMOVING BLADE
Position the jar with blade on the main body. It can be located in 8 positions. If not correctly positioned the function lights on the control panel will not illuminate.
Add your ingredients to the jar. Cut large items in to evenly sized 2cm chunks.
Do not fill above 2.0L. For ice, warm or solid items do not fill above 0.75L - 1L.
Attach the lid by pushing down while applying a slight twisting action.
Place your hand on the lid to hold the blender steady. Use a heat proof gloved hand when
STARTING & STOPPING
blending hot items.
NOTE: TO PREvENT OvER PROCESSING THE BLENDER wILL AUTOmATICALLY
STOP AFTER 1 AND A HALF mINUTES. ALL OF THE LIGHTS wILL FLASH 3 TImES.
1
MAIN POWER
2
TO START
3
TO STOP
Ensure the gasket is seated on the collar of the blade correctly before inserting into the jar. It can be placed on either way round.
Align the blade assembly to base of the jar. Using your fingers, ROTATE
ANTI-CLOCKwISE TO
TIGHTEN then use the tool to lock in to place.
8
To remove the blades use the tool provided. Insert and rotate the blades
CLOCKwISE TO
LOOSEN. Continue to unscrew and lift to remove.
Plug in the blender then press the main on/off button.
All the lights will illuminate solid if the jar is in place and the blender is ready to go.
To start blending, press one of the blending cycles as described on the next pages.
Only the button selected will illuminate.
To stop blending, press the stop button at any time, this will be illuminated red. Always turn main power off & unplug after each use.
9
40 C
Cycle
TOP RACK
ONLY
40 C
Cycle
TOP RACK
ONLY
40 C
Cycle
TOP RACK
ONLY
40 C
Cycle
TOP RACK
ONLY
40 C
Cycle
TOP RACK
ONLY
40 C
Cycle
TOP RACK
ONLY
40 C
Cycle
TOP RACK
ONLY
AUTO PULSE & PULSE
USE AUTO PULSE FOR THICK SmOOTHIES OR BLENDING TOUGH mIXTURES AND PULSE FOR CHOPPING AND THAT EXTRA wHIZZ.
1
PULSE
2
AUTO PULSE
3
MANUAL STOP
Press and hold the pulse button, the blades will rotate at full speed until the button is released. The button will illuminate while in use.
The auto pulse blending cycle will pulse 10 times then automatically stop.
ONLY USE AUTOPULSE wITH INGREDIENTS
BELOw 60 O C.
To stop the Auto pulse function mid cycle press the stop button at any time.
ICE CRUSHING
CREATE CRUSHED ICE IN LESS THAN 10 SECONDS wITH THE
AUTOmATED ICE CRUSHING FEATURE.
1
INSERT ICE - MAX 1L
2
FINE CRUSHED ICE
2
CRUSHED ICE
Add ice cubes into the jar.
Seperate cubes if stuck together and do not fill obove the 1L mark. Once added blend immediately.
For finely crushed ice, press the Ice crush button.The
blade will pulse once at full speed then automatically reduce speed and run for a further 9 pulses.
10
For course ice, stop cycle early.
NB. The maximum volume might vary dependant on size and shape of the ice cube.
SETTINGS & THEIR USES
This chart is only to be used as a guide. Auto Pulse is suitable for most ingredients, use this setting first then use the other settings as required.
SETTING
FOOD
BLENDING TImE
Thick smoothies
Any tough ingredients (below 60oC)
Press once
Press once
2
3
1
Chopping nuts / onions
Additional pulses after auto pulsing
Fine crushed ice / iced snow
Chopped ice (press stop after 2-3 pulses)
Warm soups (below 60oC)
Coarse chopping
Thin fruit drinks
Batters
Ice based fruit drink
Lean meats
As required
2 - 6 pulses
Press once
Press & stop
10 - 30 secs
10 - 20 secs
20 -30 secs
20 / 20 secs*
10 - 15 secs
20 / 20 secs*
4
Purees / baby food
Sauces (thick)
10 - 15 secs
20 / 20 secs*
NB: Times are a guide and may vary depending on volumes and ingredient types.
* After 20 seconds turn off the blender, stir the ingredients, and then continue blending.
11
40 C
Cycle
TOP RACK
ONLY
40 C
Cycle
TOP RACK
ONLY
TOP RACK
ONLY
TOP RACK
ONLY
BLENDING WARM LIQUIDS
CAUTION: DO NOT BLEND HOT OR BOILING LIQUIDS.
ALwAYS COOL TO BELOw 60 O C AND BLEND ONLY 1L AT A TImE.
1
COOL BELOW 60 o
C
2
REMOVE FILLER CAP
3
SPEED 1 ONLY
DAILY CLEANING
CAUTION: THE BLADES ARE vERY SHARP - HANDLE wITH CARE
SwITCH OFF, UNPLUG AND DISASSEmBLE BEFORE CLEANING.
1
THE BLADES
2
THE jAR
3
THE BODY
60 C
TOP RACK
ONLY
Allow hot items to cool below 60 o
C before blending.
Do not fill above the 1L mark to avoid spillages.
Place a hand wearing a heat proof glove on the lid. Do not fully cover the filler hole, to allow the steam to escape.
Use speed 1 for blending warm items.
Do not use Auto Pulse function when blending warm liquids.
40 C
NOTES FOR BLENDING
TOP RACK
ONLY
1
REDISTRIBUTING
2
ADDING
3
DO NOT
SHAKE OR LIFT
To remove the blade for cleaning, follow the procedure on page 8. Brush clean under a tap. Hold using the black base only, the blade is very sharp.
Clean the jar and lid with warm soapy water.
The jar can be dishwashed as described below (remove blade and seal).
Wipe the main base with a damp cloth, then dry. Do not use an abrasive cleaner or submerge the power base, cord or plug in water.
MAINTENANCE & STORAGE
ALwAYS DISCONNECT FROm THE mAINS SUPPLY BEFORE CLEANING.
ONLY THE jAR IS SUITABLE FOR A DISHwASHER.
1
CLEAN AFTER
EVERY USE
2
DISHWASHER jAR ONLY
3
STORAGE
TOP RACK
ONLY
STOP AND REmOvE
THE jAR OFF THE
BASE. Use a spatula to redistribute the ingredients.
Never use metal utensils, as you may damage the jar or blade.
Add additional ingredients in to the blender through the filler cap aperture. Do not do this when blending warm items.
Whilst blending do not shake or lift off the jar. If the motor is running this will permanently damage the drive coupling.
12
Decant the blended items after every use and rinse immediately. Clean thoroughly and leave to dry.
The blades are sharp so leave to dry out of reach of children.
Remove blades, gasket and lid. Only dishwasher the jar on a wash cycle below
40 o
C. Put on the top rack only and remove prior to the drying cycle.
13
Store unplugged with the blender jar, blade, gasket and lid assembled.
Do not store the jar in a fridge or freezer or with items in the jar.
DO'S & DON'TS
Here's a few simple rules to help you get the most out of your blender.
Do's
1. Add liquid items in the jar first then add solid food items on top.
2. Use a combination of blend settings and Auto Pulse to suit the items being blended.
Auto Pulse is ideal for solid items, chopping nuts and for smoothies.
3. Redistribute the items in the jar as required. When blending, thick mixtures may stick to the side of the jar. Always turn off and unplug before redistributing.
4. Cut ingredients into evenly sized 2cm chunks for a more consistent blend.
5. Take extra caution when handling and storing the blades.
6. Hold the lid down with one hand (gloved if blending warm items) whilst blending.
7. Blend ice immediately once added to the jar.
TROUBLESHOOTING
Problem Cause(s)
Odour on first use
1. When new, the blender may emit a 'new' smell, this is normal.
The blade is not turning
1. Drive coupling may be damaged.
2. The blade may be jammed. The stop light will continuously flash red.
14
Don'ts
1. Do not use the blender jar to store food and do not store jar in the fridge.
2. Do not over process, the blender works fast and most food will blend in seconds.
3. Do not use with dough, mashed potato or glutinous mixtures.
4. Do not shake or remove the jar while the blender is operating. Always turn off the main power, unplug and wait for the blades to fully stop before taking the jar off the base.
5. Do not overfill the jar as this may cause the jar to leak or stall the motor.
Max capacity, warm liquids 1.0L (see pg12), frozen ingredients 1.0L (see pg10), blending liquid or semi liquid at ambient temperature 2.0L (using Auto Pulse only).
For best results, blend meats and heavy solids in small quantities.
6. Do not blend hot or boiling items, allow to cool below 60 o
C before adding to the jar & do not blend over 1L at a time. Use speed setting 1 and do not use Auto Pulse function.
7. Do not fill above the 2.0L.
8. Never run the blender empty.
Solution(s)
1. Continue to use the blender as normal, the smell will disappear after a few uses.
1. Never lift or shake the jar while in use. If the drive coupling is sheared then contact the
Dualit repairs department for servicing advise.
2. Switch off and unplug the blender, remove the ingredients that block the blades. You will need to process the food in smaller batches. Ensure chunks are no larger than 2cm.
15
TROUBLESHOOTING
Problem
My blender stops turning whilst processing
My jar is looking cloudy
My mixture is not blending evenly
The jar is leaking
Cause(s)
1. jar may not be correctly seated on the main body. It may have jumped up while blending.
2. To prevent over processing, the blender will switch off automatically after 1 minute 30 seconds.
3. The ingredients you are processing are too thick.
4. The blender features a motor overload protection feature. If the motor is being overloaded, the control panel will remain lit and the motor will stop.
1. Over time, blending hard items may scratch the inside of the jar.
2. You may have used the wrong dishwasher setting.
1. The wrong setting may be selected.
2. Food is sticking to the sides of the jar and not blending.
1. Blade not correctly threaded into the jar.
2. Gasket may be missing, damaged or not correctly seated on the blade.
3. Blade assembly not tight enough in the jar.
The lid is loosening off whilst blending
1. The rim of the jar may have food items stuck and the lid is not seated correctly.
2. The lid is not pushed down enough.
16
Solution(s)
1. Check the jar has not lifted up during blending, always blend with a gloved hand holding the jar down.
2. This safety feature will stop the motor. The control panel will flash 3 times and the blender will revert back to standby.
3. Stop immediately, remove jar from base and unplug. Thin down the mixture or this may not be suitable for blending
4. To restart it again, unplug from the mains and let it cool down for a minimum of 30 minutes. The blender will not be ready to use again untill it has cooled down.
1. Over time blending very hard items may cloud the jar. Consider buying a spare jar if you intend to blend hard items on a regular basis.
2. Only dishwasher on a cycle below 40
o
C and place on the top shelf.
1. Use the chart on page 11 as a guide. As a general rule for dry ingredents start by using Auto pulse and for liquid mixtures add the liquid first then the solid items on top.
2. Stop the blender, remove the jar off the blender base and use a spatula to redistribute the food items in to the centre of the jar.
1. Switch off and unplug the blender, Remove the blade and reattach taking care the blade is securely attached to the base of the jar.
2. Examine the gasket for damages, ensure it is seated securely in place and reassemble.
3. Hand tighten the blade by turning anti-clockwise. Go as far as you can so it does not move. Only use the tool provided to undo the blade assembly.
1. Wipe the rim of the jar after every use.
2. Always check the lid is securely pushed down. Attach the lid by applying a slight twisting action whilst pushing down.
17
join Club Dualit for more recipe ideas
www.dualit.com/recipes
Access a comprehensive database of recipes, giving you lots of ideas for everyday meals and entertaining.
FRESH FRUIT & VEGETABLE jUICES
Fresh fruit and vegetable juices offer some of the most effective methods of cleansing and healing your body. A combination of fresh fruit and vegetables will supply all you need to ward off ill health and give a cleansing boost to your vital organs.
1 / CARROT AND BEETROOT DETOX (serves four)
Drink this every day during a short detox, or make it at least once a week. It is wonderfully cleansing for the liver. Choose organic fruit and vegetables and wash them well before chopping them into chunks. If you cannot get all the ingredients, make it with just carrots, apples and grapes.
• 2 (350g [12 oz]) organic carrots, washed but not peeled, chopped
• 1 green apple, peeled and chopped
• 12 grapes
• 1 small raw beetroot, peeled and chopped
• 1 small handful baby spinach or parsley
Place all the ingredients in your blender and add 250ml (9fl oz) water. Blend on speed 4 until thick and smooth. Do not store; finish within the day.
18
SMOOTHIES AND MILKSHAKES
This blender has the edge over any other kitchen appliance when making smoothies and milkshakes. The dimensions of the Dualit blades and the construction of the jar ensure the smoothest, most inviting and velvety textures.
1 / BASIC FRESH FRUIT MILKSHAKE
(serves two)
You can't go wrong with this simple formula: use your imagination and change the fruit – the fruits in season are usually the ripest. Have your glasses ready before you start.
• 200g (7 oz) fresh soft fruit e.g. raspberries,
• blueberries, peaches, bananas
• 200ml (7 fl oz) cold milk
• 1-2 tbsp flavoured syrup e.g. grenadine,
• raspberry (optional)
• 1-3 scoops vanilla ice-cream
If using larger fruits such as bananas or peaches, peel, stone if necessary, and cut into small pieces. Berries can be added whole. Place the fruit, milk and syrup (if using) in the blender and whizz until you have a smooth, well-blended cream. Finally add the ice-cream and blend until all is bubbly, frothy and creamy. Serve immediately.
2 / PASSION FRUIT SMOOTHIE
(serves two)
This is a sweet drink, given extra kick by spicy nutmeg.
• 2 large, ripe bananas, peeled, cut into chunks
• 4 ripe and wizened passion fruit, cut in half
• 300ml (10 fl oz) plain natural fat-free yoghurt
• 200ml (6 fl oz) sparkling mineral water
• freshly grated nutmeg
Spoon out the contents of the passion fruit into the blender and pulse until the seeds are slightly loosened from their thick juice. Remove from the blender and set in a sieve over a bowl. Place this juice and all the other ingredients, except the nutmeg, in the blender and whizz on speed 3 until smooth. Serve in a tall glass, with a dusting of nutmeg on top.
3 / RIPE PEACH AND BANANA (
serves two adults or four toddlers)
This is also suitable for babies and toddlers 9-12 months' old and upwards. For babies and toddlers, dilute the smoothie with filtered water.
• 500ml (17 fl oz) natural yogurt
• 2 ripe bananas, peeled & cut into small rounds
• 1 big ripe peach, peeled, halved and stoned
• 1/2 tsp vanilla extract
• small pinch cinnamon
Place all the ingredients in a blender, and whizz until well-mixed and frothy. Serve straight from the blender or, for babies and toddlers, add up to 500ml (17 fl oz) filtered water and blend again. Alternatively, freeze, undiluted, in an ice-cube tray.
19
COCKTAILS
Homemade cocktails are far, far more delicious than anything you can buy in a mixer bottle in an off-license. The shock of the first freezing sip is followed by a subtle change as the drink mellows on the palate, filling your mouth with flavour.
1 / IN THE PINK
(serves four)
Serve this at a barbecue, on the beach or on the terrace instead of a dessert - in a martini glass for girly glamour.
• 225g (8 oz) strawberries, hulled
• 1 tsp caster or icing sugar
• 120ml (4 fl oz) white rum
• 2 tbsp lime juice, freshly squeezed
• 4 scoops of strawberry ice-cream
• 150ml (5 fl oz) sparkling water
Place all the ingredients in the blender and whizz until the mixture becomes luscious, pink and creamy in texture. This is a cocktail you can pour into a jug and serve later, as it keeps its consistency.
2 / FROZEN MARGARITA
(serves two)
If you happen to have a golden, mellow, more complex tequila in your drinks cupboard, this is the time to use it.
• 3 tbsp lime juice
• 2 tbsp triple sec
• 6 tbsp tequila
• 250ml (8 1/2 fl oz) cracked ice
• 3 tsp icing sugar, to taste
• 2 large tbsp crushed ice
Frost the glasses with the lime juice and some salt. Measure all ingredients, except for the crushed ice, into the blender jar. Whizz until slushy. Taste for sweetness before serving.
Pour into small tumblers or margarita glasses, and serve with a spoonful of ice in each glass.
3 / RASPBERRY DAIQUIRI
(serves two)
A frozen daiquiri should have the smooth, slithery icy texture of a lightly-frozen sorbet.
• 2 tbsp lemon juice
• 4 tbsp light rum
• 125ml (4 fl oz) fresh raspberries
• 250ml (8 1/2 fl oz) cracked ice
• a good splash crème de cassis
(blackcurrant liqueur)
• 2 tbsp icing sugar
Measure everything into the blender jar, and press the Auto Pulse button. Serve in a highball glass.
20
SOUP
Soups are easy to make. The Dualit blender holds the magic of wonderful soups and gives a sensationally smooth, satiny finish. Soups are also a good way of increasing your fluid intake.
1 / DUALIT CUP-A-SOUP
(makes four cups)
A quick and easy way to make a fresh cup a soup with a few ingredients and a microwave!
• 250g vegetable stock
• 1/2 potato sliced
• 500g peas (frozen or fresh)
• 3 spring onions
• 1 onion
• 1 leek slice in to three pieces
• salt and pepper to season
• a microwavable cup and Microwave
Add the stock to the jar first, then add all the other ingredients and press Auto Pulse, add water if you want to thin the soup and pulse to mix through. Pour the mixture into a cup and microwave for one and a half minutes or until piping hot. Season to taste and serve.
2 / CLASSIC VEGETABLE SOUP RECIPE
(serves four to six)
Be adventurous, make up your own soups with favourite ingredients and seasonings. If you don't like using measurements use up to double of the amount of liquid to vegetables - less for leafy vegetables, or the soup will be thin and watery.
• 1 tsp extra virgin olive oil
• 1 medium onion, peeled and chopped
• a clove of garlic
• 500g (1lb 2oz) washed, and chopped vegetables, peeled as necessary eg carrots, parsnips, Jerusalem artichokes, swedes, turnips, broccoli, cauliflower, asparagus, leeks, tomatoes
• 1.5 litres (2 3/4 pints) vegetable stock, made from a bouillon powder and filtered water, following the instructions on the side of the pack, or fresh chicken or vegetable stock
• Canned tomatoes, lentils or cannelloni beans
(optional)
• sea salt and freshly milled pepper
In a large saucepan heat the olive oil and cook the onion and garlic, stirring. After ten minutes, they should be sweet, soft, fragrant and lightly coloured. Add the chopped vegetables and stock. Bubble & simmer for about 20-30 minutes. The soup is cooked when the vegetables can be crushed against the side of the pan easily with the back of a spoon.
Now add the softer ingredients, like canned pulses or tomatoes. Taste for salt and pepper, adding a little if necessary. Allow the contents of the pan to cool to lukewarm (below
60oC), then ladle it into the blender. If you like your soup chunky, use the Pulse Pad until you are happy with the consistency, or blend on speed 1 until you have a smooth, satiny cream. Add extra water at this stage if you want to thin the soup. Reheat, taste for seasoning, add salt sparinglyand serve immediately.
21
DUALIT TO THE RESCUE
Lumpy gravies and curdled sauces have an uncanny ability to occur just minutes before you have to serve guests. But now you can just pour the misbehaving sauce into the
Dualit blender jug, whizz for less than a minute, and proudly present a perfect version. So you never have to worry about making hollandaise or custard again.
1 / LUMPY GRAVY
Cool the gravy to lukewarm, then whizz on speed 3-4 until it becomes smooth. Reheat, stirring, then serve immediately. If lumps reoccur, repeat the procedure, this time adding more liquid (stock or water). Serve when piping hot.
2/ CURDLED CUSTARD
Custard will become lumpy and curdle into scrambled egg if allowed to boil. If this has happened, allow the sauce to cool for a minute or two and remove the vanilla pod (if using). Pour the sauce into the blender jar. With the filler cap fitted loosely and using speed 1, press the Pulse pad slowly three or four times, to allow the hot steam to escape. Then whizz on speed 1 and, in less than a minute, you will have a foamy, perfect sauce to serve with a dessert. If not serving immediately, stir or whisk well as the sauce cools and before serving.
3/ CURDLED HOLLANDAISE
If you have made hollandaise, the sauce can sometimes separate or curdle. If faced with this problem, pour 140ml (1/4 pint) of whipping or double cream into a saucepan, and boil until reduced by half. Pour in the lukewarm curdled sauce and whizz on speed 1. Now gradually pour in the cream, whizz for a few seconds more, and taste for seasoning and lemon juice
(you may need to add more as the cream will have softened the taste). Serve immediately.
4 / CHOPPING NUTS AND BREADCRUMBS
Although only a few tablespoons may be required, make crumbs from half a loaf, then store in a plastic bag in the freezer. Crumbs freeze perfectly, and thaw in minutes if left in a warm place. To use just a little out of a frozen bag, merely crumble the crumbs inside the bag with your fingers before removing the required amount. When grinding crumbs and nuts, never fill the blender jar over the 500ml mark.
5 / BREADCRUMBS (WHITE OR BROWN)
Remove crusts and tear slices of bread into six pieces for best results. Start with the blender on speed 1, remove the filler cap and, with one hand, drop the bread onto the whizzing blades; keep the other hand over the hole in the lid to minimise mess. When the blender is half-full tip all the crumbs into a plastic bag and start again.
22
GUARANTEE
This appliance is of excellent quality and construction. However, if any defects in materials or workmanship do appear during the relevant guarantee period, we will, at our discretion, either repair or replace the defective parts, free of charge, subject to the terms and conditions of our Guarantee shown below.
This Guarantee covers both parts and labour. Carriage is not included.
Your Guarantee period is as follows:
• 1 year
This Guarantee provides benefits which are additional to, and do not affect, your statutory rights. This Guarantee does not cover the cost of returning the product to the dealer from whom it was purchased or to ourselves. This Guarantee applies only to products sold and located in mainland
Great Britain. It does not cover liability in respect of or replacement of plugs, cables or fuses and also does not cover defects due to:
• Failure to use or maintain product in accordance with Dualit's instructions.
• The product being connected to an unsuitable electricity supply.
• Accidental damage to or abuse or misuse of the product.
• The product has not been modified except by Dualit or approved agent.
• Dismantling of or interference with the product.
• Theft or attempted theft of the product.
Before returning any product under this
Guarantee, please check that:
• You have followed the product instructions correctly.
• Your mains electricity supply is functional.
• The defect is not due to a blown fuse.
If you wish to claim under this guarantee you should:
• Send the product, postage or carriage paid, to the dealer from whom it was purchased or to Dualit direct.
• Ensure that the product is clean and
• packed carefully (preferably in its original carton).
• Enclose details of your name, address and telephone number and when and where the product was purchased, together with proof of purchase (e.g. a till receipt).
Give exact details of the nature of the defect.
This Guarantee does not cover any other claims whatsoever, including, without limitation, any liability for incidental, indirect or consequential damage, nor does it cover any claims for conversion or modification or for the costs of repair carried out by any third party without the prior consent of
Dualit. If replacement parts are fitted to the product this will not extend the period of the Guarantee.
23
For further advise contact the Dualit customer helpline on +44 (0)1293 652 500
(09:00 to 17:00 Monday to Friday).
Alternatively, email Dualit at [email protected] or visit www.dualit.com
* Your assessment is very important for improving the work of artificial intelligence, which forms the content of this project