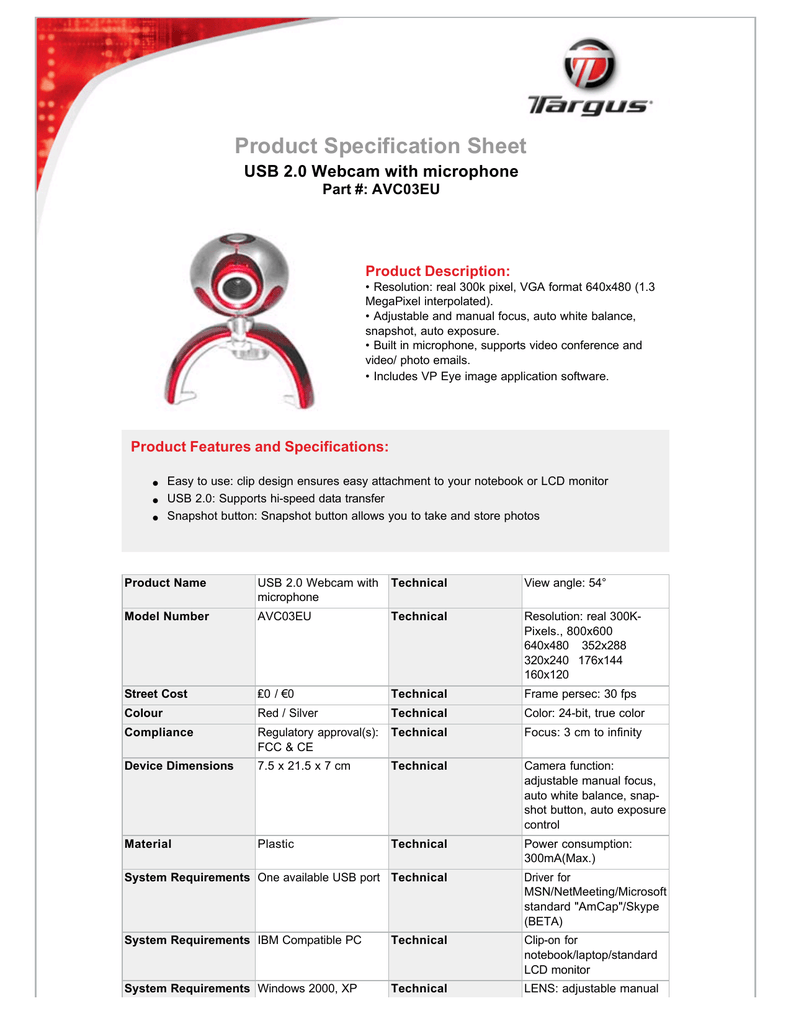 Product Specification Sheet
USB 2.0 Webcam with microphone
Part #: AVC03EU
Product Description:
• Resolution: real 300k pixel, VGA format 640x480 (1.3
MegaPixel interpolated).
• Adjustable and manual focus, auto white balance,
snapshot, auto exposure.
• Built in microphone, supports video conference and
video/ photo emails.
• Includes VP Eye image application software.
Product Features and Specifications:
●
●
●
Easy to use: clip design ensures easy attachment to your notebook or LCD monitor
USB 2.0: Supports hi-speed data transfer
Snapshot button: Snapshot button allows you to take and store photos
Product Name
USB 2.0 Webcam with
microphone
Technical
View angle: 54°
Model Number
AVC03EU
Technical
Resolution: real 300KPixels., 800x600
640x480 352x288
320x240 176x144
160x120
Street Cost
₤0 / €0
Technical
Frame persec: 30 fps
Colour
Red / Silver
Technical
Color: 24-bit, true color
Compliance
Regulatory approval(s):
FCC & CE
Technical
Focus: 3 cm to infinity
Device Dimensions
7.5 x 21.5 x 7 cm
Technical
Camera function:
adjustable manual focus,
auto white balance, snapshot button, auto exposure
control
Material
Plastic
Technical
Power consumption:
300mA(Max.)
System Requirements One available USB port Technical
Driver for
MSN/NetMeeting/Microsoft
standard "AmCap"/Skype
(BETA)
System Requirements IBM Compatible PC
Technical
Clip-on for
notebook/laptop/standard
LCD monitor
System Requirements Windows 2000, XP
Technical
LENS: adjustable manual
focus
System Requirements System equipped with Technical
Pentium II 200/
MMX/AMD K6 or above
Color compression: RGB
24 & I420
System Requirements DRAM: 32 MB or above Technical
Colors bit: 32 byte
System Requirements Sound card, speaker
and microphone are
required for video and
audio recording
Built-in JPEG
Compression
Technical
System Requirements A modem or Lan card is Technical
required for application
of video conference and
video mail
AP for VP-EYE Version.
4.0 (Optional)
System Requirements Hardware – PC with
Warranty
Pentium®II 200
processor or equivalent,
USB 2.0 Port, CD-ROM
driver. Operating
System – Window®
2000/XP and Window
VistaTM
2 years
Technical
Pixel: VGA format
81g
Technical
USB interface :
compliant USB 1.1 &
USB 2.0 with Plug and
Play
Weight
Features, specifications and price are subject to change without notification.

* Your assessment is very important for improving the work of artificial intelligence, which forms the content of this project