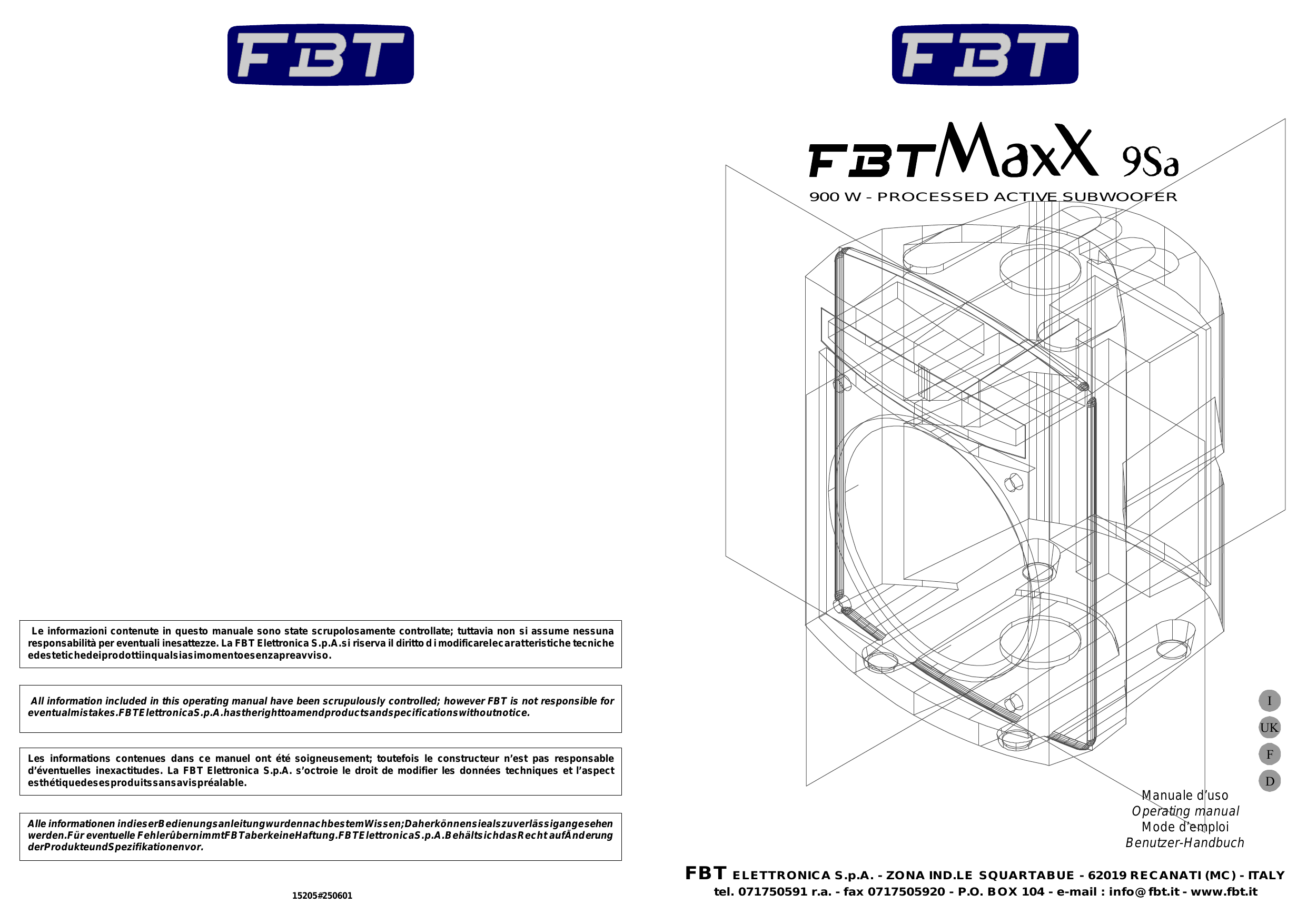 900 W - PROCESSED ACTIVE SUBWOOFER
Le informazioni contenute in questo manuale sono state scrupolosamente controllate; tuttavia non si assume nessuna
responsabilità per eventuali inesattezze. La FBT Elettronica S.p.A.si riserva il diritto d i modificarelecaratteristiche tecniche
edestetichedeiprodottiinqualsiasimomentoesenzapreavviso.
All information included in this operating manual have been scrupulously controlled; however FBT is not responsible for
eventualmistakes.FBTElettronicaS.p.A.hastherighttoamendproductsandspecificationswithoutnotice.
I
UK
Les informations contenues dans ce manuel ont été soigneusement; toutefois le constructeur n'est pas responsable
d'éventuelles inexactitudes. La FBT Elettronica S.p.A. s'octroie le droit de modifier les données techniques et l'aspect
esthétiquedesesproduitssansavispréalable.
Alle informationen indieserBedienungsanleitungwurdennachbestemWissen;Daherkönnensiealszuverlässigangesehen
werden.Für eventuelle FehlerûbernimmtFBTaberkeineHaftung.FBTElettronicaS.p.A.BehältsichdasRecht aufÄnderung
derProdukteundSpezifikationenvor.
F
Manuale d'uso
Operating manual
Mode d'emploi
Benutzer-Handbuch
D
FBT ELETTRONICA S.p.A. - ZONA IND.LE SQUARTABUE - 62019 RECANATI (MC) - ITALY
15205#250601
tel. 071750591 r.a. - fax 0717505920 - P.O. BOX 104 - e-mail : info@fbt.it - www.fbt.it
1
I
UK
6
F
D
EXEMPLES DE CONNEXION
RISCHIODISHOCKELETTRICO
NONAPRIRE
RISK OF ELECTRICSHOCK
DONOTOPEN
PEREVITAREILRISCHIODISHOCKELETTRICO
NONAPRIREILCOPERCHIO
NON USAREUTENSILIMECCANICIALL'INTERNO
CONTATTARE UN CENTRODIASSISTENZAQUALIFICATO
TOREDUCETHERISKOFELECTRICSHOCK
DO NOTREMOVECOVER(ORBACK)
NOUSERSERVICEABLEPARTSINSIDE
REFER SERVICINGTOQUALIFIEDSERVICEPERSONNEL
PEREVITAREILRISCHIODIINCENDIOODISHOCKELETTRICO
NONESPORREL'APPARECCHIATURAALLAPIOGGIA
OALL'UMIDITA'
TOREDUCE THE RISKOFFIREORELECTRICSHOCK
DO NOTEXPOSETHISEQUIPMENTTORAINORMOISTURE
° Prima di alimentare il diffusore assicuratevi che la tensione di
alimentazionenonsiasuperioreaquellariportatanelpannelloposteriore
° Non usate mai l'apparecchio se il cavo o la presa di rete non sono in
perfettecondizioni; evitate di piegareeccessivamente, tirare o tagliareil
cavodialimentazione;
°Perevitareilrischiodishockelettrici nonapriremaiildiffusore
°Nontoglietelaretemetallicadiprotezionedell'altoparlante:toccarlocon
oggettioconlestessemanipotrebbearrecaredanniirreparabili
° Per la pulizia del diffusore nonusatesolventi tipo acetoneoalcoolche
danneggerebbero lafinituraesterna
° Evitate ditenereilsistemaespostoperlungotempoall'azionediagenti
atmosfericiquali umidità,fortivariazioniditemperatura,eccessodicalore,
ecc.
°Evitatel'accumulodipolveree,perquantopossibile,proteggetelo,peril
trasporto,conilsuoimballooriginale
° In caso di cattivo funzionamento di qualsiasi dispositivo del sistema,
affidatevi al più vicino centro di assistenza FBT o ad un altro centro
specializzato,evitandodiprovvederepersonalmente
FBTMaxX 4
FBTMaxX 4
FBTMaxX 4a
FBTMaxX 4a
FBTMaxX 2
FBTMaxX 2
FBTMaxX 2a
FBTMaxX 2a
ou/oder
ou/oder
ou/oder
ou/oder
IN
IN
° Before powering the speaker system make sure thatthemainspower
voltageisnothigherthanthatshownontherearpanel
° Never use the appliance if the power cable or plug are not in perfect
conditions;avoidexcessivebending,pullingorcuttingof thepowercable
° Topreventtheriskofelectricshockneverremovecover(orback)ofthe
speakersystem
° Do not remove the front metal grille which protects the loudspeaker;
avoid touching it with any serviceable parts to prevent any irreparable
damage
° Donotusesolventssuchasacetoneoralcoholtocleanthesystem,as
theywoulddamageitsfinish
° Avoidexposingthesystemtotheactionofatmosphericagentsforalong
time(dampness,excessiveheat,strongtemperaturevariations,etc.)
°Cleanthesystemonceinawhiletoavoidexcessivedust;whenpossible
protectthesysteminsideitsoriginalpackagingforany transportpurpose
°Intheeventofmalfunctionofanypartofthesystem,contactthenearest
FBTservicecentre or otherspecialised centres,butnevertrytocarryout
repairsyourself
IN
IN
SORTIE
FILTRÉE
SORTIEFILTRÉE
GEFILTERTEMAUSGANG
SORTIE
FILTRÉE
GEFILTERTEM
AUSGANG
GEFILTERTEM
AUSGANG
AMPLIFICATEUREXTERNE
ÄUßERERVERSTÄRKER
FBTMaxX 9S
AVVERTENZA
Per evitare fastidiosi fenomeni di innesco (effetto Larsen) o ronzio,
assicuratevi che i cavi microfonici siano schermati e che i microfoni
nonsianoorientatinelladirezionedellecasseacustiche.
ANSCHLUSSBEISPIELE
FBTMaxX 9S
FBTMaxX 9Sa
FBTMaxX 9Sa
WARNING
To avoid any annoying feedback or noise (larsen effect), make sure
that the microphone cablesarescreened and that microphones are
neverpointedinthedirectionoftheloudspeakers.
INSTALLAZIONE
INSTALLATION
A RICHIESTA è possibile installare il diffusore a parete o soffitto ed
orientarloapiacimento.
The wall or ceiling speaker system can be installed BY REQUEST,and
canbeadjustedasdesired.
Inquestocasolastaffa"A"(accessorio)dovràesserefissataneidueinserti
filettati"B"(unoperlato),tramiteleduevitiinacciaioda10MA.
Siraccomandaalmomentodifissarelastaffa,l'utilizzodituttietreifori"C"
In thiscasethebracket"A"(accessory)mustbefixedtothetwothreaded
inserts"B"(oneeachside),bymeansofthetwo10MAscrews.
Whenfixingthebracketmakesuretouseallthreeholes"C".
MIXER
Configurationde 2 FBTMaxX9Savec sortiefiltréeet2satellites
Konfigurationvon2FBTMaxX9Smit gefiltertemAusgangund2Satelliten
FBTMaxX 2
Configurationde2FBTMaxX9Saavecsortiefiltréeet2satellites
Konfigurationvon2FBTMaxX9Sa mit gefiltertemAusgangund2Satelliten
FBTMaxX 2
FBTMaxX 4a
FBTMaxX 4a
FBTMaxX 2a
FBTMaxX 2a
ou/oder
ou/oder
IN
IN
AMPLIFICATEUREXTERNE
ÄUßERERVERSTÄRKER
Lchannel
INTRODUZIONE
INTRODUCTION
Ilnuovosistema sub-woofer FBTMaxX9 è realizzato inpolietileneantiurto
con stampaggio rotomoulding che consente di ottenere un prodotto
ultraleggero ma nel contempo estremamente robusto. FBTMaxX9 è un
connubio perfettotra potenza, meccanicaetecnologiad'avanguardia che
permette l'utilizzointuttiisistemidiamplificazioneaudioprofessionaliper
esaltarelebassefrequenze.IlnuovosistemaA.D.A.P.(AdvancedDynamic
Active Protection) di protezione elettronica dei trasduttori, assicura la
massima garanzia di funzionamento insituazionidiutilizzo impossibiliper
unnormale diffusore sonoro. Il finale di potenza presenteall'internodella
FBTMaxX9, progettato con tecnologia PWM (Pulse Width Modulation)
permettediridurreilpesonelrapporto1:3,raggiungendounaefficienzatre
volte superiore rispetto ad una tecnologia tradizionale. L'altoparlante
customèda380mm con doppiabobina da 100mm, magnete al neodimio
ultraleggeroeultrapotente,cestelloinalluminiodie-cast.
La serie FBTMaxX9 comprende ilmodello amplificato FBTMaxX9Sa e la
versionepassiva FBTMaxX9S a 4 ohm confiltripassa-bassoepassa-alto
incorporati.
The new sub-woofer FBTMaxX9 system is made from shock-resistant
polyethylene with rotomoulding to guarantee a superlight but also
extremely sturdyproduct. FBTMaxX9 is a perfect combination of power
and state-of-the-art mechanicsandtechnology, for useinallprofessional
sound amplification systems to enhance low frequencies. The new
A.D.A.P. ( Advanced Dynamic Active Protection) system for electronic
protection of transducers, ensures maximum reliability of operation in
conditions that would be impossible for a normal sound diffuser. The
terminalpowerpresentinsidethe FBTMaxX9, designedwithPWM(Pulse
WidthModulation)technology,offersaweightreductionratioof1:3,foran
efficiency three times higher than that of a traditional technology. The
custom speaker is 380mm with double 100mm coil, ultralight and
ultrapowerfulneodymiummagnet,withdie-castaluminiumbasket.
The FBTMaxX9 series includes the amplified FBTMaxX9Sa model and
the FBTMaxX9S 4 ohmpassive version with built-inlow-pass andhighpassfilters.
R channel
SORTIEFILTRÉE
GEFILTERTEMAUSGANG
SORTIEFILTRÉE
GEFILTERTEM AUSGANG
MIXER
FBTMaxX 9S
FBTMaxX 9S
FBTMaxX 9Sa
Sil'ondisposed'unsignalstéréophoniqueàamplifiersurquatrediffuseurs
(systemeenbi-amplification)etsil'onabesoind'unegrandepuissance,on
peututiliserdeuxamplificateurs,quitravaillentsurlemodeSTEREO.
Wennman über ein Stereosignal verfügt,welchesmit vierLautsprechern
verstärkt werden soll (Zweiwegesystem) und hohe Leistungsansprüche
gestelltwerden,istesmöglichzweiVerstärkerinSTEREOzubenutzen.
MIXER
Configurationde1FBTMaxX9Sa avecsortiefiltréeet2 satellites
Konfigurationvon1FBTMaxX9SamitgefiltertemAusgangund 2 Satelliten
PANNEAU ARRIÈRE
D
ADAP
VOL
HP
FILTERED
OUT
OUT
LINK
IN
HP
FILTERED
OUT
OUT
LINK
IN
GND
LIFT
PWR
230V
650VA
T4A250V
CAUTION
RISKOFELECTRICSHOCK
DONOTOPEN
!
# ADAP # SchutzprozessorderTransmittervorÜberspannungen;wenn
das Audiosignal die Gefahrenschwelle für die Komponenten erreicht,
greift das Systemautomatisch durch Abschwächen der Signalspannung
unter dieGrenzwerteein: DieAnsprechzeitdesSystemsistäußerstkurz.
Die Einschaltung des Prozessors wird durch
AufleuchtenderLedgemeldet.
MaxX 9S # VOL # Potentiometer zur Regelung des
allgemeinenLautstärke-Signalpegels.
# HPFILTEREDOUT# AusgangzurEntnahmedes
aneinenSatellitenzusendendengefiltertenSignals.
Auf diese Weise wird die Funktion der beiden
angeschlossenen Lautsprecher im gleichen
Frequenzbereich verhindert und eine stö
rungsfreieGesamtwiedergabeerzielt.
#OUT-----LINK-----IN#ElektronischbalancierteEinund Ausgangsbuchsen. Die Eingangsbuchse vom
TypCombounterstütztsowohlJack-alsauchXLR-MStecker zum Anschluss von Geräten mit
vorverstärkten nicht balancierten bzw. balancierten
Signalen(wiedieAusgangssignalseinesMischpults).
SiekönnendieXLRAusgangsbuchsezumAnschluss
eines Satelliten (mit nicht gefiltertem Signal) in
Parallelschaltung mit anderen Subwoofern
verwenden (indiesemFallistderAnschlussaneinen
Satelliten nur mit der XLR "HP FILTERED OUT"
Buchsemöglich).
#GNDLIFT# SchalterzurelektrischenTrennungvon
Masse- und Erdkreis. Bei gedrückter Taste wird die
Masse der Eingangssignale elektrisch von dem (im
Chassis gekennzeichneten) Erdkreis getrennt; sollte
der Lautsprecher brummen,öffnensichinderPosition
"on" die "Massekreise" als häufigste Ursache dieser
Störung. Bei ausgerasteter Taste wird die Masse der
Eingangssignale elektrisch mit dem (im Chassis
gekennzeichneten) Erdkreisverbunden.VERWENDEN
SIE GROUND LIFT NUR IM FALL BALANCIERTER
SIGNALE.
#PWR# LedzurAnzeigederSystemeinschaltung.
#VERSORGUNGSANSCHLUSS # Schließt den Schalter zum
Systembetrieb, die Anschlussbuchse an das Stromnetz sowie die
Aufnahme für die Schutzsicherung des Stromkreises ein: Ersetzen Sie
beschädigte Sicherungen nur durch solche mit gleichen technischen
Kennwerten.
HPFILTERED
OUTPUT
900W-SOUNDR
INPUT
+
+
2-
2-
1+
12+
1+
12+
-
# ADAP # Processeur servant à protéger les transducteurs contre les
tensionsexcessives;lorsquelesignalaudioatteintleseuildedangerpour
lescomposantsdusystème, il sedéclencheautomatiquement etréduitla
tension du signal pour le ramener en dessous des limites: les temps de
réaction du système sont très rapides. Une led
s'allumelorsqueleprocesseurentreenfonction.
MaxX 9Sa
# V O L # Potentiomètreduvolumeréglant leniveau
généraldusignal.
# HP FILTERED OUT # Sortie permettant de
prélever le signalfiltré à envoyer à un satellite. On
évite ainsi que les deux diffuseurs connectés
travaillent en partie dans le même intervalle de
R
fréquenceetonobtientuneréponseglobalesans
interférences.
#OUT-----LINK-----IN# Prisesd'entréeetdesortie
équilibrées électroniquement. La prised'entrée, de
type Combo, accepte aussi bien les connecteurs
Jack que XLR-M, pour la connexion d'instruments
L
avec signaux préamplifiés équilibrés (commeceux
quisortentd'unmixeur) ou non. La prise de sortie
XLR peut être utilisée pour connecter un satellite
(avec signalnonfiltré) pour effectuer la connexion
en parallèle avec d'autres sub-woofers (dans ce
cas, la connexion avec un satellite peut se faire
uniquement à travers lapriseXLR "HP FILTERED
OUT").
# GND LIFT # Interrupteur pour la séparation
électrique des circuits de masseetdeterre.Sion
appuiesurlebouton,lamassedessignauxd'entrée
est déconnectée électriquement du circuit de terre
(indiqué dans le châssis); dans le cas de
bourdonnement de l'enceinte, cetteposition ouvre
les "anneauxde masse",quisontsouventlacause
de ces parasites.Lorsque le bouton est relâché, la
masse des signaux d'entrée est reliée é
lectriquement au circuit de terre de l'appareil
(indiquédans le châssis). UTILISER LE GROUND LIFT UNIQUEMENT
POURLESSIGNAUXÉQUILIBRÉS.
#PWR# Laledsignalequelesystèmeestsoustension.
#PRISE D'ALIMENTATION # Elle est formée par l'interrupteur
marche/arrêt du système, la prise pour la connexion au secteur et le
logement du fusible de protection du circuit d'alimentation; remplacer le
fusiblefonduparunneufayantlesmêmescaractéristiquestechniques.
PANNELLO POSTERIORE
RÜCKWAND
FBTMaxX 9Sa
2
I
UK
REAR PANEL
FBTMaxX 9Sa
# A.D.A.P. # Processore per la protezionedeitrasduttori dalle eccessive
tensioni; quando il segnale audio raggiunge la soglia di pericolo per i
componenti, il sistema interviene automaticamente attenuando la
tensionedelsegnale,riportandolo al disottodeilimiti:itempidireazione
delsistema sonorapidissimi.L'entratainfunzione
del processore è segnalata dall'accensione del
MaxX 9Sa
led.
# VOL # Potenziometro di volume che regola il
livellogeneraledelsegnale.
# HP FILTERED OUT # Uscita per prelevare il
segnale filtrato da inviare ad un satellite
amplificato. In questo modo si evita che i due
R
diffusori collegati operino per un tratto nello
stesso intervallo di frequenza, ottenendo una
rispostacomplessivasenzainterferenze.
# OUT-----LINK-----IN # Prese di ingresso ed
uscita bilanciate elettronicamente. La presa di
ingresso del tipo Combo accetta sia connettori
L
JackcheXLR-M,perlaconnessionedistrumenti
con segnali preamplificati sbilanciati o bilanciati
(come quelli in uscita di un mixer). La presa di
uscita XLR può essere utilizzata come
collegamento per un satellite (con segnale non
filtrato) per effettuare il collegamento inparallelo
con altri sub-woofers (in questo caso il
collegamento con un satellite può avvenire solo
attraversolapresaXLR"HPFILTEREDOUT".
# GND LIFT # Interruttore per la separazione
elettricatrailcircuitodimassaeilcircuitoditerra.
Con il pulsante premuto la massa dei segnali in
ingresso viene elettricamente scollegata dal
circuito di terra (identificato nello chassis); nel
caso si manifesti un ronzio sul diffusore, questa
posizioneprovvedeadapriregli"anellidimassa",
spesso causa di tali disturbi. Con il pulsante
rilasciato la massa dei segnali in ingresso viene
elettricamente collegata al circuito di terra dell'apparecchio (identificato
nello chassis). UTILIZZARE IL GROUND LIFT SOLO PER SEGNALI
BILANCIATI.
#PWR# Ledchesegnalal'accensionedelsistema.
#PRESADIALIMENTAZIONE# Comprende l'interruttorediaccensione
del sistema, la presa per il collegamento alla rete elettrica e
l'alloggiamento del fusibile di protezione del circuito di alimentazione: in
caso di rottura del fusibile, quest'ultimo va sostituito solodafusibili con
ADAP
VOL
HP
FILTERED
OUT
OUT
LINK
IN
HP
FILTERED
OUT
OUT
LINK
IN
GND
LIFT
PWR
230V
650VA
T4A250V
CAUTION
RISKOFELECTRICSHOCK
DONOTOPEN
FBTMaxX 9S
!
# A.D.A.P. # Processor for protecting transducersagainstovervoltages;
when the sound signalreaches thedangerlimit for the components,the
system cuts in automatically attenuating the signal voltage, bringing it
down under the limit: system response timesarevery fast. The input on
fromtheprocessorissignalledbytheledlightingup.
# VOL # Volume potentiometer which adjusts the
MaxX 9S generallevelofthesignal.
# HP FILTERED OUT # Output topickupthefiltered
signal to be sent to a satellite. This prevents the two
connectedspeakers from operating for a periodin the
same frequency range, obtaining a total response
without interference.
# OUT-----LINK-----IN # Electronically balanced input
andoutputsockets.TheCombotypeinputsockettakes
both Jack connectors and XLR-M connectors, for
connecting instruments with unbalanced or balanced
preamplifiedsignals(likethosefromamixer).TheXLR
outputsocketcanbeusedasconnectionforasatellite(
with unfiltered signal ) for making parallel connection
withothersub-woofers(inthiscasesatelliteconnection
canoccuronlythroughtheXLR "HP FILTERED OUT"
socket).
#GNDLIFT# ISwitchfor electrical separationbetween
the mass circuit and the earth circuit. With the
pushbutton is pressed the mass of the input signals is
electrically disconnected from the earth circuit (
identified in the chassis ); in case of humming on the
speaker, this positionopens the"mass rings", whichare
oftenthecauseofsuchinterference.Withthepushbutton
released the mass of the input signals is electrically
connectedtotheearthcircuitoftheunit(identifiedinthe
chassis ). USE THE GROUND LIFT ONLY FOR
BALANCEDSIGNALS.
#PWR# Ledsignalssystemon.
#POWERSOCKET# IncludesthesystemOnswitch,the
socket for connection to the power mains and holds the
power supply circuit protection fuse: if the fuse blows it must only be
replacedwithfusesofequaltechnicalcharacteristics.
HPFILTERED
OUTPUT
900W-SOUNDR
INPUT
+
+
2-
1+
1-
2+
1+
2 - 12+
-
5
F
FBTMaxX 9S
#HPFILTEREDOUT# Prise SPEAKONpourconnecterunsatellitenon
amplifié.
#INPUT# PriseSPEAKONpourconnecterunétagefinaldepuissanceou
unmixeuramplifié.
# HP FILTERED OUT # SPEAKON Buchse zum Anschluss eine nicht
verstärktenSatelliten.
# INPUT # SPEAKON Buchse Anschluss einer Leistungsendstufe bzw.
einesverstärktenMischpults.
# HP FILTERED OUT # Presa SPEAKON per il collegamento di un
satellitenonamplificato
#INPUT# PresaSPEAKONpercollegamentodiunfinaledipotenzaodi
unmixeramplificato.
# HP FILTERED OUT # SPEAKON socket for connection of an
unamplifiedsatellite.
# INPUT # SPEAKON socket for connection of a power terminal or an
amplifiedmixer.
BRANCHEMENTS / ANSCHLÜSSE
CARACTÉRISTIQUES TECHNIQUES / TECHNISCHE DATEN
CONNESSIONI / CONNECTIONS
SPECIFICHE TECNICHE / TECHNICAL SPECIFICATIONS
LINE
2
JACK
LINE
1
900W-PROCESSEDACTIVESUBWOOFER
XLR-F(mic)
1=SHIELD
2=HOT
3=COLD
3
NEUTRIKXLR/JACK-COMBO
XLR
Côtécontacts
Kontaktseite
1
Côtésoudures
Geschlosseneseite
2
2
3
1
3
1.Massa (Shield)
2.Fase+ (Hot)
TIP
SLEEVE
TIP=Positive(+orhot)
SLEEVE=Shieldorground
RING=Negative(-orcold)
Stereojack balancée
Stereobuchse
1+
2-
12+
PriseSpeakon
SpeakonStecker
*SPEAKONestunemarquedéposéeNEUTRIK
1+ Positive
1- Negative
Speakon*
*SPEAKONisteineingetragenesWarenzeichenvonNEUTRIK
900W-PROCESSEDACTIVESUBWOOFER
XLR-F(micro)
1=SHIELD
2=HOT
3=COLD
NEUTRIKXLR/JACK-COMBO
4
ohm
Amplificateur recommandé
Empfohleneverstarkerleitung Wrms
Amplificateur interne
Integrierten Verstärker Wrms
@1W/1m dB
Maximum SPL
Maximaler shalldruck
dB
Woofer b a sses fréquence
Bass-Woofer
mm
D imensions
Abmessungen
1
1 x bass reflex 1 x bass reflex
(LxAxP) m m
(BxHxT) m m
Poids
Gewicht
Latosaldature
1
2
2
1
40Hz - 125Hz
40Hz - 125Hz
3
1.Massa Schermo(Shield)
2 . F a s e + Caldo(Hot)
3 . F a s e - Freddo(Cold)
97
126,5
1x380
97
RING
126,5/128
1 x 380
496x648x485
496x648x485
25
21
Sensibilità
Sensitivity
TIP
SLEEVE
TIP
kg.
SLEEVE
TIP=Positive(+orhot)
SLEEVE=Shieldorground
RING=Negative(-orcold)
Jackstereo/bilanciato/balanced
m
2-
10
2 x speakon
PresaSpeakon
1-
1+ Positivo/Positive
1- Negativo/Negative
Speakon*
*SPEAKONèunmarchioregistratoNEUTRIK
Wrms
*SPEAKONisaregistredtrademarkofNEUTRIK
@1W/1m dB
Massimo SPL
Maximum SPL
dB
Unità bassefrequenze
Low frequency woofer
D im ensioni
D im ensions
2+
XLR-Jack
4
ohm
R isposta in frequenza
Frequency r esponse @-5dB
mm
(LxAxP) m m
(WxHxD) mm
Peso
Weight
kg.
Connettori d i ingresso
Input connectors
Cavodialimentazione
Power supplycable
m
900W-SOUNDREINFORCEMENTSUBWOOFER
1 x bass reflex 1 x bass reflex
900
900
40Hz - 125Hz
Short term
Short term (IEC268-5) W r m s
1200
RING
vie/ way
Impedenza nominale
Nominal impedance
Amplificatoreinterno
Built-in amplifier
900
3
Configurazione
Type
Amplificatoreraccomandato
Recommended a m p . Wrms
1+
Connecteurs
Eingange
Câbles d'alimentation
Stromversorgungskabel
XLR
Latocontatti
900
Court terme
Spitzenbelastbarkeit (IEC268-5)Wrms
TIP
SLEEVE
voies/weg
Impédancenominale
Nominal impedanz
Sensibilité
Empfindlichkeit
JACK
3
Réponse e n f r é q u e n c e
Frequenzgang
@-5dB
3 . F a s e - (Cold)
RING
RING
Configuration
Konfiguration
2
900W-SOUNDREINFORCEMENTSUBWOOFER
40Hz - 125Hz
1200
97
97
126,5
126,5/128
1 x 380
1 x 380
496x648x485
496x648x485
25
21
XLR - Jack
2 x speakon
10
3
I
UK
ESEMPI DI COLLEGAMENTO
FBTMaxX 4
o/or
FBTMaxX 2
FBTMaxX 4
o/or
FBTMaxX 2
FBTMaxX 4a
o/or
FBTMaxX 2a
FBTMaxX 4a
o/or
FBTMaxX 2a
IN
IN
USCITA
FILTRATA
FILTERED
OUT
USCITAFILTRATAINPOTENZA
FILTEREDOUT(POWER)
USCITA
FILTRATA
FILTERED
OUT
UNITÁDIPOTENZA
POWERAMP.
FBTMaxX 9S
FBTMaxX 9S
FBTMaxX 9Sa
Configurazionedin.2FBTMaxx9Sconuscitafiltrataen.2satelliti
Configurazionedin.2FBTMaxX9Saconuscitafiltrataen.2satelliti
Configurationofn.2FBTMaxX9Swithfilteredoutputandn.2satellities
Configurationofn.2FBTMaxX9Sawithfilteredoutputandn.2satellities
FBTMaxX 2
FBTMaxX 4a
o/or
FBTMaxX 2a
FBTMaxX 4a
o/or
FBTMaxX 2a
IN
UNITÁDIPOTENZA
POWERAMPLIFIER
canale s x
Lchannel
USCITAFILTRATA
FILTEREDOUT
FBTMaxX 9S
FBTMaxX 9Sa
Incaseofstereosignaltobesentto4speakersystems(2sub-woofersand
2 satellities),needinggreatpower,itispossible touse2poweramplifiers
(bi-amplificationsystem),setinstereomode.
POURÉVITERLERISQUEDECHOCÉLECTRIQUE
NEPASOUVRIRLECOUVERCLE
NEPASUTILISERD'OUTILSMÉCANIQUESÀL'INTÉRIEUR
CONTACTER UNCENTRED'ASSISTANCEQUALIFIÉ
STROMSCHLAGGEFAHR NICHTDENDECKELÖFFNEN
WENDENSIESICHANEINENQUALIFIZIERTENKUNDENDIENST
POURÉVITER LERISQUED'INCENDIEOUDECHOCÉLECTRIQUE
NEPASEXPOSERL'APPAREILLAGEÀLAPLUIEOUÀL'HUMIDIT
UMRISIKENVONSTROMSCHLAGUNDBRANDAUSZUSCHLIESSEN
SETZENSIEDASGERÄTKEINEMREGENODERFEUCHTIGKEITAUS
° Vérifiez que la tension d'alimentation ne soit pas supérieure à lavaleur
indiquéederrièrel'appareil
°Pouréviterlesrisques d'incendie etd'électrocution, veillez à ce que le
câble d'alimentation del'enceinte nesoit nipiétiné ni écrasé et qu'il reste
parfaitementindemne.
°Pouréviterlesrisquesdechocélectriques, n'ouvrezjamaisl'enceinte.
° Evitez de toucher les cônes des hauts-parleurs des avec l'unoul'autre
object ou avec les mains, car desdommages irréparables pourraient se
produire
° Pour le nettoyage des bafflesn'utilisezpasdesolvantsdutypeacétone
oualcool,carilspourraientendommagerlesfinitionsextérieures
°Evitezdelaisserexposertroplongtempslesbafflesàl'actiondesagents
atmosphériques (humidité, fortes variations de température, excès de
chaleur,etc...)
°Evitez l'accumulation depoussièreetpourletransport protégez-les, si
possible,avecleuremballaged'origine
° En cas de mauvais fonctionnement d'un des dispositifs du système,
adressez-vous au centre d'assistance FBT le plusprocheou à un centre
spécialiséetévitezd'intervenirpersonnellement
° Vor dem Speisen der Lautsprecherbox sicherstellen, das ihre
BetriebsspannungmitderNetzspannungübereinstimmt
°Benutzen Sie das Gerät nie, wenn dasKabeloderderNetzsteckersich
nichtinoptimalemZustandbefinden
° Offnen Sie die Lautsprecherbox nie, um die Gefahr von elektrischen
Schlägen zuvermeiden
° VermeidenSie,dieKegelderLautsprechermitirgndeinemGegenstand
odermitdenHändenzuberühren:eskönntennichtreparierbareSchäden
entstehen
°ZurReinigungderBoxenbenutzenSiebittekeineLösemittelwieAlkohol
oder Azeton, da diese der Außenschicht und dem Filmdruck auf den
Schalltafelnschadenwürden
° Vermeiden Sie, die akustischen Boxen für längere Zeit den
Witterungseinflüssen auszusetzen ( Feuchtigkeit, starke
Temperaturschwankungen,ÜbermaßanHitzeusw.)
° Vermeiden Sieebensostarke Staubansammlungen und benutzen Sie,
soweitwiemöglich,dieOriginalverpackungfürdenTransport
° Im Falle eines fehlerhaften Ablaufs einer der vorhandenen
Einrichtungen des Systems, wenden sie bitte an den nächstliegenden
Kundendienst der FBT oder an ein Fachgeschäft; vermeiden Sie
Eigenreparaturen
AVERTISSEMENTS
Evitezd'orienterlesmicrosdansladirectiondesbafflesacoustiques,
car ilspourraient provoquer des amorces gênantes (effet larsen) qui
risqueraientd'endommagerleshaut-parleurs
ACHTUNG
Vermeiden Sie die Ausrichtung der Mikrophone in Richtung der
Boxen: die Mikrophone könnten lästige Schwingungen erzeugen
(Larseneffekt),dieLautsprecherbeschädigenkönnten
INSTALLATION
INSTALLATION
SURDEMANDE,l'enceintepeutêtreinstalléecontrelemurouauplafond,
etêtreorientéedanstouslessens.
Sie können den Lautsprecher NACH WUNSCH an der Wand bzw. der
Deckeinstallierenundbeliebigausrichten.
Dans cecas,lesupport"A"(accessoire)devraêtrefixéauxdeuxfiletages
"B"(undechaquecôté),àl'aidededeuxvis10MAenacier.Aumomentde
fixer le support, il est conseillé d'utiliser tous les trois trous "C"
In diesem Fall müssen Sie die Leiste "A" (Zubehör) mit den zwei 10MA
Stahlschrauben in den zwei Gewindeeinsätzen "B" (einen pro Seite)
befestigen.ZumFestschrauben der LeistesolltenSiealledreiBohrungen
"C"verwenden
canaledx
R channel
MIXER
Quando si dispone di un segnale stereofonico da amplificare su quattro
diffusori(2sube2satelliti),conesigenzedigrandepotenza,èpossibile
utilizzare due amplificatori (sistema in biamplificazione), configurati in
modostereo.
STROMSCHLAGGEFAHR
NICHTÖFFNEN
IN
USCITAFILTRATA
FILTEREDOUT
FBTMaxX 9S
RISQUEDECHOCÉLECTRIQUE
NEPASOUVRIR
FBTMaxX 9Sa
MIXER
FBTMaxX 2
D
CONNECTION EXAMPLES
IN
IN
4
F
MIXER
Configurazionedin.1FBTMaxX9Saconuscitafiltrataen.2satelliti
Configurationofn.1FBTMaxX9Sawithfilteredoutputandn.2satellities
INTRODUCTION
EINLEITUNG
Lenouveausystèmesub-woofer FBTMaxX9 aétéréaliséenpolyéthylène
antichoc, avec moulage "rotomoulding": cette technique permet d'obtenir
unproduitultra-légeretenmêmetempsextrêmementrobuste. FBTMaxX9
représente le mariage parfait entre puissance, mécanique et technologie
d'avant-garde, pouvantêtreutilisédanstouslessystèmesd'amplification
audio professionnels pour mettre en valeur les basses fréquences. Le
nouveau système ADAP (Advanced Dynamic Active Protection, c'est-àdire de protection électronique des transducteurs) garantit un
fonctionnement parfait dans toutes les situations d'utilisation, même les
plus difficiles pour une enceinte acoustique normale. L'étage final de
puissance,montédansl'enceinte FBTMaxX9, adoptelatechnologiePWM
(PulseWidthModulation):ellepermetderéduirededeuxtierslepoids,tout
en atteignant une efficacité trois fois supérieure à celle de la technologie
traditionnelle.Lehaut-parleurcustomestun380mmavecdoublebobine
de 100mm,aimant au "neodymium" ultra-léger et ultra-puissant,saladier
enaluminiummoulésouspression.
La série FBTMaxX9 comprend le modèle amplifié FBTMaxX9Sa et la
versionpassive FBTMaxX9S à4ohm,avecfiltrespasse-basetpasse-haut
incorporés.
DasneueSubwoofer-System FBTMaxX9 ist aus stoßfestem Polyäthylen
im Schleudergussverfahren gepresst und somit superleicht, gleichzeitig
aberäußerstrobust. FBTMaxX9 istdieperfekteKombinationvonLeistung,
Mechanik und fortschrittlicher Technologie zum Einsatz in sämtlichen
professionellenAudio-VerstärkungssystemenfürdieoptimaleWiedergabe
imniedrigenFrequenzbereich.DasneueelektronischeADAP( Advanced
Dynamic Active Protection ) Schutzsystem der Transmitter sorgt für
höchsteBetriebssicherheitselbstbeidenAnwendungen,indenennormale
Boxen passen müssen. Die mit PWM Technologie (Pulse Width
Modulation) entwickelte Leistungsendstufe in den FBTMaxX9
Lautsprechern gestattet eine Gewichtsreduzierung im Verhältnis 1:3,
wobei außerdem eine dreifache Leistungsfähigkeit gegenüber
herkömmlichen Verfahrenstechniken erzielt wird. Beim Custom
Lautsprecherhandelt es sich umeinen380mmTypmitdoppelter100mm
Spule,ultraleichtemund ultastarkem NeodymiumMagnetsowieKorbaus
Spritzgussaluminium.
DieSerie FBTMaxX9 beinhaltet das verstärkteModell FBTMaxX9Sa und
die passive 4Ohm Version FBTMaxX9S mit integrierten Tief- und
Hochpassfiltern.