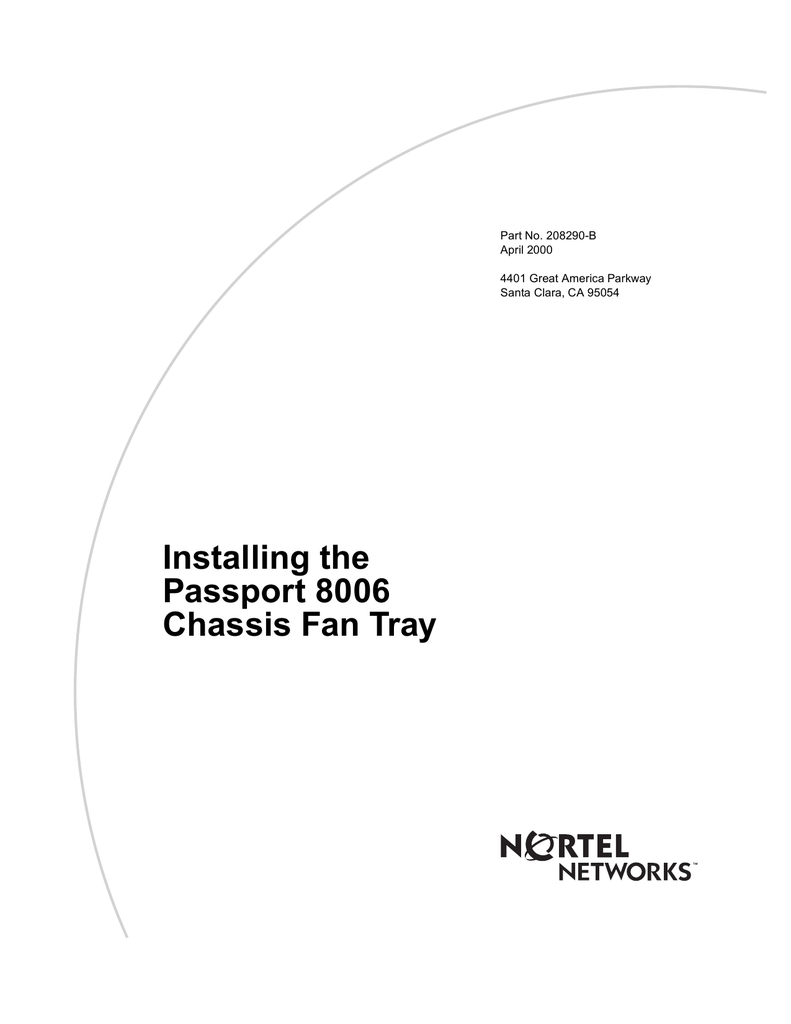 Part No. 208290-B
April 2000
4401 Great America Parkway
Santa Clara, CA 95054
Installing the
Passport 8006
Chassis Fan Tray
Copyright © 2000 Nortel Networks
All rights reserved. April 2000.
Trademarks
NORTEL NETWORKS and Passport are trademarks of Nortel Networks.
All other trademarks and registered trademarks are the property of their respective owners.
Statement of Conditions
In the interest of improving internal design, operational function, and/or reliability, Nortel Networks NA Inc. reserves the
right to make changes to the products described in this document without notice.
Nortel Networks NA Inc. does not assume any liability that may occur due to the use or application of the product(s) or
circuit layout(s) described herein.
Federal Communications Commission (FCC) Statement
Note: This equipment has been tested and found to comply with the limits for a Class A digital device, pursuant to Part 15
of the FCC rules. These limits are designed to provide reasonable protection against harmful interference when the
equipment is operated in a commercial environment. This equipment generates, uses, and can radiate radio frequency
energy. If it is not installed and used in accordance with the instruction manual, it may cause harmful interference to radio
communications. Operation of this equipment in a residential area is likely to cause harmful interference, in which case
users will be required to take whatever measures may be necessary to correct the interference at their own expense.
EN 55 022 Declaration of Conformance
This is to certify that the Nortel Networks Passport 8006 Chassis Fan Tray is shielded against the generation of radio
interference in accordance with the application of Council Directive 89/336/EEC, Article 4a. Conformity is declared by the
application of EN 55 022 Class A (CISPR 22).
Caution: This device is a Class A product. In a domestic environment, this device can cause radio
interference, in which case the user may be required to take appropriate measures.
ii
About This Guide
This guide provides instructions for replacing a fan tray in the Passport™ 8006 Chassis. For more
information about the chassis, refer to Installing the Passport 8006 Chassis (part number 207313-B).
You can replace a fan tray without turning off power to the chassis. To maintain proper cooling of the
chassis, be sure to install the replacement fan immediately.
Replacing a Fan Tray
Required tool: Phillips screwdriver
9590FA
1.
Loosen the retaining screws and pull the fan tray out of the chassis until the power connector
disconnects from the backplane.
Wait 10 seconds for the fans to stop turning, and then pull the tray out of the chassis.
Caution: Grasp the fan tray at the middle of the front panel, and be careful to keep your
fingers out of the fan blades.
1
9591FA
2.
2
Slide the new fan tray into the chassis and
tighten the retaining screws.
9592FA
3.
When the chassis power is on, verify that the
green status LED is lit.

* Your assessment is very important for improving the work of artificial intelligence, which forms the content of this project