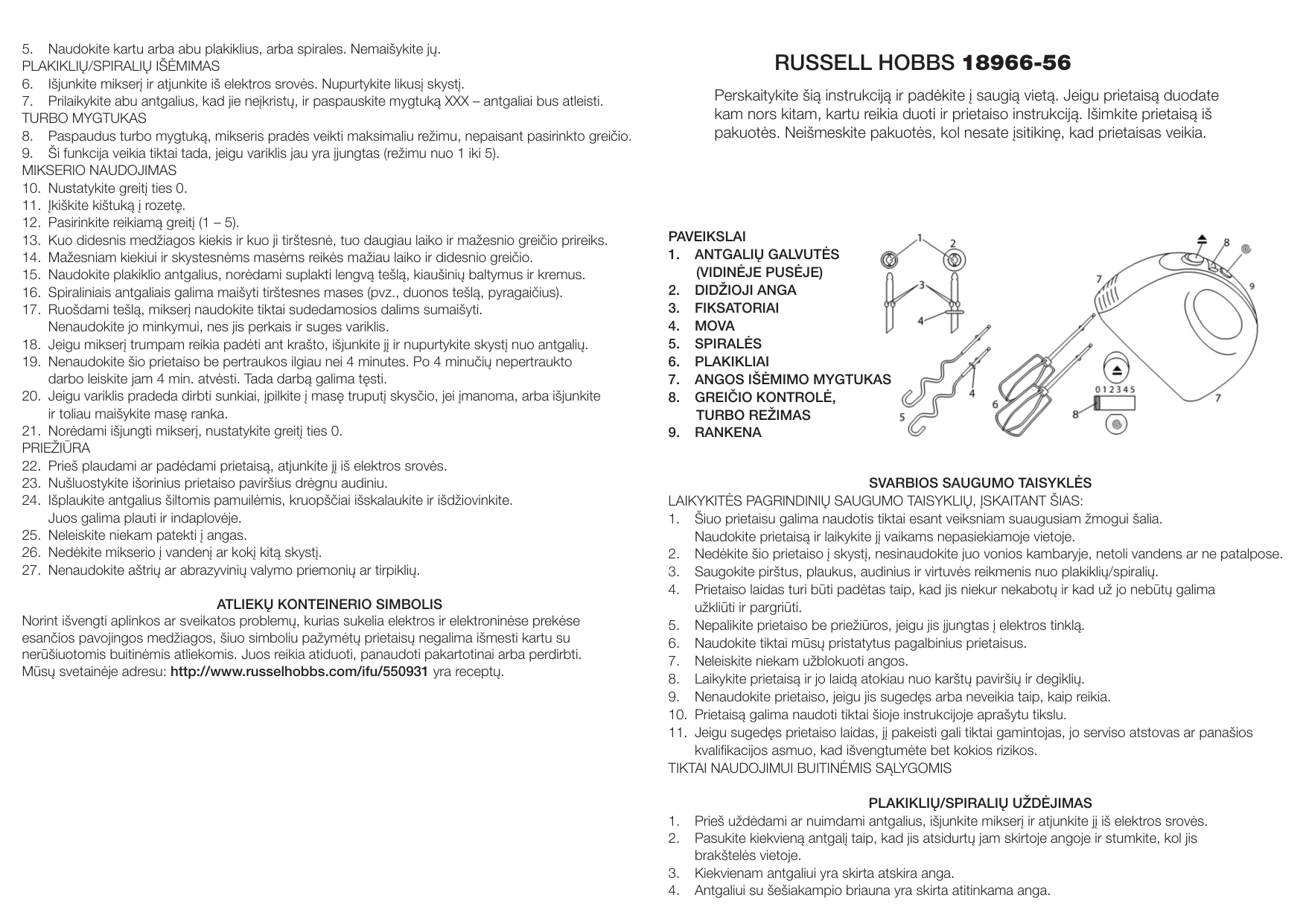 5. Naudokite kartu arba abu plakiklius, arba spirales. Nemaišykite jų.
Plakiklių/spiralių išėmimas
6. Išjunkite mikserį ir atjunkite iš elektros srovės. Nupurtykite likusį skystį.
7. Prilaikykite abu antgalius, kad jie neįkristų, ir paspauskite mygtuką XXX – antgaliai bus atleisti.
Turbo mygtukas
8. Paspaudus turbo mygtuką, mikseris pradės veikti maksimaliu režimu, nepaisant pasirinkto greičio.
9.Ši funkcija veikia tiktai tada, jeigu variklis jau yra įjungtas (režimu nuo 1 iki 5).
Mikserio naudojimas
10. Nustatykite greitį ties 0.
11.Įkiškite kištuką į rozetę.
12. Pasirinkite reikiamą greitį (1 – 5).
13.Kuo didesnis medžiagos kiekis ir kuo ji tirštesnė, tuo daugiau laiko ir mažesnio greičio prireiks.
14.Mažesniam kiekiui ir skystesnėms masėms reikės mažiau laiko ir didesnio greičio.
15. Naudokite plakiklio antgalius, norėdami suplakti lengvą tešlą, kiaušinių baltymus ir kremus.
16.Spiraliniais antgaliais galima maišyti tirštesnes mases (pvz., duonos tešlą, pyragaičius).
17.Ruošdami tešlą, mikserį naudokite tiktai sudedamosios dalims sumaišyti.
Nenaudokite jo minkymui, nes jis perkais ir suges variklis.
18. Jeigu mikserį trumpam reikia padėti ant krašto, išjunkite jį ir nupurtykite skystį nuo antgalių.
19. Nenaudokite šio prietaiso be pertraukos ilgiau nei 4 minutes. Po 4 minučių nepertraukto
darbo leiskite jam 4 min. atvėsti. Tada darbą galima tęsti.
20. Jeigu variklis pradeda dirbti sunkiai, įpilkite į masę truputį skysčio, jei įmanoma, arba išjunkite
ir toliau maišykite masę ranka.
21. Norėdami išjungti mikserį, nustatykite greitį ties 0.
Priežiūra
22. Prieš plaudami ar padėdami prietaisą, atjunkite jį iš elektros srovės.
23. Nušluostykite išorinius prietaiso paviršius drėgnu audiniu.
24. Išplaukite antgalius šiltomis pamuilėmis, kruopščiai išskalaukite ir išdžiovinkite.
Juos galima plauti ir indaplovėje.
25. Neleiskite niekam patekti į angas.
26. Nedėkite mikserio į vandenį ar kokį kitą skystį.
27. Nenaudokite aštrių ar abrazyvinių valymo priemonių ar tirpiklių.
Atliekų konteinerio simbolis
Norint išvengti aplinkos ar sveikatos problemų, kurias sukelia elektros ir elektroninėse prekėse
esančios pavojingos medžiagos, šiuo simboliu pažymėtų prietaisų negalima išmesti kartu su
nerūšiuotomis buitinėmis atliekomis. Juos reikia atiduoti, panaudoti pakartotinai arba perdirbti.
Mūsų svetainėje adresu: http://www.russelhobbs.com/ifu/550931 yra receptų.
RUSSELL HOBBS 18966-56
Perskaitykite šią instrukciją ir padėkite į saugią vietą. Jeigu prietaisą duodate
kam nors kitam, kartu reikia duoti ir prietaiso instrukciją. Išimkite prietaisą iš
pakuotės. Neišmeskite pakuotės, kol nesate įsitikinę, kad prietaisas veikia.
paveikslai
1. antgalių galvutės
(vidinėje pusėje)
2. didžioji anga
3. fiksatoriai
4. mova
5. spiralės
6. plakikliai
7. angos išėmimo mygtukas
8. greičio kontrolė,
turbo režimas
9. rankena
Svarbios saugumo taisyklės
Laikykitės pagrindinių saugumo taisyklių, įskaitant šias:
1.Šiuo prietaisu galima naudotis tiktai esant veiksniam suaugusiam žmogui šalia.
Naudokite prietaisą ir laikykite jį vaikams nepasiekiamoje vietoje.
2. Nedėkite šio prietaiso į skystį, nesinaudokite juo vonios kambaryje, netoli vandens ar ne patalpose.
3.Saugokite pirštus, plaukus, audinius ir virtuvės reikmenis nuo plakiklių/spiralių.
4. Prietaiso laidas turi būti padėtas taip, kad jis niekur nekabotų ir kad už jo nebūtų galima
užkliūti ir pargriūti.
5. Nepalikite prietaiso be priežiūros, jeigu jis įjungtas į elektros tinklą.
6. Naudokite tiktai mūsų pristatytus pagalbinius prietaisus.
7. Neleiskite niekam užblokuoti angos.
8. Laikykite prietaisą ir jo laidą atokiau nuo karštų paviršių ir degiklių.
9. Nenaudokite prietaiso, jeigu jis sugedęs arba neveikia taip, kaip reikia.
10. Prietaisą galima naudoti tiktai šioje instrukcijoje aprašytu tikslu.
11. Jeigu sugedęs prietaiso laidas, jį pakeisti gali tiktai gamintojas, jo serviso atstovas ar panašios
kvalifikacijos asmuo, kad išvengtumėte bet kokios rizikos.
Tiktai naudojimui buitinėmis sąlygomis
Plakiklių/spiralių uždėjimas
Prieš uždėdami ar nuimdami antgalius, išjunkite mikserį ir atjunkite jį iš elektros srovės.
Pasukite kiekvieną antgalį taip, kad jis atsidurtų jam skirtoje angoje ir stumkite, kol jis
brakštelės vietoje.
3.Kiekvienam antgaliui yra skirta atskira anga.
4.Antgaliui su šešiakampio briauna yra skirta atitinkama anga.
1.
2.