Acer Aspire easyStore Datasheet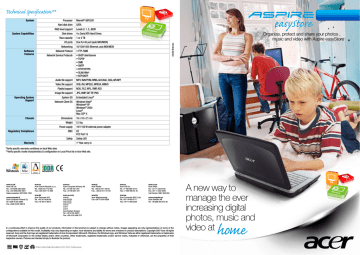 Technical Specification**
Processor
Hard disk drive
RAID level support
System Capabilities
Disk drives
Raw capacity
I/O ports
Networking
Software
Features
Network Protocol
Network Service Protocols
Marvell® 88F5281
SATA
Levels 0, 1, 5, JBOD
Organize, protect and share your photos ,
music and video with Aspire easyStore
4 x Serial ATA Hard Drives
1 or 2 TB
One RJ-45 port (auto MDI/MDIX)
10/100/1000 Ethernet, auto MDI/MDIX
• FTP /SMB
Audio file support
• DHCP client/server
• TCP/IP
• SMB
• SMTP
• HTTP/HTTPS
• DLNA HNv1
• NTP/SNTP
MP3, WAV/PCM, WMA, AC3/AAC, OGG, AIF/AIFF
Video file support
VOB, AVI, MPEG2, MPEG4, WMV9
Playlist support
Image file support
M3U, PLS, WPL, RMP, ASX
JPG, BMP, GIF, TIF, PNG
Operating System
Support
Network Client OS
Windows Vista®
Windows® XP
Windows® 2000
Linux®
Mac OS® X
Chassis
Dimensions
16 x 18 x 21 cm
System OS
Weight
Power supply
Regulatory Compliance
Embedded Linux®
5.3 kg
19 V 150 W external power adapter
EMC
CE
FCC Part 15
Safety
Safety LVD
Warranty
circle-line.eu
System
1* Year carry-in
*Verify specific warranty conditions on local Web sites.
**Verify specific model characteristics & configuration on Local Price list or Acer Web site.
linux
acer.co.uk
Acer UK Ltd
Tel. +44-0208 283 3000
Fax +44-0208 283 3001
Sales enquiries: 0870 853 1005
acercomputer.fi
Acer Computer Finland Oy
Tel +358-9-225 2690
Fax +358-9-225 26916
acer.cz
Acer Czech Republic s.r.o.
Tel. +420 244 112 555
Fax +420 244 112 599
acer.no
Acer Computer Norway AS
Tel. +47-66-761 070
Fax +47-66-901 031
acer.pl
Acer Polska
Tel. +48-22-471-06-00
Fax. +48-22-471-07-00
acer.ru
Acer CIS Inc
Tel. +7 495 980 54 44
Fax +7 495 980 54 43
acer.dk
Acer Denmark A/S
Tel. +45 39 16 88 00
Fax +45 39 16 88 01
acer-ee.com
acer.hu
Acer Magyarország
Fax +36-1-33-6-3309
acer.ae
Acer Computer (M.E.) Ltd.
Tel. +97-14-8813111
Fax +97-14-8812200
acer.bg
acer.com/ee
acer.com/hr
acer.com/si
acer.ua
acer.lv
acer.ro
acer.co.za
Acer Africa
Tel. +27 11 233-6100
Fax +27 11 233-6200
Call Centre: 0861 653 653
acercomputer.se
Acer Sweden AB
Tel. +46 (0)8 505 573 50
Acer Eastern Europe
Tel. +49-4102-488 0
Fax +49-4102-488 270
In a continuing effort to improve the quality of our products, information in this brochure is subject to change without notice. Images appearing are only representations of some of the
configurations available for this model. Availability may vary depending on region. Acer disclaims any liability for errors and omissions in product descriptions. Copyright 2007 Acer. All rights
reserved. Acer and the Acer logo are registered trademarks of Acer Incorporated. Microsoft, Windows, the Windows logo, and Windows Vista are either registered trademarks or trademarks
of Microsoft Corporation in the United States and/or other countries. Other trademarks, registered trademarks and/or service marks, indicated or otherwise, are the properties of their
respective owners. Pictures are intended simply to illustrate the product.
A new way to
manage the ever
increasing digital
photos, music and
video at
home
acer-euro.com
Organize, protect and share...
Organize your home digital library
Up to 500,000* digital photos, 300,000* mp3, 4285
hours* of movie can be kept together in one place on
Aspire easyStore, no more digital photos scattered and
forgotten on different computers at work and around the
house, no more mp3 files stored on different iTune players
and not easily exchangeable.
The heart of the new
digital
home
* + based on 3MB per photo, 5MB per MP3 file, 350MB per hour
playing time of divx AV file.
Aspire easyStore is so quiet that you won't
even notice it. With its energy saving design,
it consumes less than 50%** of the power
consumption of your home computer. Worry
about yet another cable running through your
home? Aspire easyStore can be connected to
your home network wirelessly, you can put place
it anywhere you'd like.
Aspire easyStore brings more freedom to everyone. You
and your family can access to the same photos, music and
video stored on Aspire easyStore simultaneously where
ever you are.
18cm
** base on total power consumption of a typical PC and monitor
of no more than 175 Watts of energy at its highest rate.
Share photos and music
with family and friends
21cm
EASIER INTERGRATION WITH YOUR NETWORK
BEYOND YOUR HOME
• Built-in DHCP server and client, Aspire easyStore is
automatically integrated into your home network with
built in DHCP support.
• Built-in FTP server, you can share your music,
photos on Aspire easyStore at home to your friends
anywhere they are.
• Built-in UPnP AV and iTune Server allow streaming
music directly to iTune player and UPnP compatible
media players without additional setup effort.
16cm
Protect your precious memories...
Everyday Aspire easyStore automatically saves a copy of
important files from every computer connected at home. You can
rest at ease knowing your files are kept safe on easyStore even if
you accidentally delete the originals on your PC or if you suffer a
computer malfunction. Your photos, music and files get additional
security on Aspire easyStore with protection against failure of any
one of the four hard drives of Aspire easyStore.

* Your assessment is very important for improving the workof artificial intelligence, which forms the content of this project