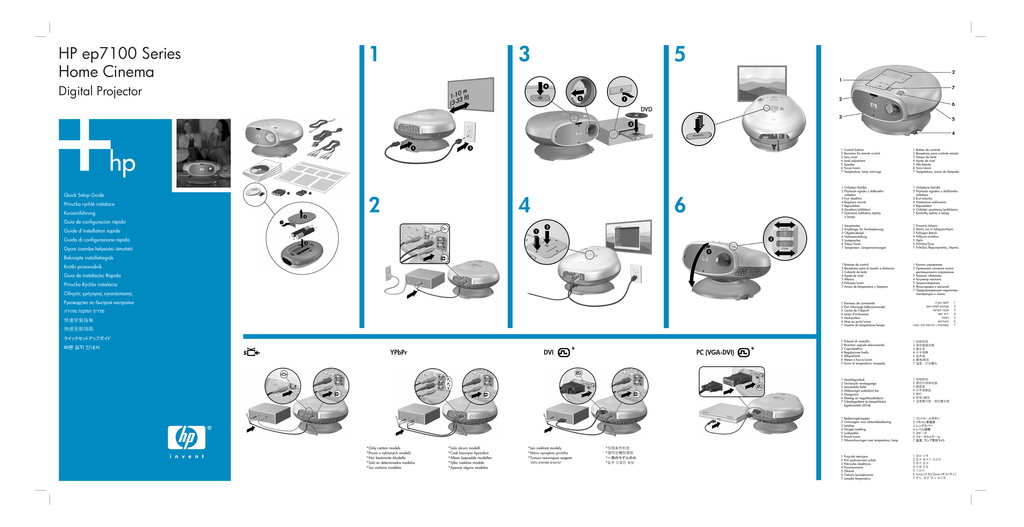 1
HP ep7100 Series
Home Cinema
3
5
Digital Projector
1
2
3
4
5
6
7
Quick Setup Guide
Píručka rychlé instalace
Kurzeinführung
Guía de configuración rápida
Guide d'installation rapide
1
2
6
4
Guida di configurazione rapida
Gyors üzembe helyezési útmutató
Control buttons
Receivers for remote control
Lens cover
Level adjustment
Speaker
Focus/zoom
Temperature, lamp warnings
1
2
3
4
5
6
7
Botões de controle
Receptores para controle remoto
Tampa da lente
Ajuste de nível
Alto-falante
Foco/zoom
Temperatura, avisos da lâmpada
1 Ovládací tlačítka
2 Pijímače signálu z dálkového
ovládání
3 Kryt objektivu
4 Regulace úrovn
5 Reproduktor
6 Zaostení/piblížení
7 Výstražné indikátory teploty
a lampy
1 Ovládacie tlačidlá
2 Prijímače signálov z diakového
ovládača
3 Kryt šošovky
4 Nastavenie naklonenia
5 Reproduktor
6 Ovládač zaostrenia/priblíženia
7 Kontrolky teploty a lampy
1
2
3
4
5
6
7
Steuertasten
Empfänger für Fernbedienung
Objektivdeckel
Höheneinstellung
Lautsprecher
Fokus/Zoom
Temperatur-, Lampenwarnungen
1
2
3
4
5
6
7
1
2
3
4
5
6
7
Botones de control
Receptores para el mando a distancia
Cubierta de lente
Ajuste de nivel
Altavoz
Enfoque/zoom
Avisos de temperatura y lámpara
1 2 3 4 5 6 7 1
2
3
4
5
6
7
Panneau de commande
Port infrarouge (télécommande)
Cache de l'objectif
Levier d'inclinaison
Haut-parleur
Mise au point/zoom
Voyants de température/lampe
1
2
3
4
5
6
7
Pulsanti di controllo
Ricevitori segnale telecomando
Copriobiettivo
Regolazione livello
Altoparlante
Messa a fuoco/zoom
Avvisi di temperatura, lampada
1
2
3
4
5
6
7
Vezérlgombok
Távirányító vevegysége
Lencsevéd fedél
Dlésszöget szabályzó kar
Hangszóró
Élesség- és nagyításszabályzó
Túlmelegedésre és lámpahibára
figyelmeztet LED-ek
1
2
3
4
5
6
7
Bedieningsknoppen
Ontvangers voor afstandsbediening
Lenskap
Hoogte-instelling
Luidspreker
Focus/zoom
Waarschuwingen over temperatuur, lamp
1
2
3
4
5
6
7
Przyciski sterujce
Port podczerwieni pilota
Pokrywka obiektywu
Poziomowanie
Głonik
Ostroć/powikszenie
Lampka temperatury
µ ∆
µµ µ !/"µ
!
#
µ, µ
Beknopte installatiegids
Krótki przewodnik
Guia de Instalação Rápida
Príručka Rýchla inštalácia
! !
YPbPr
*Only certain models
*Pouze u vybraných model
*Nur bestimmte Modelle
*Sólo en determinados modelos
*Sur certains modèles
DVI
*Solo alcuni modelli
*Csak bizonyos típusokon
*Alleen bepaalde modellen
*Tylko niektóre modele
*Apenas alguns modelos
*
*Len niektoré modely
* µ µ
*" PC (VGA-DVI)
*
Safety Precautions
Precauciones de seguridad
WARNING: Read and observe these precautions to reduce the risk of
injury and equipment damage.
• Do not look directly into the lens when the lamp is on.
• Do not expose the projector to rain or other moisture, and do not use it near water.
• Keep paper, plastic, and combustible material at least 0.5 meter (2 feet) away from
the projector lens and exhaust vents
• The digital projector lamp contains a small amount of mercury. If the lamp breaks,
adequately ventilate the area where the breakage occurred. See the manual for
disposal suggestions.
• Do not allow liquid, food, or small objects to get inside the projector.
• Do not block any vents on the projector. Do not place the projector near any
source of heat, such as a radiator or amplifier.
• Use only an approved power cord rated for the voltage and current marked on the
product label. Do not overload any outlet or extension cord. Do not circumvent the
grounding prong on the power cord.
• Do not open the projector except as instructed by the manual, and only after
allowing the projector to cool down.
Where to go next
• For information about operation, troubleshooting, warranty, and support, refer to
the user guide available in additional languages on the documentation CD.
• To register your projector, visit http://www.register.hp.com.
ADVERTENCIA: Lea y siga estas precauciones para reducir el riesgo
de sufrir lesiones y daños en el equipo.
VAROVÁNÍ: Pečliv si prostudujte následující bezpečnostní opatení,
abyste snížili riziko úrazu a poškození zaízení.
• Nedívejte se pímo do objektivu, jestliže je zapnutá lampa.
• Nevystavujte projektor dešti a vlhku a nepoužívejte jej v blízkosti vody.
• Papír, plast a holavé materiály uchovávejte ve vzdálenosti alespo 0,5 m
od objektivu projektoru a vtracích otvor.
• Lampa digitálního projektoru obsahuje malé množství rtuti. Pokud se lampa rozbije,
prostor, ve kterém došlo k rozbití, dostatečn vyvtrejte. Pokyny k likvidaci
naleznete v píručce.
• Zabrate vniknutí kapalin, zbytk jídla a malých pedmt do projektoru.
• Nezakrývejte žádné vtrací otvory projektoru. Neumísujte projektor do blízkosti
zdroj tepla, napíklad vedle topení nebo zesilovače.
• Používejte pouze schválené síové šry, které odpovídají píslušnému naptí
a proudu uvedenému na štítku výrobku. Nepetžujte žádnou zásuvku ani
prodlužovací šru. Neporušujte uzemovací kolík na kabelu napájení.
• Krom pípad popsaných v píručce nikdy projektor neotevírejte. Ped otevením
nechte projektor vždy vychladnout.
Az esetleges sérülések és a készülék károsodásának
elkerülése végett olvassa el és tartsa be az alábbi elírásokat.
AVISO:
Leia e observe estas precauções para reduzir o risco de
lesões e de danos ao equipamento.
• Não olhe diretamente para a lente quando a lâmpada estiver acesa.
• Não exponha o projetor a chuva ou umidade, e não o use perto da água.
• Mantenha papéis, plásticos e outros materiais combustíveis a pelo menos
0,5 m (2 pés) de distância das lentes e do exaustor do projetor.
• A lâmpada do projetor digital contém uma pequena quantidade de mercúrio.
Se a lâmpada quebrar, ventile adequadamente a área. Consulte as sugestões
de descarte contidas no manual.
• Não deixe cair líquidos, alimentos ou pequenos objetos dentro do projetor.
• Não bloqueie os exaustores do projetor. Não coloque o projetor perto de
nenhuma fonte de calor, como radiador ou amplificador.
• Use somente cabos de alimentação aprovados, identificados com a tensão e a
corrente marcadas na etiqueta do produto. Não sobrecarregue tomadas ou cabos
de extensão. Não enrole o cabo de alimentação no pino de aterramento.
• Não abra o projetor, exceto quando instruído pelo manual, e somente depois que
o projetor esfriar.
• .
• .
• , 0,5 ! .
• " # . $ ,
! !# %. &' . .
• , % ! .
• ! . , , .
• &
# , % . . (
.
• , .
( , , .
További információ
Aonde ir agora
Dónde acudir
• A mködtetésrl, jótállásról, hibaelhárításról és támogatásról bvebb információt
a mellékelt dokumentációs CD-n található, több nyelven rendelkezésre álló
felhasználói kézikönyvben talál.
• A kivetít regisztrálásához látogasson el a http://www.register.hp.com webhelyre.
Consignes de sécurité
Veiligheidsvoorschriften
Bezpečnostné opatrenia
WAARSCHUWING:
AVERTISSEMENT : pour limiter les risques de blessure de l'utilisateur et
de détérioration de l'appareil, lisez attentivement et respectez
scrupuleusement ces consignes de sécurité.
Neem deze voorschriften in acht om het risico
van lichamelijk letsel en beschadiging van het
apparaat te voorkomen.
• Para informações sobre operação, solução de problemas, garantia e suporte,
veja o guia do usuário disponível em outros idiomas no CD da documentação.
• Para registrar o projetor, visite http://www.register.hp.com.
UPOZORNENIE:
Prečítajte si a dodržiavajte tieto opatrenia, aby
ste znížili riziko poranenia a poškodenia zariadenia.
• Ak je lampa zapnutá, nepozerajte sa priamo do šošovky.
• Projektor nevystavujte dažu ani vlhkému prostrediu a nepoužívajte ho v blízkosti vody.
• Papier, plasty a iné hor
avé materiály skladujte vo vzdialenosti najmenej 0,5 m
od šošoviek a výstupných vetracích otvorov projektora.
• Lampa digitálneho projektora obsahuje malé množstvo rtuti. Ak lampa praskne,
vyvetrajte miestnos, v ktorej k prasknutiu došlo. Pokyny pre vyradenie
nájdete v príručke.
• Zabráte preniknutiu kvapalín, jedla alebo malých objektov dovnútra projektora.
• Nezakrývajte vetracie otvory projektora. Nepoužívajte projektor v blízkosti
zdrojov tepla, ako sú napríklad radiátory alebo zosilovače.
• Používajte iba schválený typ napájacieho kábla, ktorý musí by dimenzovaný pre daný
produkt a pre napätie a prúd uvedené na štítku produktu. Nepreažujte zásuvku ani
predlžovaciu šnúru. Používajte uzemovací vodič napájacieho kábla.
• Projektor otvárajte len pod
a pokynov v príručke a až potom, ako po vypnutí
dostatočne vychladne.
• Ne regardez pas directement l'objectif lorsque la lampe est allumée.
• Maintenez le projecteur à l'abri de la pluie ou de l'humidité et ne l'utilisez pas à
proximité d'un point d'eau.
• Eloignez l'objectif et le système de ventilation du projecteur de tout papier,
plastique ou autre matériau combustible (0,5 m au moins).
• La lampe de ce projecteur numérique contient une petite quantité de mercure. Si la
lampe se casse, aérez la pièce ou l'endroit où se trouve le projecteur. Pour les
instructions relatives à la mise au rebut, consultez le manuel de l'utilisateur.
• Evitez que des liquides, de la nourriture ou de petits objets ne pénètrent dans le
projecteur.
• Evitez d'obstruer le système de ventilation du projecteur. Ne posez pas le
projecteur à proximité d'une source de chaleur telle qu'un radiateur ou un
amplificateur.
• Utilisez uniquement un cordon d'alimentation certifié pour la tension et l'intensité
indiquées sur l'étiquette du produit. Ne surchargez pas une prise secteur ou une
rallonge. Assurez-vous que la broche terre est bien reliée au cordon d'alimentation.
• N'ouvrez pas le projecteur sauf mention contraire dans le manuel de l'utilisateur, et
en prenant soin de laisser le projecteur refroidir au préalable.
• Informace o provozu, ešení potíží, záruce a podpoe najdete v uživatelské
píručce, která je k dispozici v dalších jazycích na disku CD-ROM s dokumentací.
• Chcete-li projektor zaregistrovat, navštivte stránku http://www.register.hp.com.
• Kijk niet direct in de lens als de lamp aan is.
• Stel de projector niet bloot aan regen of ander vocht en gebruik de projector niet
in de buurt van water.
• Houd papier, plastic en brandbaar materiaal ten minste 0,5 meter (2 voet)
verwijderd van de projectorlens en de ventilatieopeningen.
• De lamp van de digitale projector bevat een kleine hoeveelheid kwik. Als de lamp
breekt, moet u de ruimte waarin dit is gebeurd, goed ventileren. Zie de
handleiding voor tips over het wegwerpen van afval.
• Voorkom dat vloeistof, voedsel of kleine voorwerpen in de projector terechtkomen.
Laat ruimte open voor de ventilatieopeningen van de projector. Plaats de projector
niet in de buurt van een warmtebron, zoals een radiator of versterker.
• Gebruik uitsluitend een goedgekeurd netsnoer dat geschikt is voor de waarden
voor spanning en stroom die op het productlabel worden aangegeven. Zorg
ervoor dat u het stopcontact of een verlengsnoer niet overbelast. Het netsnoer moet
worden aangesloten op een contactdoos met een gat voor de aarde-pen.
• Open de projector uitsluitend indien daartoe geïnstrueerd door de handleiding en
pas nadat u de projector hebt laten afkoelen.
Pour plus d'informations
Meer informatie
• Informácie o používaní, riešení problémov, záruke a technickej podpore nájdete
v príručke používate
a, ktorá je k dispozícii v alších jazykoch na disku CD
s dokumentáciou.
• Ak chcete zaregistrova svoj projektor, navštívte adresu http://www.register.hp.com.
Vorsichtsmaßnahmen
Precauzioni di sicurezza
Zalecenia dotyczce bezpieczestwa
Zdroje dalších informací
WARNUNG: Beachten Sie diese Hinweise, um die Verletzungsgefahr
und das Risiko von Geräteschäden zu minimieren.
• Schauen Sie nicht direkt in die Linse, wenn die Lampe eingeschaltet ist.
• Setzen Sie den Projektor nicht Regen oder Feuchtigkeit aus, und verwenden Sie
ihn nicht in der Nähe von Wasserquellen.
• Halten Sie Papier, Kunststoff und anderes brennbares Material mindestens 0,5 m
(2') vom Projektorobjektiv und den Entlüftungsöffnungen entfernt.
• Die Lampe des Digitalprojektors enthält eine geringe Menge an Quecksilber.
Wenn die Lampe zerspringt, müssen Sie für eine angemessene Belüftung der
Umgebung sorgen. Hinweise zur Entsorgung enthält das Benutzerhandbuch.
• Achten Sie darauf, dass keine Flüssigkeiten, Speisereste oder andere kleine
Objekte in den Projektor gelangen.
• Blockieren Sie keine am Projektor befindlichen Entlüftungsschlitze. Stellen Sie den
Projektor nicht in der Nähe von Wärmequellen wie Heizungen oder Verstärkern
auf.
• Verwenden Sie ausschließlich ein zertifiziertes Netzkabel, das für die auf dem
Produktetikett angegebene Spannung und Stromstärke zugelassen ist. Legen Sie
keine Überlast am Stromanschluss oder am Verlängerungskabel an. Sie dürfen die
Erdungsvorrichtung am Netzkabel nicht umgehen.
• Öffnen Sie den Projektor nur, wenn Sie im Handbuch ausdrücklich dazu aufgefordert werden und der Projektor sich ausreichend abgekühlt hat.
Nächste Schritte
• Weitere Informationen zum Betrieb, zur Fehlerbehebung, zur Garantie und zum
Support finden Sie im Benutzerhandbuch, das auf der Dokumentations-CD in
verschiedenen Sprachen zur Verfügung steht.
• Unter http://www.register.hp.com können Sie Ihren Projektor registrieren lassen.
: .
• Ne nézzen közvetlenül a lencsébe, ha a kivetít lámpája világít.
• Ne használja a kivetítt esben vagy nedves környezetben, illetve víz közelében.
• Ne helyezzen a kivetít lencséjéhez és szellznyílásához fél méternél közelebb
papírt, manyagot vagy más éghet anyagot.
• A kivetít lámpája kis mennyiség higanyt tartalmaz. A lámpa összetörése esetén
megfelelen szellztesse ki a helyiséget. A törött lámpaegység begyjtésével
kapcsolatos további információt a kézikönyvben talál.
• Ne hagyja, hogy folyadék, étel vagy kisméret tárgy kerüljön a kivetítbe.
• Ne takarja el a kivetít szellznyílásait. Ne helyezze a kivetítt hforrás, például
radiátor vagy ersít közelébe.
• Csak a készülék címkéjén jelzett feszültség- és áramersség-követelményeknek
megfelel minsítéssel rendelkez tápvezetéket használjon. Ne terhelje túl a hálózati
konnektort vagy a hosszabbító vezetéket. Ne iktassa ki a tápvezeték földelését.
• A készüléket csak a használati utasításban foglaltak szerinti esetben és módon nyissa
fel, és csak azt követen, hogy a kivetít lehlt.
• No mire directamente a la lente cuando la lámpara esté encendida.
• No exponga el proyector a la lluvia ni a ningún tipo de humedad, ni lo utilice cerca
de agua.
• Mantenga el papel, el plástico y los materiales combustibles como mínimo a 0,5 metros
(2 pies) de la lente del proyector y del conducto de ventilación de escape.
• La lámpara del proyector digital contiene una pequeña cantidad de mercurio.
Si se rompe, ventile de forma adecuada la zona en la que se produzca la rotura.
Consulte el manual para obtener instrucciones sobre cómo deshacerse de este
material.
• No deje que entre líquido, comida o pequeños objetos dentro del proyector.
• No bloquee ningún conducto de ventilación del proyector. No coloque el proyector
cerca de fuentes de calor, como un radiador o un amplificador.
• Utilice únicamente un cable de alimentación aprobado y específico para el voltaje
y la corriente indicada en la etiqueta del producto. No sobrecargue ninguna salida
ni prolongador. No manipule el extremo de la conexión a tierra del cable de
alimentación.
• No abra el proyector excepto cuando así se indique en el manual, y sólo tras haber
dejado que éste se enfríe.
• Para obtener información sobre el funcionamiento, la solución de problemas,
la garantía y la asistencia, consulte la guía del usuario que se ofrece en varios
idiomas en el CD de documentación.
• Para registrar el proyector, visite http://www.register.hp.com.
Bezpečnostní opatení
Figyelem!
Precauções de segurança
Biztonsági elírások
• Pour obtenir des informations sur le fonctionnement, le dépannage, la garantie et
l'assistance, consultez le manuel de l'utilisateur fourni sur le CD de documentation,
disponible dans plusieurs langues.
• Pour enregistrer votre projecteur, rendez-vous sur le site
http://www.register.hp.com.
• Raadpleeg de gebruikershandleiding voor informatie over bediening,
probleemoplossing, garantie en ondersteuning. De handleiding is in meerdere
talen beschikbaar op de documentatie-cd.
• Ga naar http://www.register.hp.com voor registratie van de projector.
UWAGA:
AVVERTENZA: Leggere attentamente ed osservare le seguenti
precauzioni per ridurre il rischio di ferirsi e danneggiare l'apparecchio.
• Non guardare direttamente nell'obiettivo quando la lampada è accesa.
• Non esporre il proiettore a pioggia o umidità e non utilizzarlo in luoghi dove
potrebbe venire a contatto con l'acqua.
• Tenere carta, plastica ed altro materiale infiammabile ad almeno 0,5 m
dall'obiettivo del proiettore e dalle fessure di ventilazione.
• Nella lampada è presente una piccola quantità di mercurio. Se la lampada si
rompe, ventilare adeguatamente la stanza dove si è verificato il problema. Per
informazioni sullo smaltimento della lampada, vedere il manuale.
• Accertarsi che nel proiettore non entrino liquidi, cibo o piccoli oggetti.
• Non bloccare le fessure di ventilazione del proiettore. Non posizionare il proiettore
vicino ad una fonte di calore (come, ad esempio, un radiatore o un amplificatore).
• Usare solo un cavo di alimentazione approvato per la tensione e la corrente
contrassegnate sull'etichetta del prodotto. Non sovraccaricare la presa di corrente
o la prolunga. Non isolare lo spinotto di terra della spina.
• Non aprire il proiettore, se non nei casi specificatamente indicati nel manuale e
attendendo sempre che il proiettore si sia raffreddato.
Dove reperire altre informazioni
• Per informazioni su uso, risoluzione dei problemi, garanzia e supporto, vedere la
guida d'uso fornita in varie lingue sul CD della documentazione.
• Per registrare il proiettore, visitare il sito http://www.register.hp.com.
Aby obniyć ryzyko obrae i uszkodzenia urzdze,
przestrzegaj poniszych zasad
• Nie patrz bezporednio w obiektyw, gdy pracuje lampa.
• Nie wystawiaj projektora na działanie deszczu i wilgoci oraz nie korzystaj z niego
zbyt blisko wody.
• Trzymaj papier, plastik i inne łatwopalne materiały w odległoci nie mniejszej ni
0,5 m od obiektywu i otworów wentylacyjnych projektora, aby uniknć ryzyka
poaru.
• Lampa projektora cyfrowego zawiera niewielk iloć rtci. W przypadku pknicia
lampy wywietrz dobrze pomieszczenie, w którym nastpiła awaria. Informacje na
temat utylizacji znajdziesz w podrczniku.
• Nie pozwól, aby jakakolwiek ciecz, jedzenie czy inne małe obiekty dostały si do
wntrza projektora.
• Nie przykrywaj otworów wentylacyjnych projektora. Nie stawiaj projektora
w pobliu ródła ciepła, np. kaloryfera lub wzmacniacza.
• Korzystaj tylko z zatwierdzonego przewodu zasilajcego dostosowanego do
napicia i prdu podanego na etykiecie urzdzenia. Nie dopuszczaj do
przecienia gniazdek sieciowych i przedłuaczy. Nie próbuj omijać podłczenia
projektora do bolca uziemiajcego.
• Rozbieraj projektor tylko zgodnie z opisem w instrukcji obsługi, zawsze dopiero po
jego ochłodzeniu.
Co dalej
• Informacje na temat uytkowania, rozwizywania problemów, gwarancji
i pomocy technicznej znajdziesz w podrczniku uytkownika dostpnego take
w innych jzykach na płycie CD z dokumentacj.
• Projektor mona zarejestrować na stronie http://www.register.hp.com.
© 2004 Hewlett-Packard Development Company L.P.
Printed in China
www.hp.com
5187-6960
alšie kroky
∆.: ∆ µ µµ µ.
• µ µµ
.
• µ
µ
.
• ! , 0,5 µ (2 )
µ .
• " µ µ . # µ ,
. $ %
, .
• , µ µ µ .
• µ& . µ
, .
• '
µ µ µ µ
*. & . .
• µ µ .
µ µ
• $ , µ
µ, , µ CD.
• $ , www.register.hp.com.
• &' , , ! . , ! ! - .
• %
: http://www.register.hp.com.