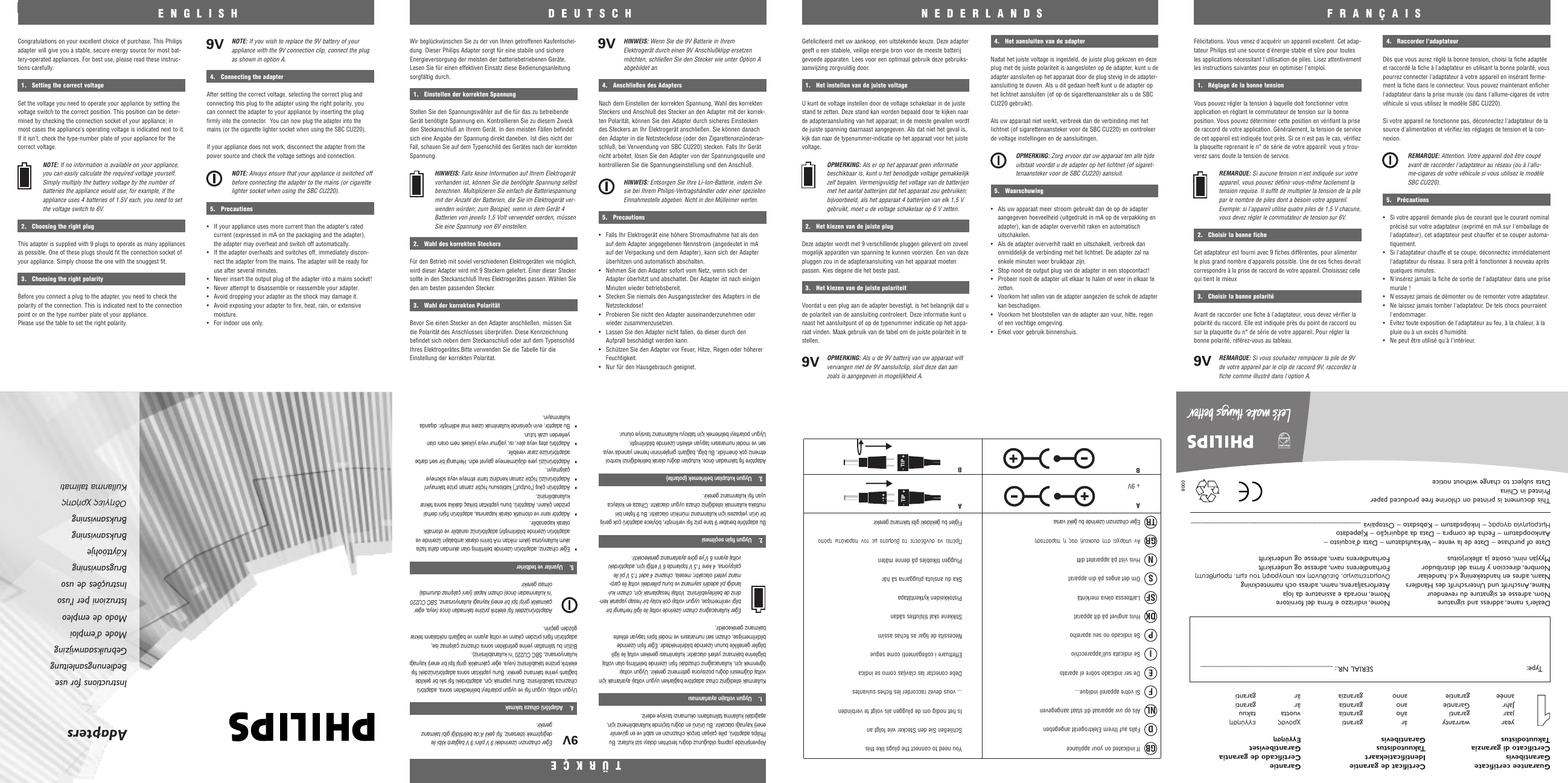 OPMERKING: Zorg ervoor dat uw apparaat ten alle tijde
uitstaat voordat u de adapter op het lichtnet (of sigarettenaansteker voor de SBC CU220) aansluit.
• Als uw apparaat meer stroom gebruikt dan de op de adapter
aangegeven hoeveelheid (uitgedrukt in mA op de verpakking en
adapter), kan de adapter oververhit raken en automatisch
uitschakelen.
• Als de adapter oververhit raakt en uitschakelt, verbreek dan
onmiddelijk de verbinding met het lichtnet. De adapter zal na
enkele minuten weer bruikbaar zijn.
• Stop nooit de output plug van de adapter in een stopcontact!
• Probeer nooit de adapter uit elkaar te halen of weer in elkaar te
zetten.
• Voorkom het vallen van de adapter aangezien de schok de adapter
kan beschadigen.
• Voorkom het blootstellen van de adapter aan vuur, hitte, regen
of een vochtige omgeving.
• Enkel voor gebruik binnenshuis.
2. Choisir la bonne fiche
3. Choisir la bonne polarité
Avant de raccorder une fiche à l'adaptateur, vous devez vérifier la
polarité du raccord. Elle est indiquée près du point de raccord ou
sur la plaquette du n° de série de votre appareil. Pour régler la
bonne polarité, référez-vous au tableau.
REMARQUE: Si vous souhaitez remplacer la pile de 9V
de votre appareil par le clip de raccord 9V, raccordez la
fiche comme illustré dans l'option A.
1
year
jaar
Jahr
année
Guarantee certificate
Garantibevis
Certificato di garanzia
Takuutodistus
warranty
garanti
Garantie
garantie
år
año
ano
anno
TR
GR
N
Forhandlerens navn, adresse og underskrift
Forhandlerens navn, adresse og underskrift
S
√ÓÔÌ·ÙÂÒÓÌÔ, ‰È‡ı˘ÓÛË Î·È ˘ÔÁÚ·Ê‹ ÙÔ˘ ÂÌ. ÚÔÌËı¢ÙË
SERIAL NR.: ---------------------------------------------------------------------------------------------------------
Type:
garanti
garantia
garantia
garanzia
Certificat de garantie
Identificatiekaart
Takuutodistus
Garantibevis
takuu
garanti
garanti
vuotta
år
år
ÂÁÁ‡ËÛË
¯ÚfiÓÛ˜
- TIP +
5. Précautions
• Si votre appareil demande plus de courant que le courant nominal
précisé sur votre adaptateur (exprimé en mA sur l'emballage de
l'adaptateur), cet adaptateur peut chauffer et se couper automatiquement.
• Si l'adaptateur chauffe et se coupe, déconnectez immédiatement
l'adaptateur du réseau. Il sera prêt à fonctionner à nouveau après
quelques minutes.
• N'insérez jamais la fiche de sortie de l'adaptateur dans une prise
murale !
• N'essayez jamais de démonter ou de remonter votre adaptateur.
• Ne laissez jamais tomber l'adaptateur. De tels chocs pourraient
l'endommager.
• Evitez toute exposition de l'adaptateur au feu, à la chaleur, à la
pluie ou à un excès d'humidité.
• Ne peut être utilisé qu'à l'intérieur.
Cet adaptateur est fourni avec 9 fiches différentes, pour alimenter
le plus grand nombre d'appareils possible. Une de ces fiches devrait
correspondre à la prise de raccord de votre appareil. Choisissez celle
qui tient le mieux
0008
Efier cihazınızın üzerinde bu fiekil varsa
An ypÅrxei sth syskey˙ saw h parÅstash
Hvis vist på apparatet ditt
Om det anges på din apparat
Laitteessa oleva merkintä
SF
Hvis angivet på dit apparat
DK
Se indicado no seu aparelho
P
Se indicata sull'apparecchio
I
E
F
De ser indicado sobre el aparato
Si votre appareil indique...
- TIP +
REMARQUE: Attention. Votre appareil doit être coupé
avant de raccorder l'adaptateur au réseau (ou à l'allume-cigares de votre véhicule si vous utilisez le modèle
SBC CU220).
REMARQUE: Si aucune tension n'est indiquée sur votre
appareil, vous pouvez définir vous-même facilement la
tension requise. Il suffit de multiplier la tension de la pile
par le nombre de piles dont a besoin votre appareil.
Exemple: si l'appareil utilise quatre piles de 1,5 V chacune,
vous devez régler le commutateur de tension sur 6V.
5. Waarschuwing
OPMERKING: Als u de 9V batterij van uw apparaat wilt
vervangen met de 9V aansluitclip, sluit deze dan aan
zoals is aangegeven in mogelijkheid A.
- +
Si votre appareil ne fonctionne pas, déconnectez l'adaptateur de la
source d'alimentation et vérifiez les réglages de tension et la connexion.
Nome, indirizzo e firma del fornitore
Nome, morada e assinature da loja
Återforsaljarens, namn, adress och namnteckning
Voordat u een plug aan de adapter bevestigt, is het belangrijk dat u
de polariteit van de aansluiting controleert. Deze informatie kunt u
naast het aansluitpunt of op de typenummer indicatie op het apparaat vinden. Maak gebruik van de tabel om de juiste polariteit in te
stellen.
Vous pouvez régler la tension à laquelle doit fonctionner votre
application en réglant le commutateur de tension sur la bonne
position. Vous pouvez déterminer cette position en vérifiant la prise
de raccord de votre application. Généralement, la tension de service
de cet appareil est indiquée tout près. Si ce n'est pas le cas, vérifiez
la plaquette reprenant le n° de série de votre appareil: vous y trouverez sans doute la tension de service.
Als uw apparaat niet werkt, verbreek dan de verbinding met het
lichtnet (of sigarettenaansteker voor de SBC CU220) en controleer
de voltage instellingen en de aansluitingen.
Dealer's name, address and signature
Nom, adresse et signature du revendeur
Name, Anschrift und Unterschrift des Händlers
Naam, adres en handtekening v.d. handelaar
Nombre, direccion y firma del distribudor
Myyjän nimi, osoite ja allekirjoitus
3. Het kiezen van de juiste polariteit
1. Réglage de la bonne tension
---------------------------------------------------------------------------------------------------------------------------------------
Fifileri bu fiekildeki gibi takmanız gerekir
Pr‰pei na synd‰sete ta b¥smata me ton parakÅtv trØpo
Ska du ansluta pluggarna så här
Pistokkeiden kytkentätapa
D
Als op uw apparaat dit staat aangegeven
Falls auf Ihrem Elektrogerät angegeben
GB
If indicated on your appliance
5.
Necessita de ligar as fichas assim
Effettuare i collegamenti come segue
Debe conectar las clavijas como se indica
Kullanmak istedifiiniz cihazı adaptöre bafilarken uygun voltajı ayarlamak için
voltaj düfimesini dofiru pozisyona getirmeniz gerekir. Uygun voltajı
öfirenmek için, kullanacafiınız cihazdaki fi‹in üzerinde belirtilmi‹ olan voltaj
bilgilerine bakmanız yeterli olacaktır: kullanılması gereken voltaj ile ilgili
bilgiler genellikle bunun üzerinde bildirilmektedir. Efier fi‹in üzerinde
bildirilmemi‹se, cihazın seri numarasını ve model tipini ta‹ıyan etikete
bakmanız gerekecektir.
... vous devez raccorder les fiches suivantes
Is het nodig om de pluggen als volgt te verbinden
Schließen Sie den Stecker wie folgt an
You need to connect the plugs like this
Uyarılar ve tedbirler
Adaptörünüzdeki fi‹i elektrik prizine takmadan önce (veya, efier
çakmaklık giri‹i tipi bir enerji kaynafiı kullanıyorsanız, SBC CU220
'ni kullanmadan önce) cihazın kapalı (yani çalı‹maz durumda)
olması gerekir
Stikkene skal tilsluttes sådan
1.
NL
Uygun fi‹in seçilmesi
Efier kullanacafiınız cihazın üzerinde voltaj ile ilgili herhangi bir
bilgi verilmemi‹se, uygun voltajı çok kolay bir hesap yaparak kendiniz de belirleyebilirsiniz. Voltajı hesaplamak için, cihazın kullandıfiı pil adedini saymanız ve bunu pillerdeki voltaj ile çarpmanız yeterli olacaktır; mesela, cihazınız 4 adet 1.5 V pil ile
çalı‹ıyorsa, 4 kere 1.5 V toplamda 6 V ettifii için, adaptördeki
voltaj ayarını 6 V'ye göre ayarlamanız gerekecektir.
Pluggen tilkobles på denne måten
∂ÁÁ‡ËÛË
Garantie
Certificado de garantia
Garantibeviset
2.
Bevor Sie einen Stecker an den Adapter anschließen, müssen Sie
die Polarität des Anschlusses überprüfen. Diese Kennzeichnung
befindet sich neben dem Steckanschluß oder auf dem Typenschild
Ihres Elektrogerätes.Bitte verwenden Sie die Tabelle für die
Einstellung der korrekten Polaritat.
Deze adapter wordt met 9 verschillende pluggen geleverd om zoveel
mogelijk apparaten van spanning te kunnen voorzien. Een van deze
pluggen zou in de adapteraansluiting van het apparaat moeten
passen. Kies degene die het beste past.
Dès que vous aurez réglé la bonne tension, choisi la fiche adaptée
et raccordé la fiche à l'adaptateur en utilisant la bonne polarité, vous
pourrez connecter l'adaptateur à votre appareil en insérant fermement la fiche dans le connecteur. Vous pouvez maintenant enficher
l'adaptateur dans la prise murale (ou dans l'allume-cigares de votre
véhicule si vous utilisez le modèle SBC CU220).
Date of purchase – Date de la vente – Verkaufsdatum – Data d'acquisto –
Aankoopdatum – Fecha de compra – Data da adquirição – Kjøpedato
3. Wahl der korrekten Polarität
2. Het kiezen van de juiste plug
• Falls Ihr Elektrogerät eine höhere Stromaufnahme hat als den
auf dem Adapter angegebenen Nennstrom (angedeutet in mA
auf der Verpackung und dem Adapter), kann sich der Adapter
überhitzen und automatisch abschalten.
• Nehmen Sie den Adapter sofort vom Netz, wenn sich der
Adapter überhitzt und abschaltet. Der Adapter ist nach einigen
Minuten wieder betriebsbereit.
• Stecken Sie niemals den Ausgangsstecker des Adapters in die
Netzsteckdose!
• Probieren Sie nicht den Adapter auseinanderzunehmen oder
wieder zusammenzusetzen.
• Lassen Sie den Adapter nicht fallen, da dieser durch den
Aufprall beschädigt werden kann.
• Schützen Sie den Adapter vor Feuer, Hitze, Regen oder höherer
Feuchtigkeit.
• Nur für den Hausgebrauch geeignet.
4. Raccorder l'adaptateur
∏ÌÂÚÔÌËÓ›· ·ÁÔÚ¿˜ – Inköpsdatum – Købsdato – Ostopäivä
Für den Betrieb mit soviel verschiedenen Elektrogeräten wie möglich,
wird dieser Adapter wird mit 9 Steckern geliefert. Einer dieser Stecker
sollte in den Steckanschluß Ihres Elektrogerätes passen. Wählen Sie
den am besten passenden Stecker.
OPMERKING: Als er op het apparaat geen informatie
beschikbaar is, kunt u het benodigde voltage gemakkelijk
zelf bepalen. Vermenigvuldig het voltage van de batterijen
met het aantal batterijen dat het apparaat zou gebruiken;
bijvoorbeeld, als het apparaat 4 batterijen van elk 1,5 V
gebruikt, moet u de voltage schakelaar op 6 V zetten.
A
2. Wahl des korrekten Steckers
U kunt de voltage instellen door de voltage schakelaar in de juiste
stand te zetten. Deze stand kan worden bepaald door te kijken naar
de adapteraansluiting van het apparaat; in de meeste gevallen wordt
de juiste spanning daarnaast aangegeven. Als dat niet het geval is,
kijk dan naar de typenummer-indicatie op het apparaat voor het juiste
voltage.
5. Precautions
Bu adaptörle beraber 9 tane priz fi‹i verilmi‹tir, böylece adaptörü çok geni‹
bir ürün yelpazesi için kullanmanız mümkün olacaktır. Bu 9 fi‹ten biri
mutlaka kullanmak istedifiiniz cihaza uygun olacaktır. Cihaza en kolayca
uyan fi‹i kullanmanız gerekir.
Uygun voltajı, uygun fi‹i ve uygun polariteyi belirledikten sonra, adaptörü
cihazınıza takabilirsiniz. Bunu yapmak için, adaptördeki fi‹i sıkı bir ‹ekilde
bafilantı yerine takmanız gerekir. Bunu yaptıktan sonra adaptörünüzdeki fi‹i
elektrik prizine takabilirsiniz (veya, efier çakmaklık giri‹i tipi bir enerji kaynafiı
kullanıyorsanız, SBC CU220 'ni kullanabilirsiniz).
Bütün bu talimatları yerine getirdikten sonra cihazınız çalı‹maz ise,
adaptörün fi‹ini prizden çıkarın ve voltaj ayarını ve bafilantı noktalarını tekrar
gözden geçirin.
3. Choosing the right polarity
Before you connect a plug to the adapter, you need to check the
polarity of the connection. This is indicated next to the connection
point or on the type number plate of your appliance.
Please use the table to set the right polarity.
• If your appliance uses more current than the adapter's rated
current (expressed in mA on the packaging and the adapter),
the adapter may overheat and switch off automatically.
• If the adapter overheats and switches off, immediately disconnect the adapter from the mains. The adapter will be ready for
use after several minutes.
• Never insert the output plug of the adapter into a mains socket!
• Never attempt to disassemble or reassemble your adapter.
• Avoid dropping your adapter as the shock may damage it.
• Avoid exposing your adapter to fire, heat, rain, or extensive
moisture.
• For indoor use only.
HINWEIS: Entsorgen Sie Ihre Li-Ion-Batterie, indem Sie
sie bei Ihrem Philips-Vertragshändler oder einer speziellen
Einnahmestelle abgeben. Nicht in den Mülleimer werfen.
Uygun kutupları belirlemek (polarite)
This adapter is supplied with 9 plugs to operate as many appliances
as possible. One of these plugs should fit the connection socket of
your appliance. Simply choose the one with the snuggest fit.
5. Precautions
HINWEIS: Falls keine Information auf Ihrem Elektrogerät
vorhanden ist, können Sie die benötigte Spannung selbst
berechnen. Multiplizieren Sie einfach die Batteriespannung
mit der Anzahl der Batterien, die Sie im Elektrogerät verwenden würden; zum Beispiel, wenn in dem Gerät 4
Batterien von jeweils 1,5 Volt verwendet werden, müssen
Sie eine Spannung von 6V einstellen.
Nach dem Einstellen der korrekten Spannung, Wahl des korrekten
Steckers und Anschluß des Stecker an den Adapter mit der korrekten Polarität, können Sie den Adapter durch sicheres Einstecken
des Steckers an Ihr Elektrogerät anschließen. Sie können danach
den Adapter in die Netzsteckdose (oder den Zigarettenanzünderanschluß, bei Verwendung von SBC CU220) stecken. Falls Ihr Gerät
nicht arbeitet, lösen Sie den Adapter von der Spannungsquelle und
kontrollieren Sie die Spannungseinstellung und den Anschluß.
3.
2. Choosing the right plug
NOTE: Always ensure that your appliance is switched off
before connecting the adapter to the mains (or cigarette
lighter socket when using the SBC CU220).
Stellen Sie den Spannungswähler auf die für das zu betreibende
Gerät benötigte Spannung ein. Kontrollieren Sie zu diesem Zweck
den Steckanschluß an Ihrem Gerät. In den meisten Fällen befindet
sich eine Angabe der Spannung direkt daneben. Ist dies nicht der
Fall, schauen Sie auf dem Typenschild des Gerätes nach der korrekten
Spannung.
Félicitations. Vous venez d'acquérir un appareil excellent. Cet adaptateur Philips est une source d'énergie stable et sûre pour toutes
les applications nécessitant l'utilisation de piles. Lisez attentivement
les instructions suivantes pour en optimiser l'emploi.
Nadat het juiste voltage is ingesteld, de juiste plug gekozen en deze
plug met de juiste polariteit is aangesloten op de adapter, kunt u de
adapter aansluiten op het apparaat door de plug stevig in de adapteraansluiting te duwen. Als u dit gedaan heeft kunt u de adapter op
het lichtnet aansluiten (of op de sigarettenaansteker als u de SBC
CU220 gebruikt).
+ 9V
NOTE: If no information is available on your appliance,
you can easily calculate the required voltage yourself.
Simply multiply the battery voltage by the number of
batteries the appliance would use; for example, if the
appliance uses 4 batteries of 1.5V each, you need to set
the voltage switch to 6V.
If your appliance does not work, disconnect the adapter from the
power source and check the voltage settings and connection.
1. Het instellen van de juiste voltage
1. Einstellen der korrekten Spannung
• Efier cihazınız, adaptörün üzerinde belirtilmi‹ olan akımdan daha fazla
akım kullanıyorsa (akım miktarı mA birimi olarak ambalajın üzerinde ve
adaptörün üzerinde bildirilmi‹tir) adaptörünüz ısınabilir ve otomatik
olarak kapanabilir.
• Adaptör ısınır ve otomatik olarak kapanırsa, adaptörün fi‹ini derhal
prizden çıkarın. Adaptörü, bunu yaptıktan birkaç dakika sonra tekrar
kullanabilirsiniz.
• Adaptörün çıkı‹ ("output") kablosunu hiçbir zaman prize takmayın!
• Adaptörünüzü hiçbir zaman kendiniz tamir etmeye veya sökmeye
çalı‹mayın.
• Adaptörünüzü yere dü‹ürmemeye gayret edin. Herhangi bir sert darbe
adaptörünüze zarar verebilir.
• Adaptörü ate‹ veya alev, ısı, yafimur veya yüksek nem oranı olan
yerlerden uzak tutun.
• Bu adaptör, evin içerisinde kullanılmak üzere imal edilmi‹tir: dı‹arıda
kullanmayın.
Set the voltage you need to operate your appliance by setting the
voltage switch to the correct position. This position can be determined by checking the connection socket of your appliance; in
most cases the appliance's operating voltage is indicated next to it.
If it isn't, check the type-number plate of your appliance for the
correct voltage.
4. Anschließen des Adapters
After setting the correct voltage, selecting the correct plug and
connecting this plug to the adapter using the right polarity, you
can connect the adapter to your appliance by inserting the plug
firmly into the connector. You can now plug the adapter into the
mains (or the cigarette lighter socket when using the SBC CU220).
4. Het aansluiten van de adapter
A
1. Setting the correct voltage
Gefeliciteerd met uw aankoop, een uitstekende keuze. Deze adapter
geeft u een stabiele, veilige energie bron voor de meeste batterij
gevoede apparaten. Lees voor een optimaal gebruik deze gebruiksaanwijzing zorgvuldig door.
B
4. Connecting the adapter
HINWEIS: Wenn Sie die 9V Batterie in Ihrem
Elektrogerät durch einen 9V Anschlußklipp ersetzen
möchten, schließen Sie den Stecker wie unter Option A
abgebildet an.
Wir beglückwünschen Sie zu der von Ihnen getroffenen Kaufentscheidung. Dieser Philips Adapter sorgt für eine stabile und sichere
Energieversorgung der meisten der batteriebetriebenen Geräte.
Lesen Sie für einen effektiven Einsatz diese Bedienungsanleitung
sorgfältig durch.
F R A N Ç A I S
B
NOTE: If you wish to replace the 9V battery of your
appliance with the 9V connection clip, connect the plug
as shown in option A.
N E D E R L A N D S
Adaptöre fi‹ takmadan önce, kutupları dofiru olarak belirledifiinizi kontrol
etmeniz çok önemlidir. Bu bilgi, bafilantı giri‹lerininin hemen yanında veya
seri ve model numarasını ta‹ıyan etiketin üzerinde bildirilmi‹tir.
Uygun polariteyi belirlemek için tabloyu kullanmanız tavsiye olunur.
Congratulations on your excellent choice of purchase. This Philips
adapter will give you a stable, secure energy source for most battery-operated appliances. For best use, please read these instructions carefully.
D E U T S C H
This document is printed on chlorine free produced paper
Printed in China
Data subject to change without notice
E N G L I S H
Kullanma talimatı
√‰ËÁ›Â˜ ¯Ú‹Û˘
Bruksanvisning
Bruksanvisning
Käyttöohje
Brugsanvisning
Instruções de uso
Istruzioni per l'uso
Modo de empleo
Mode d'emploi
Gebruiksaanwijzing
Bedienungsanleitung
Instructions for use
Uygun voltajın ayarlanması
4.
Alı‹veri‹inizde yapmı‹ oldufiunuz dofiru tercihten dolayı sizi kutlarız. Bu
Philips adaptörü, pille çalı‹an birçok cihazınızın en sabit ve en güvenilir
enerji kaynafiı olacaktır. Bu ürünü en dofiru biçimde kullanabilmeniz için,
a‹afiıdaki kullanma talimatlarını okumanızı tavsiye ederiz.
Adaptörü cihaza takmak
Efier cihazınızın üzerindeki 9 V pilini 9 V bafilantı klibi ile
defii‹tirmek isterseniz, fi‹i ‹ekil A'da belirtildifii gibi takmanız
gerekir.
T Ü R K Ç E
Adapters
E S P A Ñ O L
¡ Enhorabuena con su excelente selección de compra ¡ Este adaptador de Philips le ofrecerá una fuente de alimentación estable y
segura para la mayoría de los aparatos que funcionan con pilas.
Para su óptimo uso, sírvanse leer atentamente estas instrucciones.
1. Fijar el voltaje correcto
Fijar el voltaje que se necesita para operar el aparato poniendo el
conmutador de voltaje a la posición correcta. Esta posición puede
ser determinada por comprobar el enchufe de conexión de su
aparato: en la mayoría de los casos el voltaje de operación del
aparato está indicado al lado. De no ser así, comprobar la placa
del tipo de número de su aparato para el voltaje correcto.
NOTA: Si no se dispone de información sobre el aparato,
puede calcularse fácilmente por sí mismo el voltaje
requerido. Simplemente multiplicar el voltaje de la pila
por el número de pilas que el aparato debe usar; por
ejemplo, si el aparato requiere 4 pilas de 1,5V cada una,
entonces debe fijar el conmutador de voltaje a 6V
2. Elegir la clavija correcta
Este adaptador es suministrado con 9 clavijas para poder usarlo
con tantos aparatos como sea posible. Una de las clavijas debe
cuadrar con el enchufe de conexión de su aparato. Simplemente
elegir la más adecuada.
3. Elegir la polaridad correcta
Antes de conectar una clavija al adaptador, debe comprobarse
la polaridad de la conexión. La polaridad está indicada al lado del
punto de conexión o sobre la placa del tipo de número de su
aparato. Sírvanse usar la tabla para fijar la polaridad correcta.
4. Conectar el adaptador
Después de haber fijado el voltaje correcto, haber seleccionado la
clavija correcta y haber conectado dicha clavija al adaptador usando
la polaridad correcta, se puede conectar el adaptador a su aparato
insertando la clavija firmemente dentro del conector. Ahora puede
empalmar el adaptador en la toma de la red (o en el enchufe del
encendedor de cigarrillos al usar el SBC CU220).
Si su aparato no funciona, desconectar el adaptador de la fuente
de alimentación y comprobar los ajustes del voltaje y conexión.
NOTA: Siempre asegurarse de que su aparato esté
desconectado antes de conectar el adaptador a la toma
de red (o enchufe del encendedor de cigarrillos al usar
el SBC CU220).
5. Precauciones
• Si su aparato consume más que la corriente nominal del
adaptador (expresada en mA sobre el empaque del aparato y el
adaptador), el adaptador puede sobrecalentarse y desconectarse
automáticamente.
• Si el adaptador se sobrecalienta y se desconecta, inmediatamente
debe retirarse el adaptador de la toma de red. El adaptador
volverá a estar listo para el uso después de varios minutos.
• ¡ Nunca insertar la clavija de salida del adaptador en una toma
de red !
• Nunca intentar desensamblar o volver a ensamblar su adaptador.
• Evitar dejar caer el adaptador puesto que el golpe puede dañarlo.
• Evitar exponer el adaptador a fuego, calor, lluvia, o humedad
extensa.
• Para uso interior solamente.
I T A L I A N O
Complimenti per l'ottima scelta di acquisto. Questo adattatore
Philips fornirà una corrente stabile e sicura ai suoi apparecchi
elettrici funzionanti a batteria. Per sfruttarlo in modo ottimale,
si prega di leggere attentamente le seguenti istruzioni.
1. Impostazione del voltaggio giusto
Per impostare il voltaggio necessario per far funzionare l'apparecchio
elettrico, posizionare il commutatore nella posizione corrispondente.
Tale posizione si determina osservando il connettore dell'apparecchio; nella maggior parte dei casi, il voltaggio applicabile è indicato
accanto ad esso. Altrimenti, leggere questo valore sulla piastrina
d'identificazione dell'apparecchio.
NOTA: Se l'apparecchio risulta privo di ogni informazione
al riguardo, si può facilmente calcolare da soli il voltaggio
richiesto. Basta moltiplicare il voltaggio della batteria per
il numero di batterie da utilizzare. Ad esempio, se l'apparecchio impiega 4 batterie da 1,5V ciascuna, bisogna
impostare il voltaggio su 6V.
2. Scelta della spina giusta
L'adattatore è fornito di 9 spine diverse destinate ad alimentare
praticamente ogni tipo di apparecchio elettrico. Basta scegliere
quella che s'inserirà più facilmente nella presa dell'apparecchio.
3. Scelta della giusta polarità
Prima di collegare un apparecchio all'adattatore, bisogna verificare
la sua polarità. Essa è indicata accanto al punto di connessione o
sulla piastrina d'identificazione dell'apparecchio. Pregasi utilizzare
la tabella per l'impostazione dellagiusta polarità.
S U O M I
1. Oikean jännitteen asetus
Jännitekytkin asetetaan käytettävän laitteen käyttöjännitteen
mukaiseen asentoon. Tämä selviää laitteen kotelosta: käyttöjännite
on yleensä merkitty jänniteliitännän viereen. Jos merkintää ei ole,
jännitteen voi tarkastaa laitteen arvokilvestä.
HUOM: Jos laitteessa ei ole mitään jännitemerkintöjä,
tarvittava jännite voidaan laskea helposti kertomalla
pariston jännite paristojen lukumäärällä. Jos laitteessa
käytettäisiin esimerkiksi neljää 1,5 voltin paristoa, jännitekytkin on asetettava asentoon 6 V.
4. Sovittimen yhdistäminen
Kun sovittimeen on asetettu oikea jännite ja sopiva laitepistoke on
valittu ja liitetty sovittimeen napaisuus huomioon ottaen, sovitin
voidaan yhdistää käytettävään laitteeseen työntämällä laitepistoke
lujasti laitteen jänniteliitäntään. Tämän jälkeen sovitin voidaan
yhdistää pistorasiaan (tai savukkeensytyttimen istukkaan käytettäessä mallia SBC CU220).
Jos laite ei toimi, sovitin on irrotettava virtalähteestä ja jänniteasetukset ja liitännät on tarkastettava.
HUOM: Ennen sovittimen yhdistämistä sähköverkkoon
(tai savukkeensytyttimen istukkaan käytettäessä mallia
SBC CU220) on aina varmistettava, että käytettävä laite
on kytketty pois päältä
Gratulerar till ditt utmärkta val. Med denna adapter från Philips har
du en pålitlig och säker energikälla för de flesta batteridrivna apparater. Läs dessa instruktioner för bästa resultat.
1. Inställning av rätt spänning
Ställ in spänningen som du behöver för att använda din apparat
genom att sätta spänningsbrytaren i rätt läge. Detta läge kan fastställas genom att kontrollera uttaget på apparaten; för det mesta
anges apparatens spänning bredvid uttaget. Om detta inte är fallet,
kontrollera apparatens typskylt för rätt spänning.
OBS: Om ingen information ges på din apparat, kan du
lätt räkna ut den erfordrade spänningen själv. Bara multiplicera batterispänningen med antalet batterier som
apparaten använder; till exempel, om apparaten använder
4 batterier på 1,5V sätter du spänningsbrytaren på 6V.
5. Varoituksia
3. Oikean napaisuuden valinta
Ennen kuin pistoke yhdistetään sovittimeen, on tarkastettava liitännän napaisuus. Se on merkitty laitteen jänniteliitännän viereen tai
laitteen arvokilpeen. Oikea napaisuus selviää alla olevasta taulukosta.
HUOM: Jos laitteessa oleva 9 voltin paristo halutaan vaihtaa 9 voltin liittimeen, pistoke kytketään kuvassa A
esitetyllä tavalla.
Se l'apparecchio non funziona, staccare l'adattatore dalla corrente
e controllare i voltaggi e le connessioni.
NOTA: Sempre accertarsi che l'apparecchio sia spento
prima di collegare l'adattatore alla corrente di rete (o alla
presa dell'accendisigaro se si dispone dell'SBC CU220).
1. 1. Regulação da voltagem correcta
Regule para a voltagem a que trabalhar o seu aparelho, colocando o
interruptor de voltagem na posição correcta. Essa posição pode ser
determinada olhando para a tomada de ligação do seu aparelho, na
maioria dos casos a voltagem de funcionamento do aparelho está
indicada junto dessa ficha. Se essa voltagem ai não estiver indicada
consulte a placa de identificação do seu aparelho.
NOTA: Se o seu aparelho não tiver nenhuma informação
a sua voltagem pode ser facilmente calculada. Para isso,
multiplique simplesmente a voltagem de uma das pilhas
pelo número de pilhas que o aparelho usa, por exemplo,
se o aparelho usar 4 pilhas de 1,5V cada, necessita de
regular o interruptor de voltagem para 6V.
5. Precauzioni
• Se l'apparecchio ha un consumo elettrico superiore all'intensità
nominale dell'adattatore (espressa in mA e stampata sull'imballaggio e sull'adattatore), quest'ultimo rischia di surriscaldarsi e di
spegnersi automaticamente.
• Se l'adattatore si surriscalda e si spegne, occorre staccare
immediatamente la corrente di rete. Esso tornerà ad essere
operativo dopo pochi minuti.
• Mai inserire la spina di uscita dell'adattatore in una presa della
corrente!
• Mai tentare di smontare o rimontare l'adattatore.
• Non fare cadere l'adattatore in quando l'urto potrebbe danneggiarlo.
• Non esporre l'adattatore al fuoco, al calore, alla pioggia o a
un'umidità eccessiva.
• Esclusivamente per uso interno.
2. Escolha da ficha certa
Este adaptador é fornecido com 9 fichas para servir o máximo
possível de aparelhos. Uma dessas fichas deve entrar na tomada
de ligação do seu aparelho. Basta escolher a que mais ajustada fica.
3. Escolha da polaridade certa
Antes de ligar uma ficha ao adaptador necessita de verificar a
polaridade da ligação. A polaridade está indicada junto do ponto
de ligação ou na placa de identificação do seu aparelho. Use o
quadro para estabelecer a polaridade certa.
2. Val av rätt plugg
• Jos laitteen ottama virta on suurempi kuin sovittimen nimellisvirta (merkitty milliampeereina (mA) sovittimeen ja sen
pakkaukseen), sovitin voi kuumeta liikaa. Tällöin se kytkeytyy
automaattisesti toiminnasta.
• Jos sovitin ylikuumenee ja kytkeytyy pois päältä, se on heti
irrotettava sähköverkosta. Sovitin on käyttökunnossa muutaman
minuutin kuluttua.
• Sovittimen laitepistoketta ei saa yhdistää pistorasiaan!
• Sovitinta ei saa yrittää purkaa tai koota.
• Sovitinta on varottava pudottamasta, jottei se vahingoitu.
• Sovitin on suojattava avotulelta, kuumuudelta, sateelta ja liialta
kosteudelta.
• Vain sisäkäyttöön.
Adaptern är utrustad med 9 pluggar för att kunna användas med så
många apparater som möjligt. En av pluggarna bör passa till uttaget
på din apparat. Bara välj pluggen som passar bäst.
3. Val av rätt polaritet
Innan du ansluter en plugg till adaptern, måste du kontrollera
anslutningens polaritet. Denna anges bredvid anslutningsstället
eller på apparatens typskylt. Använd tabellen för att ställa in ratt
polaritet.
OBS: Om du vill byta 9V-batteriet till din apparat mot 9Vanslutningsklämman, anslut då pluggen enligt A.
4. Ligação do adaptador.
Depois de regular a voltagem certa, seleccionando a ficha correcta
e ligando essa ficha ao adaptador usando a polaridade certa, pode
ligar o adaptador ao seu aparelho metendo a ficha com firmeza na
tomada. Pode agora ligar a ficha do adaptador à rede principal (ou
à tomada do isqueiro quando usa o SBC CU220).
Se o seu aparelho não trabalhar, desligue o adaptador do abastecimento de corrente e verifique as regulações de voltagem e a ligação.
D A N S K
Tillykke med din nyanskaffelse. Denne Philips adapter giver dig stabil
og sikker strøm til de fleste batteridrevne apparater. Denne vejledning
bør gennemlæses omhyggeligt.
1. Indstilling af korrekt spænding
Den spænding, apparatet skal bruge, kan indstilles ved at sætte
spændingsknappen i korrekt position. Du kan checke spændingen og
vælge korrekt position ved at se på stikdåsen på apparatet; i de fleste
tilfælde står denne spænding angivet ved siden af den. Hvis ikke, kan
du finde den korrekte spænding på typepladen på apparatet.
NOTA: Certifique-se sempre que o seu aparelho está
desligado antes de ligar o adaptador à rede principal
(ou à tomada do isqueiro quando usa o SBC CU220).
BEMÆRK: Hvis der ikke er nogen information på apparatet, kan du nemt beregne den påkrævede spænding selv.
Du skal simpelthen gange batteriets spænding med
antallet af batterier, der er i apparatet; hvis der for
eksempel er 4 batterier i apparatet på hver 1,5 V, skal
spændingen indstilles på 6 Volt.
5. Precauções
• Se o seu aparelho usar corrente superior à corrente nominal
do adaptador (expressa em mA na embalagem e no adaptador),
o adaptador talvez possa sobreaquecer provocando corte
automático.
• Se o adaptador sobreaquecer e ficar cortado, desligue-o imediatamente da rede principal. O adaptador fica restabelecido após
alguns minutos.
• Nunca meta a ficha de saída do adaptador numa tomada de rede
principal!
• Nunca tente desmontar ou montar o adaptador.
• Evite deixar cair o seu adaptador pois o choque pode danificá-lo.
• Evite expor o adaptador ao fogo, calor, chuva ou humidade concentrada.
• Só para uso dentro de casa.
2. Valg af rigtigt stik
Denne adapter har ni stik, så den kan bruges til flest mulige apparater. Et af disse stik burde passe til stikdåsen i dit apparat. Vælg
simpelthen den, der passer bedst.
3. Den rigtige polaritet
Før der sættes et stik i adapteren, skal du checke tilslutningens
polaritet. Dette er angivet ved siden af tilslutningspunktet eller på
typepladen på apparatet. Brug tabel til indstilling af korrekt polaritet.
4. Tilslutning af adapteren
Når spændingen er indstillet korrekt, det rigtige stik er valgt og
tilsluttet adapteren med korrekt polaritet, kan adapteren tilsluttes
apparatet ved at sætte stikket rigtigt i konnektoren. Nu kan adapteren
sættes i stikkontakten til elnettet (eller cigartænderen, hvis der
bruges SBC CU220).
Hvis apparatet ikke virker, tages adapteren ud af stikkontakten,
hvorefter spændingen og tilslutningen checkes.
BEMÆRK: Sørg altid for, at apparatet er slukket, før
adapteren tilsluttes elnettet (eller cigartænderen, hvis
der bruges SBC CU220).
5. Forholdsregler
• Hvis apparatet bruger mere strøm end adapterens mærkestrøm
(udtrykt i mA på emballagen og adapteren), kan adapteren
overophedes, så den automatisk slukker.
• Hvis adapteren overophedes, så den slukker, skal adapteren
afbrydes fra elnettet. Efter nogle minutter er adapteren klar til
brug.
• Stik ikke udgangsstikket til adapteren i stikkontakten til elnettet!
• Forsøg ikke at adskille eller samle adapteren.
• Undgå at tabe adapteren, da stød kan beskadige den.
• Adapteren må ikke udsættes for ild, varme, regn eller ekstrem fugt.
• Må kun bruges indendørs.
BEMÆRK: Hvis du vil udskifte 9 V batteriet i dit apparat
med 9 V tilslutningsclip'en, skal stikket tilsluttes som
vist i A.
NOTA: Se desejar substituir a pilha de 9V do seu aparelho pela ligação de 9V, ligue a ficha como se mostra na
opção A.
S V E N S K A
2. Oikean laitepistokkeen valinta
Sovittimeen kuuluu 9 erilaista laitepistoketta, jotta sitä voidaan
käyttää mahdollisimman monen laitteen kanssa. Kaikille laitteille
tulisi löytyä sopiva pistoke. Valitse pistoke, joka sopii parhaiten
laitteen jänniteliitäntään.
Dopo l'impostazione del giusto voltaggio, la selezione della spina
e il suo inserimento nell'adattatore con la giusta polarità, collegare
l'adattatore all'apparecchio elettrico inserendo saldamente la spina
nel connettore. Si può ora collegare l'adattatore alla corrente di rete
(o alla presa dell'accendisigaro se si dispone dell'SBC CU220).
Muitas felicitações pela excelente compra que fez. Este adaptador
Philips vai proporcionar-lhe uma fonte de energia eléctrica estável
e segura para abastecer a maioria dos aparelhos accionados por
pilhas. Para usar o adaptador da melhor maneira possível, leia
atentamente as instruções.
NOTA: Se si desidera sostituire la batteria a 9V dell'apparecchio con un clip di connessione a 9V, collegare la
presa come indicato nell'opzione A di cui sopra.
NOTA: Si desea sustituir la pila de 9V de su aparato con
el clip de conexión de 9V, conectar la clavija como se
muestra en opción A.
Onnittelut erinomaisen hankinnan johdosta. Philipsin sovitin takaa
stabiilin, luotettavan tehonsyötön ja soveltuu useimmille paristokäyttöisille laitteille. Nämä ohjeet on hyvä lukea huolellisesti
ennen käyttöä.
4. Collegamento dell'adattatore
P O R T U G U Ê S
4. Anslutning av adaptern
Efter inställning av den rätta spänningen, val av rätt plugg och
anslutning av denna plugg till adaptern med rätt polaritet, kan du
koppla adaptern till apparaten genom att sticka in pluggen i uttaget.
Nu kan du ansluta adaptern till nätet (eller cigarettändaruttaget vid
användning av SBC CU220).
Om apparaten inte fungerar, koppla från adaptern från strömkällan
och kontrollera spänningsinställningen och anslutningen.
OBS: Se alltid till att din apparat är avstängd innan du
ansluter adaptern till nätet (eller cigarettändaruttaget vid
användning av SBC CU220).
Gratulerer med anskaffelsen av en Philips adapter. Adapteren vil gi
deg en stabil og sikker energikilde til de fleste batteridrevne apparater. Denne bruksanvisningen bør leses omhyggelig for best mulig
resultat.
1
Innstilling av riktig spenning
Innstill spenningen som er nødvendig for å drive apparatet ved å
sette spenningsvelgeren i riktig stilling. Denne stillingen kan man
finne ved å se på tilkoblingen på apparatet; i de fleste tilfeller vises
apparatets driftsspenning ved siden av tilkoblingen. Hvis spenningen ikke angis, kontrolleres typeskiltet for å se om det viser riktig
spenning.
OBS: Hvis det ikke vises informasjon på ditt apparat, kan
du enkelt beregne den nødvendige spenningen selv. Det
gjøres ved å multiplisere batterispenningen med antall
batterier som apparatet trenger. Eksempel: hvis apparatet
trenger 4 batterier på 1.5V, må du innstille spenningen
på 6V.
5. Säkerhetsföreskrifter
• Om din apparat förbrukar mer ström än vad som anges på
adaptern (uttryckt i mA på förpackningen och adaptern), kan
adaptern överhettas och stängas av automatiskt.
• Om adaptern överhettas och stängs av, ska adaptern genast
kopplas från nätet. Adaptern är åter klar för bruk efter några
minuter.
• Stick aldrig in adapterns utgångsplugg i ett nätuttag!
• Försök aldrig demontera eller montera adaptern på nytt.
• Tappa inte adaptern eftersom den kan skadas av stöten.
• Utsätt inte adaptern för eld, värme, regn eller mycket fuktiga
förhållanden.
• Endast för inomhusbruk.
E Ï Ï Ë Ó È Î ¿
N O R S K
2
Valg av riktig plugg
Denne adapteren leveres med 9 plugger, slik at den kan brukes med
flest mulig apparater. En av pluggene bør passe i ditt apparat. Velg
den som passer best.
3
Valg av riktig polaritet
Før du kobler en plugg til adapteren, må du kontrollere polariteten.
Dette angis ved siden av tilkoblingen eller på typeskiltet på apparatet
ditt. Tabellen kan brukes for å finne riktig polaritet.
OBS: Hvis du ønsker å erstatte et 9V batteri i et
apparat med 9V tilkoblingen, tilkobles pluggen som
vist i alternativ A.
4
Tilkobling av adapteren
Etter at du har innstilt riktig spenning, har valgt riktig plugg og satt
den på adapteren med riktig polaritet, kan du koble adapteren til
apparatet ditt ved å sette pluggen godt inn i uttaket. Nå kan du sette
adapteren i en stikkontakt (eller i et sigarettenneruttak hvis du bruker
SBC CU220).
Hvis apparatet ditt ikke virker, må du koble adapteren fra strømkilden
og kontrollere innstillingen av spenningen og polariteten.
OBS: Vær alltid sikker på at apparatet er slått av før
adapteren settes i stikkontakten (eller i sigarettenneruttaket hvis du bruker CU220).
Sygxarht˙ria gia thn ejaÈreth epilog˙ saw. AytØw o prosarmog‰aw
Philips ua saw d√sei mia stauer˙ kai asfal˙ phg˙ en‰rgeiaw gia tiw
perissØterew syskey‰w poy leitoyrgo¥n me mpatarÈew. Gia na ton
xrhsimopoi˙sete me ton kal¥tero dynatØ trØpo, saw parakalo¥me
na diabÅsete prosextikÅ tiw parakÅtv odhgÈew.
4.
1.
R¥umish thw svst˙w tÅshw
RyumÈste thn tÅsh poy xreiÅzetai gia na leitoyrg˙sei h syskey˙
saw bÅzontaw to diakØpth tÅshw sth svst˙ u‰sh. Gia na
kauorÈsete ayt˙ th u‰sh, el‰gjte thn prÈza thw syskey˙w saw\ stiw
perissØterew peript√seiw, h tÅsh leitoyrgÈaw thw syskey˙w
dhl√netai dÈpla sthn prÈza. An den symbaÈnei aytØ, el‰gjte thn
pinakÈda me ta stoixeÈa thw syskey˙w saw gia na diapist√sete th
svst˙ tÅsh.
5. Forholdsregler
• Hvis apparatet ditt bruker mer strøm enn adapterens
merkestrøm (vises i mA på emballasjen og adapteren), kan
adapteren bli for varm og slå seg av automatisk.
• Hvis adapteren blir for varm og slår seg av, må adapteren
umiddelbart frakobles nettet. Adapteren kan brukes igjen etter
noen minutter.
• Adapterens utgangsplugg må aldri settes i en stikkontakt!
• Forsøk aldri demontere eller montere adapteren.
• Unngå å slippe adapteren i gulvet, da den kan bli ødelagt.
• Ikke utsett adapteren for varme, vannsprut eller stor fuktighet.
• Kun for innendørs bruk.
SHMEIVSH: An u‰lete na antikatast˙sete thn mpatarÈa
9V thw syskey˙w saw me to syndetikØ stoixeÈo 9V,
synd‰ste to b¥sma Øpvw dhl√netai parapÅnv sthn
perÈptvsh A.
SHMEIVSH: An den breÈte plhroforÈew sth syskey˙ saw,
mporeÈte na ypologÈsete e¥kola eseÈw o Èdiow thn
apaito¥menh tÅsh. Prow to¥to arkeÈ na pollaplasiÅsete
thn tÅsh miaw mpatarÈaw me ton ariumØ mpatari√n poy
xrhsimopoieÈ h syskey˙\ an p.x. h syskey˙ xrhsimopoieÈ 4
mpatarÈew apØ 1.5V h kauemiÅ, pr‰pei na bÅlete to
diakØpth tÅshw se 6V.
2.
Epilog˙ toy katÅllhloy b¥smatow
AytØw o prosarmog‰aw synode¥etai apØ 9 b¥smata gia th
leitoyrgÈa Øso to dynatØ perissØtervn syskey√n. ∑na apØ aytÅ
ta b¥smata pr‰pei na efarmØzei sthn prÈza thw syskey˙w saw.
ArkeÈ na epil‰jete to b¥sma me thn kal¥terh efarmog˙.
3.
Epilog˙ thw svst˙w polikØthtaw
Prin synd‰sete ‰na b¥sma me ton prosarmog‰a, pr‰pei na
el‰gjete thn polikØthta thw s¥ndeshw. Ayt˙ dhl√netai dÈpla sto
shmeÈo s¥ndeshw ˙ sthn pinakÈda me ta stoixeÈa thw syskey˙w
saw.Xrhsimopoi˙ste ton parakÅtv pÈnaka gia na bÅlete th svst˙
polikØthta.
S¥ndesh toy prosarmog‰a
Afo¥ ryumÈsete th svst˙ tÅsh, epil‰jete to svstØ b¥sma kai
synd‰sete aytØ to b¥sma me ton prosarmog‰a xrhsimopoi√ntaw th
svst˙ polikØthta, mporeÈte na synd‰sete ton prosarmog‰a me th
syskey˙ saw eisÅgontaw gerÅ to b¥sma sthn prÈza. MporeÈte t√ra
na synd‰sete ton prosarmog‰a me ton agvgØ re¥matow (˙ me thn
prÈza toy anapt˙ra an xrhsimopoieÈte to SBC CU220).
An h syskey˙ saw den leitoyrgeÈ, aposynd‰ste ton prosarmog‰a
apØ thn phg˙ en‰rgeiaw kai el‰gjte th r¥umish thw tÅshw kai th
s¥ndesh.
SHMEIVSH: BebaivueÈte Øti h syskey˙ saw eÈnai ektØw
leitoyrgÈaw prin synd‰sete ton prosarmog‰a me ton
agvgØ re¥matow (˙ me thn prÈza toy anapt˙ra an
xrhsimopoieÈte to SBC CU220).
5.
ProfylaktikÅ m‰tra
• An h syskey˙ saw xrhsimopoieÈ perissØtero re¥ma apØ thn tim˙
re¥matow toy prosarmog‰a (ekfrazØmenh se mA sth syskeyasÈa
kai ston prosarmog‰a), o prosarmog‰aw mporeÈ na
yperuermanueÈ kai na sb˙sei aytØmata.
• An o prosarmog‰aw yperuermanueÈ kai sb˙sei, aposynd‰ste
am‰svw ton prosarmog‰a apØ ton agvgØ re¥matow. O
prosarmog‰aw ua eÈnai ‰toimow gia xr˙sh ¥stera apØ merikÅ
leptÅ.
• Mhn eisÅgete pot‰ to b¥sma ejagvg˙w toy prosarmog‰a sthn
prÈza hlektriko¥ re¥matow!
• Mhn epixeireÈte pot‰ na aposynarmolog˙sete ˙ na
epanasynarmolog˙sete ton prosarmog‰a saw.
• Mhn af˙nete ton prosarmog‰a saw na p‰ftei giatÈ mporeÈ na
yposteÈ blÅbh.
• Mhn eku‰tete ton prosarmog‰a saw se fvtiÅ, uermØthta, brox˙
˙ paratetam‰nh ygrasÈa.
• XrhsimopoieÈte ton mØno se esvterikØ x√ro.